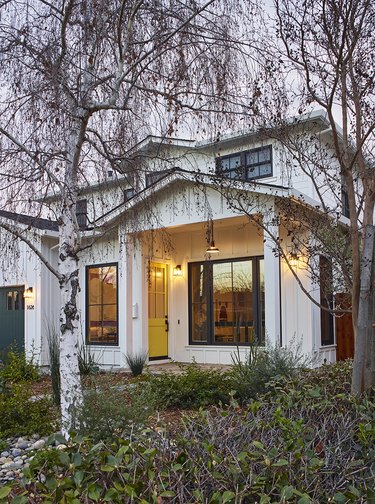 While Silicon Valley is hyperfocused on the future, this modern farmhouse in Menlo Park, California, is firmly rooted in the past. The home, which was designed by architecture firm the Kastrop Group and design firm Landed Interiors & Homes, needed to fit the needs of a young, active family of four and provide plenty of space for entertaining. To check all these boxes, the team leaned into function and simplicity. "We wanted to use as many Shaker-inspired elements as possible and keep the home neat and uncomplicated as a backdrop for lively family gatherings," says Lynn Kloythanomsup, principal interior designer of Landed Interiors & Homes.
Shaker style influenced everything from the finishes to the color palette. "Since the inspiration is farmhouse style, we paid attention to simplifying the structure," says Kloythanomsup. "The millwork trim and cabinetry define the language. They needed to be simple and stripped down. We also worked with an open plan, so the colors, cabinetry, and hardware needed to be cohesive across the space. We were inspired by traditional Shaker farmhouses and used the brighter paint colors from the Shaker palette."
When it came to the decor, Kloythanomsup incorporated finds from the couple's travels, as well as family heirlooms. Pieces such as the grandfather clock in the entry, the paintings in the stairwell, and the piano in the living room add a sense of history and feel unique in the modern, laid-back home. The entire design is the perfect balance of past and present, with plenty of flexibility for the future.