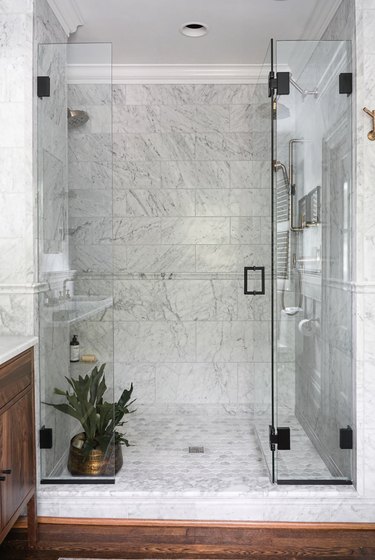 There's something about a marble bathroom that instantly communicates a feeling of elegance and sophistication. It's a material that's been used in palaces for centuries, and now, it's something that's equally at home in a modern-day bathroom. From countertops to bathroom floor tile, more and more homeowners are opting to use this showstopping natural stone in their washrooms — more specifically, in their showers.
However, if you're thinking about a glamorous shower makeover for your bathroom remodel, there are a few things that you should consider first. We'll start with the cost. According to current stats from HomeAdvisor, a cultured marble or stone shower will run you about $700 to $2,450, mainly due to the fact that marble tends to be an expensive material and you'll need to hire a professional installer, too. If you're sticking to a budget, pure marble tile may not be the way to go.
As for maintenance, you'll need to pay attention to upkeep a bit more than you would with standard tile. You should clean marble tile frequently and keep it dry, so mildew doesn't become an issue. Household cleaner is a no-no — you'll need to use a special marble cleaner. Then you'll have to think about durability. Although it looks luxe, marble is actually not the most durable material around. It's porous, so it can soak up stains, and it's not as tough as its counterparts, quartz and granite. That's why a sealer is a very good idea for marble shower tile.
If you'd still like to move forward with a marble tile shower and you can't resist those lavish visuals, here are seven ideas to get you started.
1. Punctuate a marble shower with brass.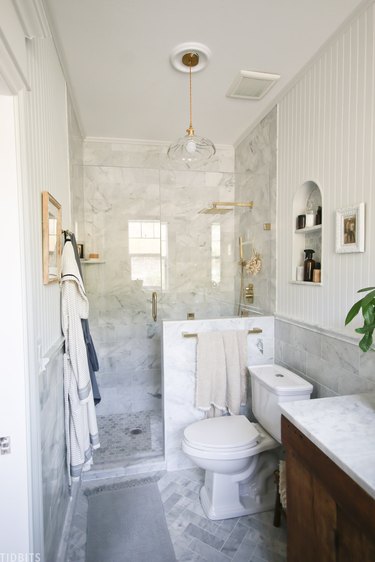 To make her shower look even more luxurious, Cami of Tidbits paired her Carrara marble shower tile with brass accents, seen in the bath fittings and even the nearby light fixture. The shower floor offers bonus visual appeal with hexagon-shaped mosaic tile while the marble backsplash brings the entire look together.
2. Include thoughtful, comfortable details.
3. A herringbone pattern looks striking.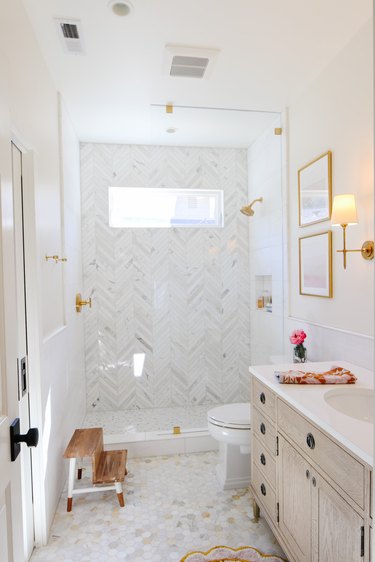 Showcasing stunning Calacatta marble in her bath, Ashley of Modern Glam has made her shower look even more stylish with an eye-catching herringbone tile pattern shower wall. The adjacent walls are kept simple with white dolomite marble tile.
4. Combine different tile shapes.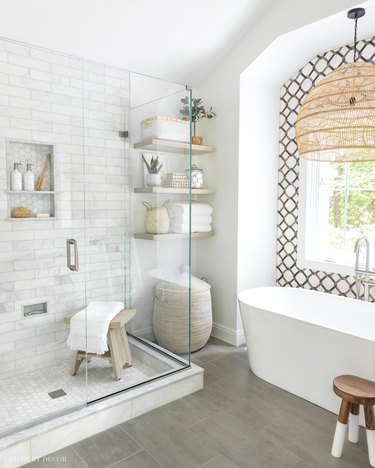 To make a marble shower your own, consider creating juxtaposition with wall tile and floor tile that are different shapes. For instance, in this bathroom belonging to Kris of Driven by Decor, marble subway tile on the walls and a hexagon mosaic tile on the floor come together to create a unique end result.
5. Turn your shower into a work of art.
Who says that your shower can't act as decor? There's a reason why artists have sculpted with marble for thousands of years, and your shower is no exception. Here, Kirsty Froelich of The Tile Shop opted for a diamond pattern around the showerhead and trim, resulting in a bathroom masterpiece.
6. Show off some personality.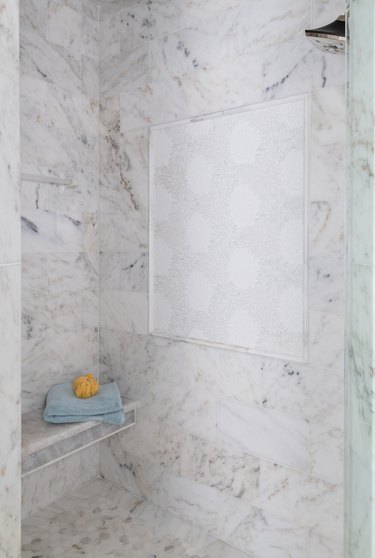 Just because marble is a material that's been used for centuries that doesn't mean it has to be stuffy. In fact, you can let your personality shine with a marble shower. For example, instead of adhering to just standard wall tile, you can punch it up by incorporating a floral accent, which is what the team at Studio M Interiors did in this bath.
7. Lots of veining creates visual interest.
With grout that perfectly matches the marble tile and a shower floor in interesting geometric shapes, David and Stephen of Renovation Husbands have certainly created a beautiful marble shower. But what makes it even more striking is the natural veining of the stone, something that can make your shower stand out even more.