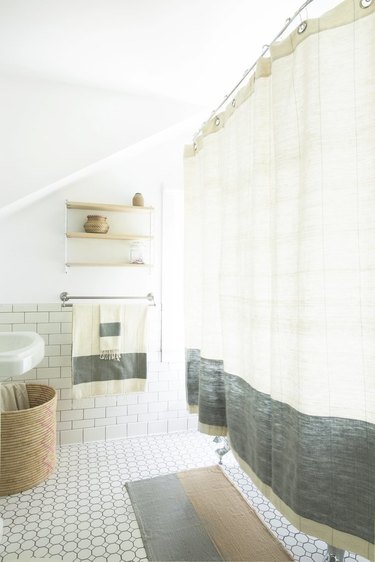 Ah, the beach. The palm trees swaying. The ocean water lapping up on the shore. The seagulls calling in the distance. Although this is a locale that instantly elicits chill vibes, we can't all go to a seaside paradise, on, say, a Tuesday afternoon — which means that you have to bring the beach to you! There are so many ways to weave coastal style into your home — the living rooms, bedrooms, and kitchens, to name a few — but we think the visuals look just right in the bathroom, a place that's meant to feel peaceful.
As a homeowner, you might be wondering, ​Well, how do I bring coastal style into my bath?​ The answer is simple: your shower. The beachy aesthetic often wraps in shades of white, natural light, pops of blue, and nods to the shore with the help of seashells and sand-hued finishes. You can pair those elements with plenty of white, playful, preppy details, and even some fish-scale tile.
Ready to give your shower a refreshing makeover? Scroll on for five ideas that will help you perfect the coastal look.
1. Preppy details are a must.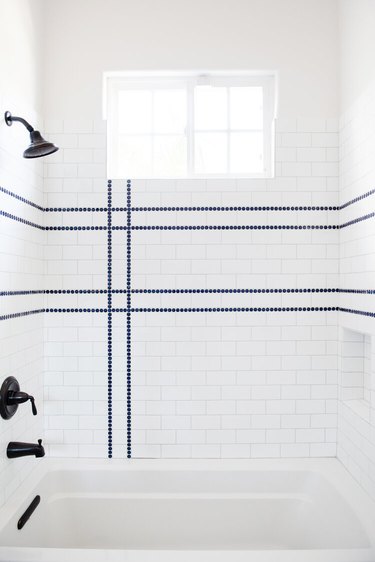 Blue-striped shirts and the ocean naturally go hand-in-hand, and a coastal shower is no exception. In this bathroom designed by the team at Savvy Interiors, the shower is something that Coco Chanel would certainly approve of with its classic white subway tile and navy blue mosaic tile in a preppy stripe design.
2. Fish scale tile is the definition of coastal style.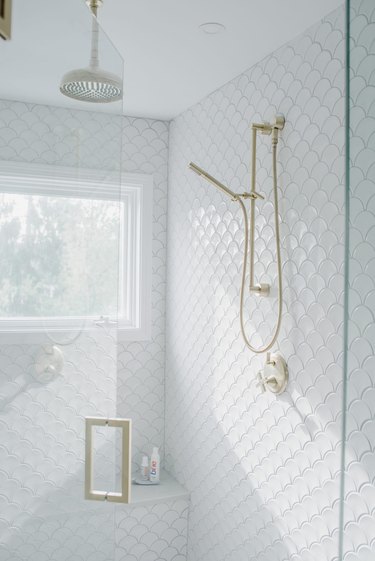 White fish-scale tile in a coastal shower? You literally can't go wrong. In this bathroom belonging to Helen of Style Inherited, a clear glass, frameless shower door flawlessly shows off the fan-shaped tile inside. We also can't get enough of those gold fixtures, but brushed nickel would be just as luxe.
3. Embrace nautical blue.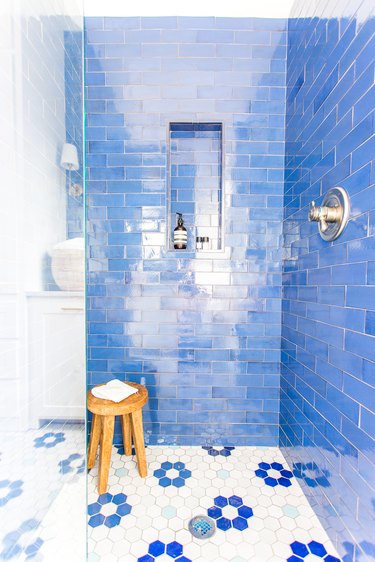 Blue, ocean-inspired tiles will always have a place in a coastal bathroom. Within this shower enclosure chosen by Rachel of Pencil Shavings Studio lies a sea of blue. The coastal shower door opens to bright-blue subway tile clad walls that are reminiscent of a watercolor painting, and blue-and-white mosaic floor tile in a fun floral pattern. Note: You can custom design mosaic tile to get the same look in your own shower.
4. When in doubt, go fresh and clean.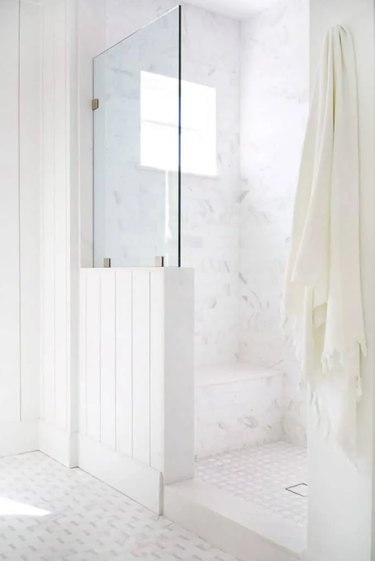 At the end of the day, if you're going back and forth on the visuals for your coastal shower, going with a fresh white setup featuring materials such as white marble, shiplap, and clear glass will never be a bad choice. Mindy Gayer Design Co. opted for a subtle approach in this master bathroom, proving just how clean and classic a coastal shower can be.
5. Choose a light and bright shower curtain.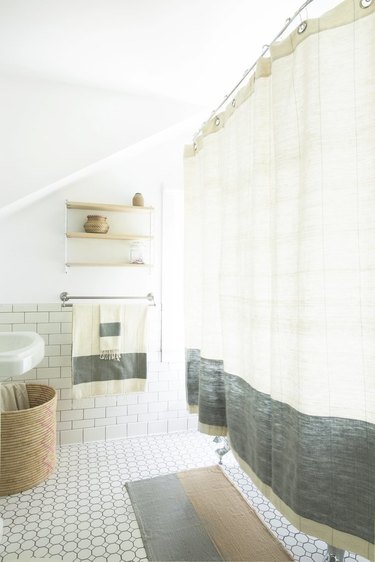 As you set out to pick a shower curtain for your coastal shower, you'll want to search for one that has both good looks and functionality. Ideally, it should be made from a lightweight, gauzy material like linen, and display coastal-inspired colors such as blue and white. This stunner by Bolé Road Textiles fits the bill perfectly.