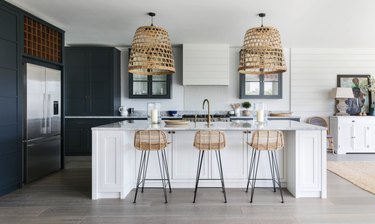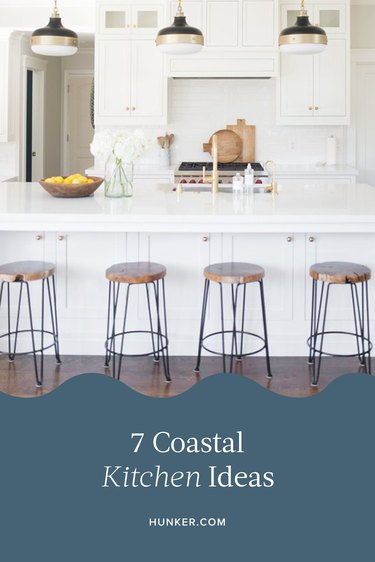 You don't need a view of the ocean to be inspired by coastal kitchen ideas — but it definitely doesn't hurt.
Coastal style is about the feeling of the shoreline or the beach, which is to say it's bright, sun-filled, and airy like the perfect never-ending summer vacation. Unlike more traditional cook spaces, coastal kitchens are more casual — typically with an open floor plan and island seating. And they often (but not always) have a no-shirt, no-shoes, no-problem kind of vibe. Unlike a lot of strictly modern kitchens, there's a softness to the look, usually from lots of wood, wicker, and other natural materials.
But the thing about seaworthy design is that it plays well with others — coastal farmhouse is particularly popular. So it's easier than you might think to incorporate some coastal kitchen ideas into your own home.
1. Use lighting to make a strong, modern statement.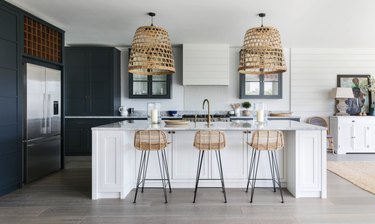 2. Embrace an all-white backdrop.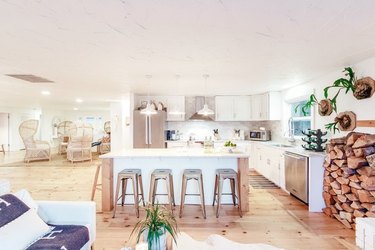 Designer Heather Pollock describes her Port Townsend, Washington, home as "modern beach farmhouse." And nowhere is that more apparent than in the kitchen, which connects to the dining and living rooms. The open space has a bright and casual seaside feel with natural elements that add texture against the all-white cabinets. It screams rustic summer, when, according to Pollock, "all the doors are open and we have bonfires in the big oyster shell fire pit outside."
3. Incorporate some drama.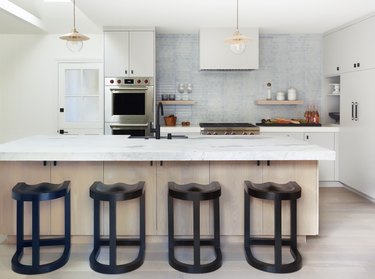 On the flip side, you don't have to go full coastal to give your space an air of breeziness. In this Los Angeles, California, home, designer Anne Carr went with clean, modern lines and subtle coastal accents for a fresh look. The light blue kitchen backsplash evokes water, and the kitchen island lighting has a faintly nautical feel.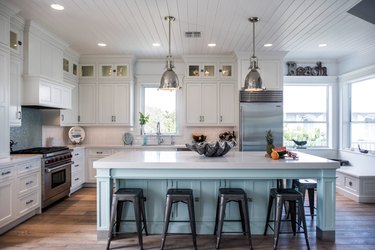 Coastal kitchen ideas truly run the gamut, from the subtle, sleek, and modern, to the overtly beachy. And in this Florida kitchen, a "beach" sign even rests above one of the large kitchen windows. While the white cabinets skew traditional, the rough-hewn floorboards, light teal island, and nautical ceiling fixtures give the space a rustic, beachy vibe.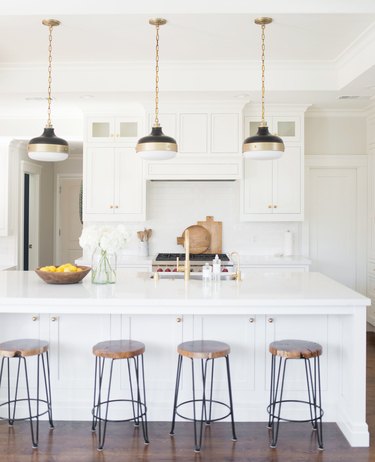 Coastal kitchen design, while casual at heart, can also feel quite classic and refined — in the right hands. Take this bright and airy Silicon Valley kitchen, by Studio McGee. Just a few pops of natural wood soften up a gorgeous, white, open plan kitchen with shining brass cabinet hardware and stately navy and gold island lighting.
7. Channel your favorite coast.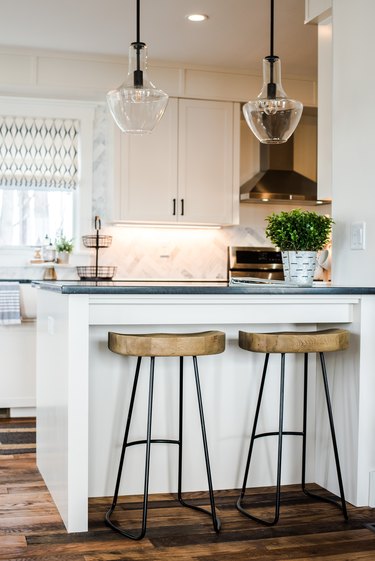 The thing about coastal design in the US is that there are just so many different coasts to choose from — the Gulf, the roaring Pacific, the Eastern Seaboard. At the Weare Cottage at Cliff House, in Maine, designed by PDG Studios, the theme is New England seaside escape. In the kitchen, that translates to salvaged wood floors, coastal lighting, and rustic bar stools that make the traditional feel more relaxed. Plus, there's that incomparable view of the North Atlantic.