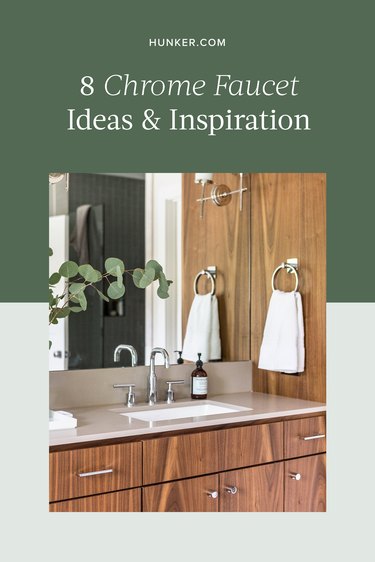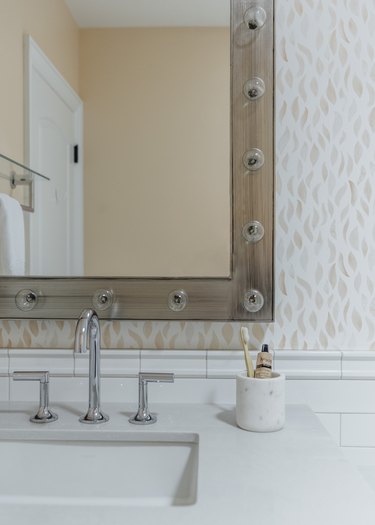 Picking a finish for your bathroom sink faucet sounds easy, doesn't it? This deceptively innocuous design detail may seem like no big deal, you'll want to choose wisely. While matte black and oil-rubbed bronze tones pop up often and are fun, a timeless faucet style, one that looks fresh and modern and will continue to feel on-trend a decade from now, is key. And your best bet is a chrome faucet.
Whether it's farmhouse or modern, traditional or contemporary, a polished chrome sink faucet will fit in with your bathroom vanity perfectly. These fixtures can either brighten up a Victorian basin or enhance the drama of a vessel sink. Best yet, if you're constantly redecorating, brushed nickel or chrome will always complement the style of your washroom, no matter how many times you revamp or try new wall colors.
Read on for eight ways to work a chrome finish lavatory faucet. They'll inspire you to replace your existing one stat.
1. Incorporate a centerset chrome faucet in a classic black and white powder room.
What's black, white, and chrome all over? This sleek bathroom from Black Lacquer Design. In fact, polished chrome makes its bright and shiny way into several details, from the towel ring to the sink legs to, of course, the chrome spout. And if there was a soap dispenser, we bet it would be the same finish as well. Don't overlook the nickel toilet paper holder, either. May as well make it beautiful, right?
2. Brighten up a wood bathroom vanity with chrome.
The polished chrome faucet, as well as a chrome towel ring and light fixtures, add a hint of modernity to this beautiful bathroom. By mixing the two materials, this space from Studio Ten 25 is the perfect balance of contemporary and traditional. We're big fans of adding plants for a shot of color, too. (Psst: Here are the six best plants for bathrooms.)
3. Let polished chrome work as the ultimate neutral.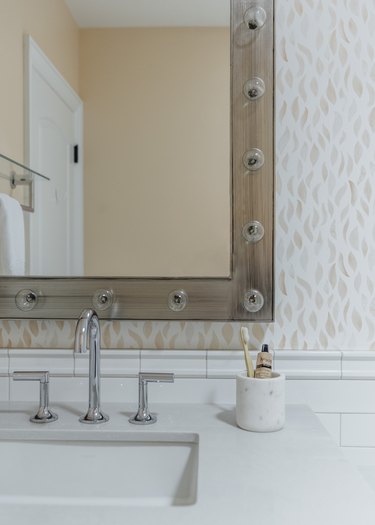 Lights, camera, action! This bathroom from Michelle Lisac Interior Design is ready for showtime. With a peachy paint color, a feathered wallpaper, and Old Hollywood-style vanity lights, the space is already brimming with character, so the chrome faucet adds to the shine without being flashy. Remember: Chrome is an easy-to-pair neutral no matter your color scheme.
4. Add a modern spout for a fun twist on traditional.
If the idea of a stainless steel or chrome faucet feels a smidge too traditional, consider adding one with a more modern shape to your countertop. Take this sink faucet in a bathroom designed by Karen B. Wolf Interiors. It's the perfect choice to complement the various shades of white and gray, and it allows the wallpaper to be the star.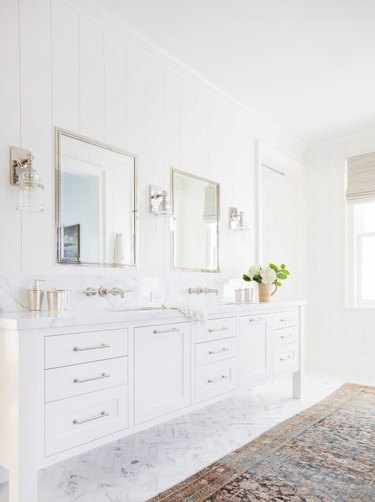 If you're working with an ultra bright bathroom (lucky you!), consider a chrome finish for all of your fixtures, from the faucet to the soap dispensers, lighting, and mirrors. Amber Interiors designed this enviable bathroom with double sinks and matching chrome faucets, and they blend in seamlessly with the white-on-white design.
6. Install two gooseneck chrome faucets for double the fun.
The stylists at Etch Design Group didn't take themselves too seriously while designing this playful yet sophisticated bathroom. And it's hard to pick the best part. Is it the stripe of green tile? Or the cheeky bird-themed wallpaper? Or perhaps it's the double sink, with two gooseneck chrome faucets, which simultaneously feel both retro and modern. We simply can't choose.
7. Go with a chrome lavatory faucet if you prefer a cool color palette.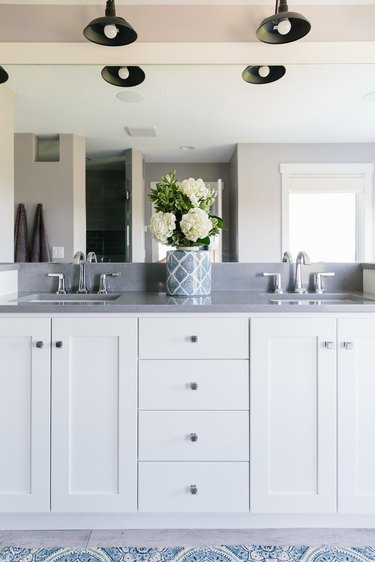 While a chrome finish can complement any color palette, it particularly shines among blue, gray, and white tones. Consider this zen bathroom by Interior Impressions Exhibit A. It's not too bright nor too colorful, making it just the place you'll want to yawn and stretch every morning and wind down each night.
8. Focus on clean lines, durability, and functionality.
Leave it to Studio McGee to design the world's most beautiful bathroom. Symmetry and functionality are key here, as evidenced by the sinks, storage, light fixtures, mirrors, and bathroom faucets. And in a space full of neutrals, from shades of white to warm wood finishes, brushed chrome fixtures are a no-brainer. Plus, all the clean lines just work.