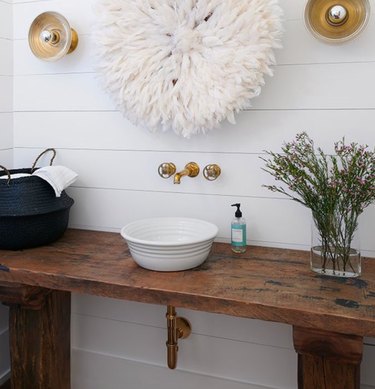 Oh, that farmhouse living. Ever since Chip and Joanna Gaines got into our heads, the decor of many dreams is usually sprinkled with their flair. Clean, classic, timeless but always cozy and rustic, the look has become the go-to for the design savvy and DIYers who want to rework their spaces into something special, but still very livable. When it comes to bringing this into your bathrooms, what better place to start than that backsplash? From texture and color to functionality and form, we've got some looks that are sure to inspire your farmhouse bathroom backsplashes and would even impress Chip and Joanna.
Farmhouse Bathroom Backsplash Idea #1: Subway Tile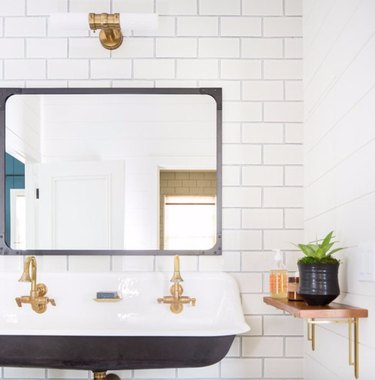 Let's be real: You can never, we repeat never, go wrong with subway tile. The style is perpetually iconic, clean, and chic. It also happens to work with just about any style of sink and vanity in a bathroom. And there are so many sizes and colors available, you can go bold or just plain blissful. This beautiful bathroom by Wendy Word Design combines a vintage-style trough sink and that aforementioned tile that makes us swoon.
Farmhouse Bathroom Backsplash Idea #2: Shiplap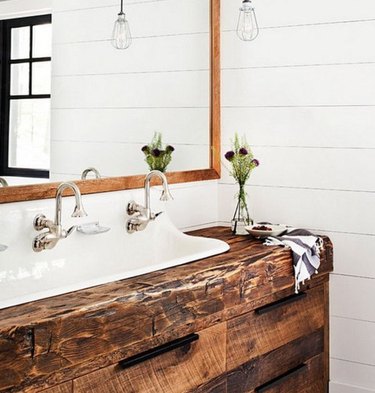 Another look we're seeing more and more of is shiplap in unexpected places like showers and backsplashes. Traditionally an exterior surface, it's used in bathrooms as a cost-friendly and cozy finish. Be sure to use a water-resistant paint or stain to keep the surface free of any potential damage from moisture. This perfect recipe of reclaimed wood and shiplap in a bathroom from Jennifer Worts has us rethinking using tile at all.
Farmhouse Bathroom Backsplash Idea #3: Wainscoting
Farmhouse Bathroom Backsplash Idea #4: Exposed Brick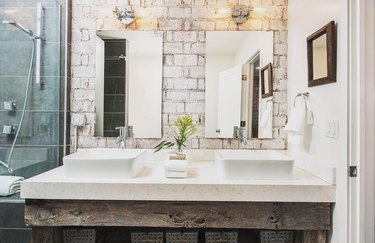 We all love an exposed brick look, especially in a bathroom. Either painted with a wash or not, it's always a standout. And this one from Landon Mondragon brings all the feels for this stylish bathroom. You can even get the look using easy to install brick tiles.
Farmhouse Bathroom Backsplash Idea #5: Cabin Fever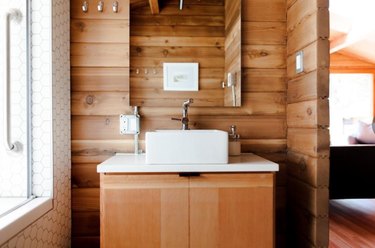 For the true outdoorsy type, or those of us who wax on about the woods whilst sitting smack in the middle of the city, bring the outdoor vibe inside by using real wood paneling around your sink. This look at Bodega Ridge in British Columbia is a stunner, yet minimalist at the same time. Of course, always remember: Keeping the wood treated with moisture-resistant coating will insure your look will last for years.
Farmhouse Bathroom Backsplash Idea #6: A Simple Shelf
Farmhouse Bathroom Backsplash Idea #7:  Tone on Tone
Simplicity can equal sophisticated. And oh, how we love how the perfect color palette can create something that has us saying, "Why didn't I think of that?" Warm tones work overtime in the Joshua Tree bathroom of Kelly Brown and Bryce Ehrecke. They forwent a tile or wood backsplash for a wall painted in a desert tone above a handmade wooden sink. It's farmhouse meets desert dream and it's 100% awesome.
Start Shopping for Your Farmhouse Bathroom Backsplashes Here:
The Tile Bar has every style of subway tile under the sun (and maybe beyond.) It's a solid place to dive into some classic backsplash shopping.
The Home Depot has your shiplap that's ship shape (sorry, we had to) and even designs from Joanna Gaines herself!
Wayfair is a great place to shop wainscoting in all shapes and sizes.
Farrow and Ball sells eco-friendly interior paint in colors inspired by nature.