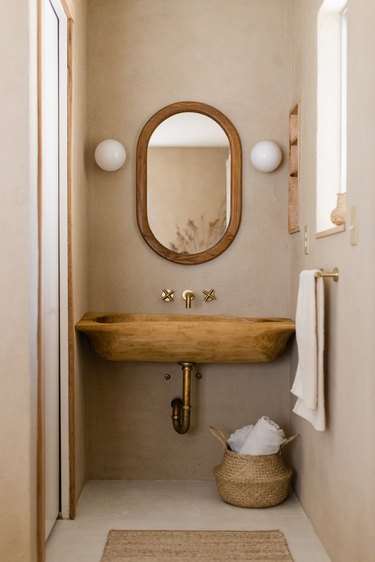 In a perfect world, you'd have a bathroom that's large enough for a soaking tub, separate waterfall shower, and your very own set of Jack and Jill sinks. But in reality? You're working with a teeny, tiny space. While you might've mastered the art of small space living in other rooms of the house, the bathroom is quite different. After all, you need to be able to fit all of your fixtures, towels, and accessories inside.
You may not be able to shrink your toilet or stand-alone shower, but you can choose a sink that works with your lack of square footage, not against it. To help, we're sharing six smart bathroom sink ideas for your small space. Trust us, this inspo will prove size doesn't equal style.
1. Pick out a pedestal.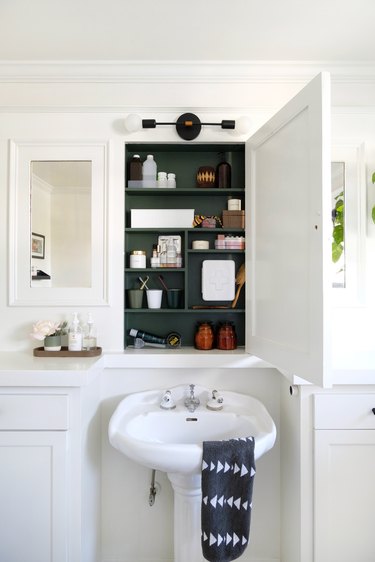 Small quarters present a unique opportunity to put your style on a pedestal. Well, a pedestal bathroom sink, that is. With limited counter space and no cabinets below, a pedestal sink is one of the most space-efficient styles out there. Not only will the extra floor space make your primping area appear larger, but you'll also have plenty of autonomy to decorate however you please. This white bathroom shows us how it's done by pairing a pedestal sink with a hunter green medicine cabinet. Swoon!
2. Sail away with a vessel sink.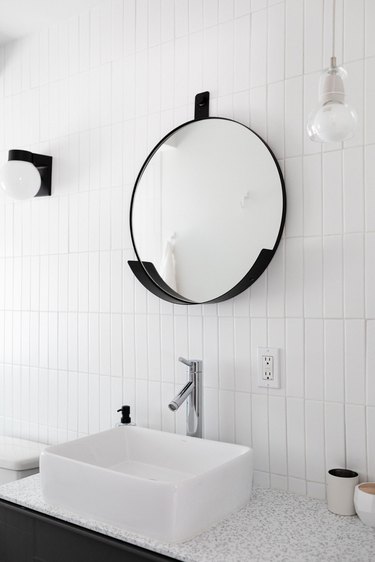 If you want a basin that is just as pretty as it is practical, give a vessel bathroom sink a try. Perched atop of your countertop, vessel sinks infuse a spa-like quality, plus they take up very little surface space as seen in this modern bath. The rectangular selection manages to be equal parts practical and stylish — especially when paired with subtle yet elegant wall tile, a sleek, round mirror, and mismatched light fixtures.
3. Go with a console.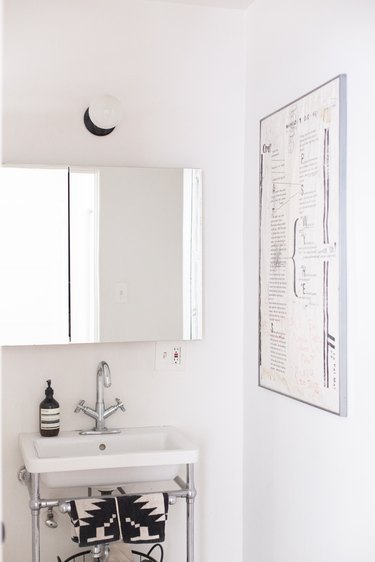 With plenty of empty space below, a console bathroom sink is similar to a wall-mounted or pedestal style sink. The only difference? It's propped up with metal legs, or a console, adding some old-fashioned industrial flair to your digs. If you want to maximize your storage space in your already tiny bathroom, take a lesson from this all-white bathroom and place a mirrored cabinet above, and use the legs of your console sink to hang your freshly laundered Turkish hand towels.
4. Try a pared-back vanity.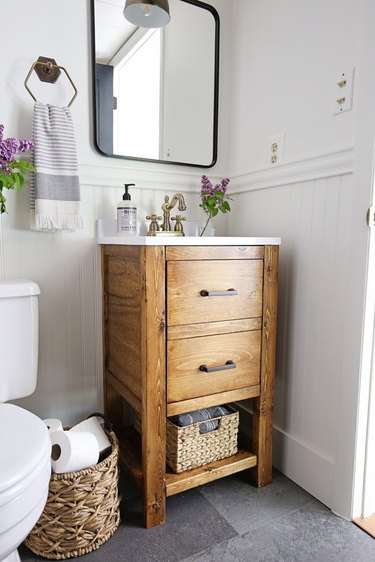 This just in: You don't need a spacious vanity cabinet to make a statement. Anyone who needs a small bathroom sink — but doesn't want to skimp on storage — should just opt for a smaller version, like Angela from Angela Marie Made did in this tiny makeover. The drawers and open shelf offer a discreet place to hide essentials without taking up an entire wall.
5. Make the most of your wall space.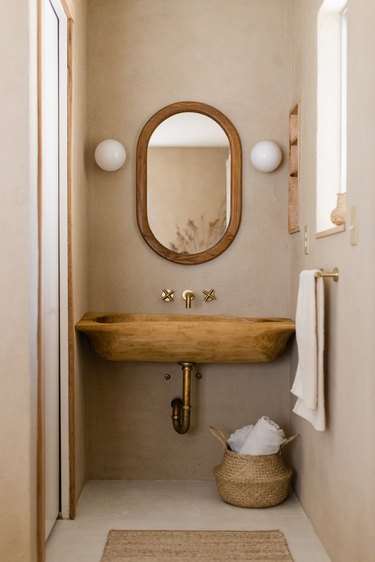 If you're looking for something that is more space-efficient than a pedestal sink, your search is over. Consider a wall-mounted bathroom sink. Since it hangs on the wall and has no cabinets, stand, or platform below, you're free to accessorize your blank space as you see fit. Craving some extra storage? Take a cue from this earthy oasis and place a woven basket underneath your basin. Or, if you prefer, leave that space empty. We love the way this wooden trough spans wall-to-wall, and is complemented by a brass faucet, mirror, and a pair of wall sconces above to add a hint of glam.
6. Play with proportions.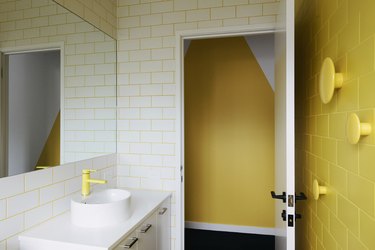 Whether you select an undermount or vessel sink, one thing's for sure: Size matters. If you're looking to free up some counter space in your tiny bathroom, opt for a smaller bowl. The petite vessel sink selected by the team at MRTN Architects for this yellow refuge creates the illusion of a larger countertop and a more spacious washroom. A win-win in our book.