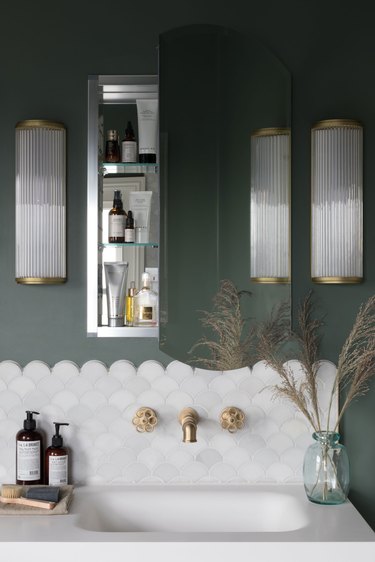 Looking to add a little bit of luxe to your washroom? A solid brass bathroom faucet could just be the final touch you need. One of the trendiest metallics (even more so than matte black and brushed nickel) brass or oil-rubbed bronze instantly creates warmth as well as a hint of glamour. And these brass bathroom faucet ideas will serve up all the inspiration you need.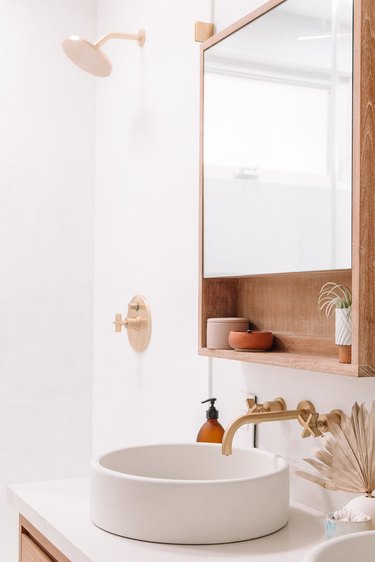 Some people will tell you not to overdo the brass finishes, but we're all for the "more is more" approach. Olivia of Lust Living got it just right in her modern bathroom. The antique-style lavatory faucet is in good company with a round brass mirror, soap dispenser, and freestanding shelf.
3. Play with vintage styles.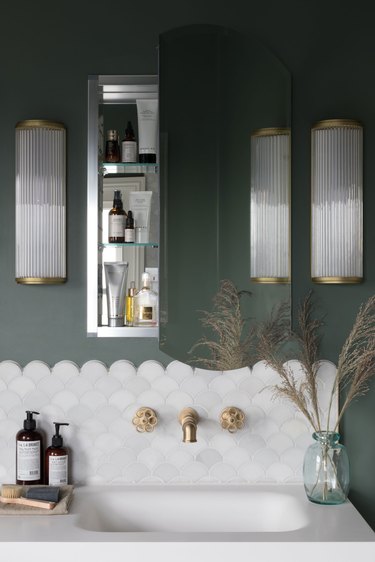 Vintage brass will give an elegant edge to a classic marble bathroom, especially if you pair it with a green or blue color palette. Take a look at the wall-mounted faucet in this timeless suite for a lesson in making a modern aesthetic blend with Downton Abbey vibes.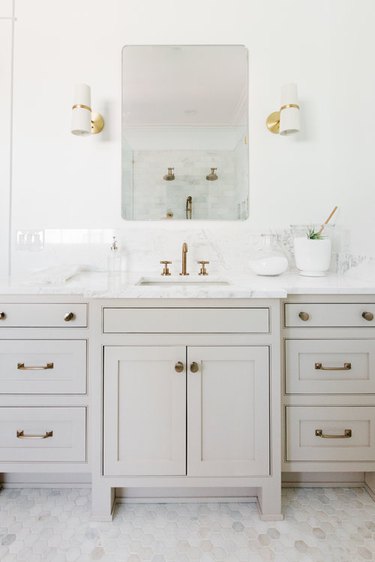 The brass faucet and door pulls in this contemporary bathroom from Lexi Grace Design are the perfect complement to gray cabinetry. While the room might otherwise look a little monochromatic, the brass accents and complementary wall lights bring in warmth.
5. Add just a touch of brass.
While brass looks wonderful in a neutral setting, it also helps enhance an eclectic aesthetic. In fact, you could integrate brass fixtures into almost any bathroom design. Case in point: the single handle faucet in this Moroccan-inspired washroom from Topology. It works beautifully with the emerald green tiles, wood vanity, and ornate basin sink.
Brass hardware in a minimal bathroom makes for interior magic, and this space designed by Three Birds Renovation is here to prove it. The freestanding basin is paired with a brass tub filler that adds a little bit of luxury to the setup. And we can't get enough.
7. Do something a little different.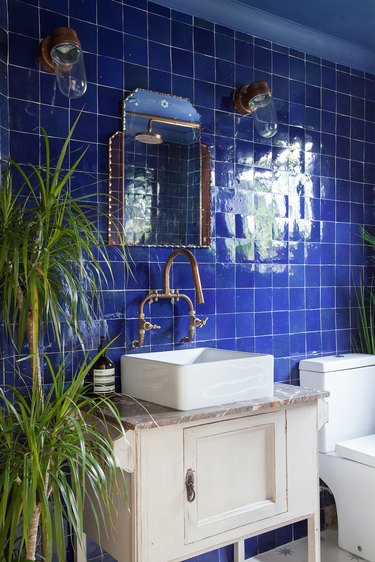 Dare to make a statement with your bathroom faucet. Take note of the oversize brass tap in this vintage-inspired space by Emilie Fournet Interiors. The gooseneck faucet acts as a focal point, features a double handle, and looks totally different from a standard tap. If you want to go the extra mile, go for a matching pop-up drain and showerhead.