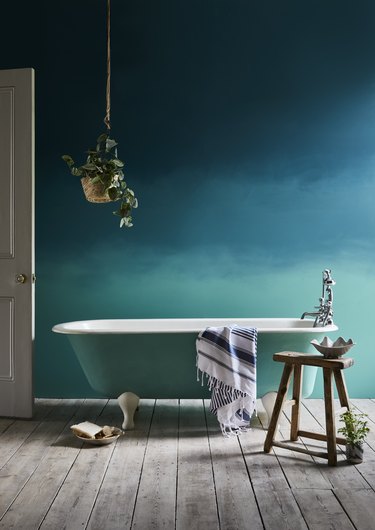 A little paint can make a big impact in a small bathroom. Whether you're working with a tiny powder room or a cramped guest bathroom, when applied correctly, the right hue (in the right place) can actually make a small space seem more expansive than it really is.
"Paint can make a huge difference in a small bathroom if you do it the right way," says Sara Barney of BANDD Design. "Depending on the color and application, painting your bathroom can make it appear smaller or larger."
To prove this point, we asked a handful of interior designers what paint tricks they use to maximize small bathrooms, and here's what they had to say.
1. Paint your cabinets dark (but keep your walls light).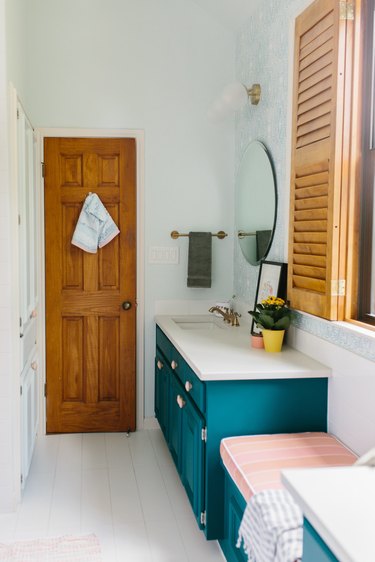 "In order to make a small bathroom appear bigger than it actually is, use lighter colored paint throughout all of the walls because darker paint could make the room feel smaller and more compact," Barney says. "If you want to add in a darker color, consider painting your bathroom cabinets that color instead."
2. Bright white FTW.
"A crisp, clean white can make a small bathroom feel larger and fresh," says Elizabeth Cooper. "I typically go with an eggshell, semi-gloss, or full gloss finish in bathrooms because I think that they work better in spaces with water, where they're likely to get splashed."
3. Paint trims in a contrasting color.
"Give a small bathroom a Hollywood glam feel by painting the walls and ceiling pure white and the trims black," says Abbe Fenimore of Studio Ten 25. "This makes a tiny space feel modern, bright, and chic."
4. Paint the ceiling.
"Paint can make a big difference in a small bathroom, especially on the ceiling," Liz Caan says. "If there is floor to ceiling tile, paint the ceiling an accent color! If the bathroom has light-colored tile, paint the walls a little darker to accentuate the grader tile design."
5. Go dark.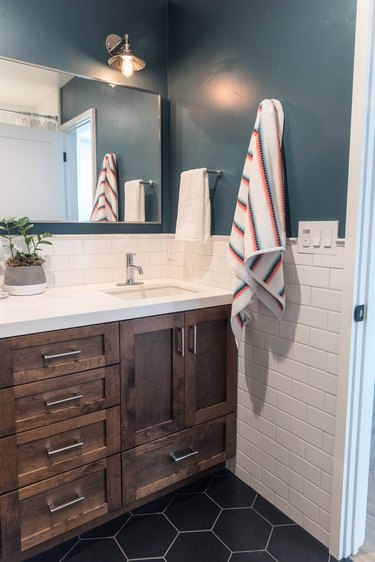 "It is a misconception that dark colors make a small room feel smaller; it's quite the opposite," says Michelle Lisac. "Dark color in a small space can actually make it feel bigger, bolder, moodier, and more sophisticated. To achieve this look we have used some of our favorite darker blue paint colors but have also used wallpaper in powder baths to add some additional texture and pattern."
6. Try something with a semi-gloss finish.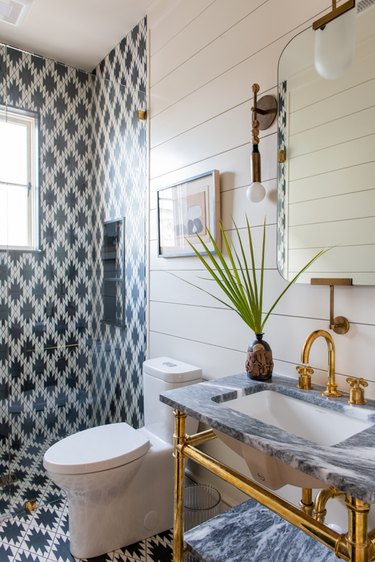 "Pale shades in a semi-gloss finish will repel moisture and signs of wear, compared to flatter sheens," Cortney Bishop says. "Lighter wall tones will elevate even the smallest of rooms."
7. Make it blue ombre.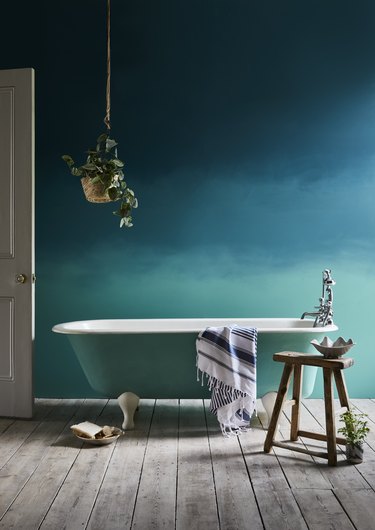 "Blue is a fabulous shade for a small bathroom because it's recessive, meaning it will make the whole space feel much larger," says Annie Sloan. "An ombre wall, painted with two slightly graduated shades of blue, encourages calm, creative thinking while creating a real sense of oasis."
8. Consider an accent wall.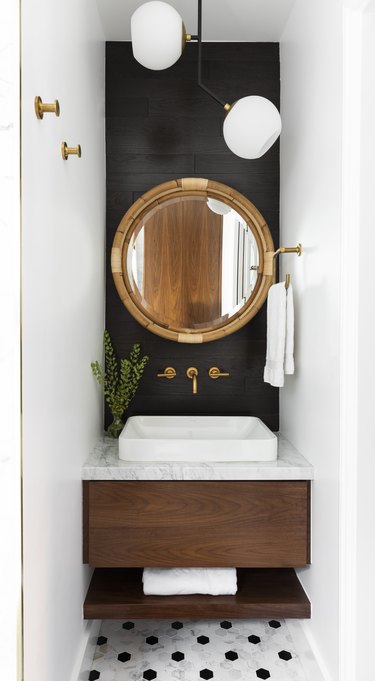 "Powder baths are the perfect place to play with saturated hues because they are secondary spaces enjoyed by family and guests, but aren't relied on for getting ready every morning," Marie Flanigan says. "If you're a fan of dark paint, but still want your space to be bright, consider painting an accent wall with your bold color while keeping the rest of your walls light."