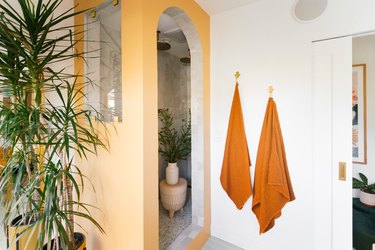 Bathrooms usually tend to follow the same blueprint — neutral walls, chrome fixtures, and a tiled backsplash that's as standard as they come. And unless you've taken the custom route or invested a hefty chunk of time and money into revamping it, the space could probably use a little lift. After all, a graphic shower curtain and a potted plant can only do so much. As for the easiest way to transform the room? Vividly patterned tile is a start, but a fresh coat of paint can take it to the next level.
When it comes to picking out bathroom colors, it's worth stepping outside of your comfort zone to experiment with a bold or unexpected shade. Think of this as your opportunity to try something new. To get started, here are seven bathroom color ideas that have been trending.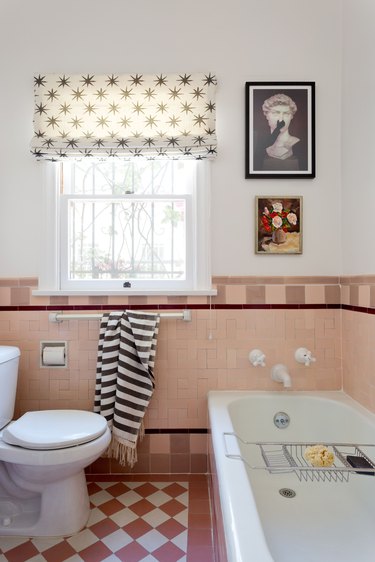 Somewhere between a soft blush and terra cotta is this tinted shade of pink that's equal parts edgy and cool. Best reserved for vintage-inspired tile — this bath by Katie Hodges Design has the right idea — pair the hue with a contrasting maroon and mauve to diversify your palette with an unexpected finish.
A cool blue is always in style and its ability to invite a sense of calm makes it a no-brainer when it comes to picking out bathroom colors. Paired with a wave pattern wallpaper, the muted sky blue paint in this Berlin home emulates tones found in the print and complements the gray veining in the marble vanity.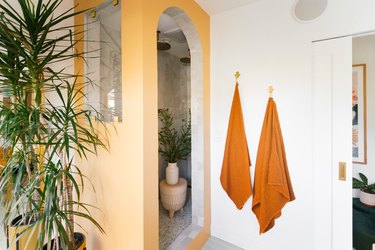 Take a cue from Dabito of Old Brand New and use vibrant paint colors to create a focal point in your bath — it can be anything from the door to the vanity. When it came to the transformation of his master ensuite, the designer reinvented the alcove shower with an arched entry, zellige tiles, and a golden yellow accent wall that stole the show.
A standard gray wall paint may not be high on your list of favorable bathroom color ideas, but add in a textured component and suddenly, it becomes exponentially cooler. Allow this stunning powder room designed by Amber Lewis to serve as proof. Recreate the look with a gray limewash paint — which is essentially crushed limestone thinned out with water — that lends a velvety-matte finish.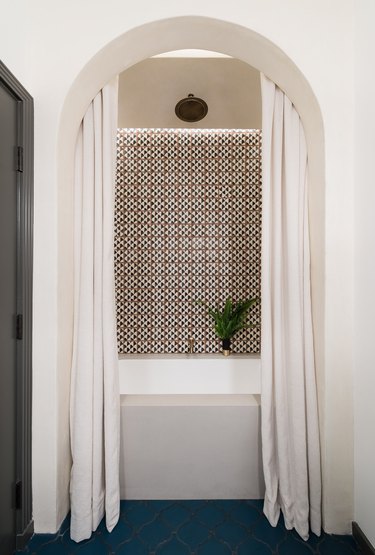 An off-white paint coupled with contrasting patterned tile is a low-effort way to draw in a dose of elegance. Follow the lead of this West Hollywood home, where the bathroom colors are limited to a reserved palette of neutrals that extend to the tile, walls, and curtains, while the navy floors and high-contrast backsplash accentuate the scene.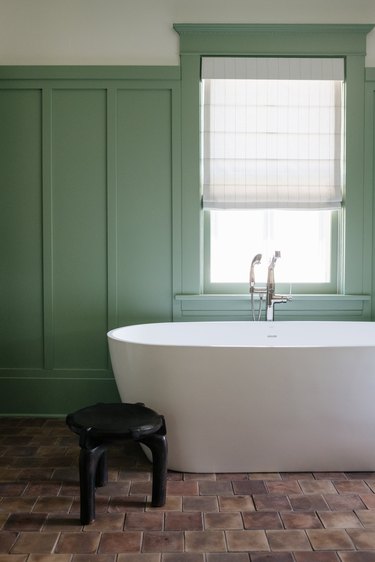 While it may seem harder to pull off, this trending bathroom color idea offers a refreshing twist on the standard green. Best when paired with dark wood or terra cotta floor tiles, this inspired minty shade results in a bucolic yet modern finish. Here, Prospect Refuge Studio illustrates just how beautiful the combo can be.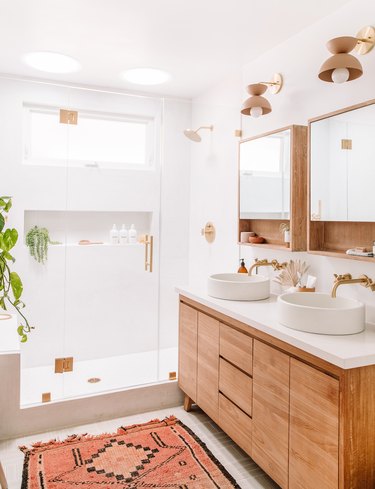 Embracing the warmer end of an earthy palette is a bathroom color trend we can always get behind. Almost Makes Perfect's bath reno is a perfect example of how well the colors can play off of one another when placed within an all-white backdrop. Comprised of a series of terra cotta tones coupled with light wood details, the space feels like a cozy desert oasis.