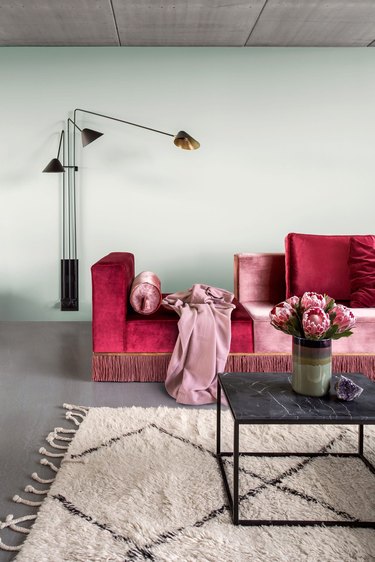 In the colorful city of Berlin, graffiti streetscapes, eclectic architecture, and fashionable residents reflect the city's individuality. For architect Ester Bruzkus (founder of Ester Bruzkus Architekten), individuality was an also important element in designing her 860-square-foot Berlin apartment, which she shares with her partner. "The apartment is a bit like we are. It's precise but fun; it's rigid but flexible; it's restrained and opulent too. It can be formal and it can be relaxed," Bruzkus says of the space, which combines an array of textures and colors to convey a sophisticated design.
"We love working with surprises," Bruzkus further explains, "so inside the cabinet doors you find bright colors from Le Corbusier — blue inside the gray cabinet, yellow inside the coat closet, pink in my wardrobe, green in the kitchen. And the bathroom is a surprise of terrazzo and Japanese wallpaper." Together, the home is a completely fun and unique expression of her personality.
---
After interning at Dwell magazine in San Francisco, Kate began writing about arts, design and culture for other national publications. She is based in Los Angeles and San Francisco.