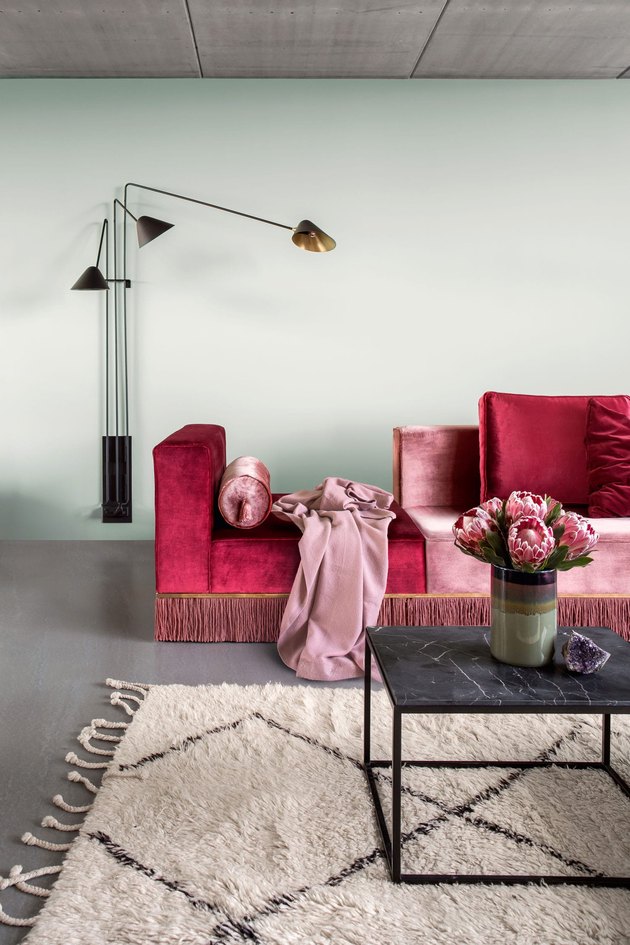 In the colorful city of Berlin, graffiti streetscapes, eclectic architecture, and fashionable residents reflect the city's individuality. For architect Ester Bruzkus (founder of Ester Bruzkus Architekten), individuality was an also important element in designing her 860-square-foot Berlin apartment, which she shares with her partner. "The apartment is a bit like we are. It's precise but fun; it's rigid but flexible; it's restrained and opulent too. It can be formal and it can be relaxed," Bruzkus says of the space, which combines an array of textures and colors to convey a sophisticated design.
"We love working with surprises," Bruzkus further explains, "so inside the cabinet doors you find bright colors from Le Corbusier — blue inside the gray cabinet, yellow inside the coat closet, pink in my wardrobe, green in the kitchen. And the bathroom is a surprise of terrazzo and Japanese wallpaper." Together, the home is a completely fun and unique expression of her personality.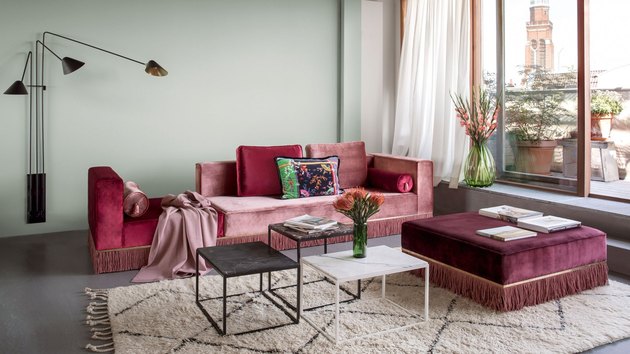 1 of 10
Living Room
Becoming her own client was challenging. "It was difficult not to design it day and night in order to get it right. But we are happy with how it turned out," Bruzkus says.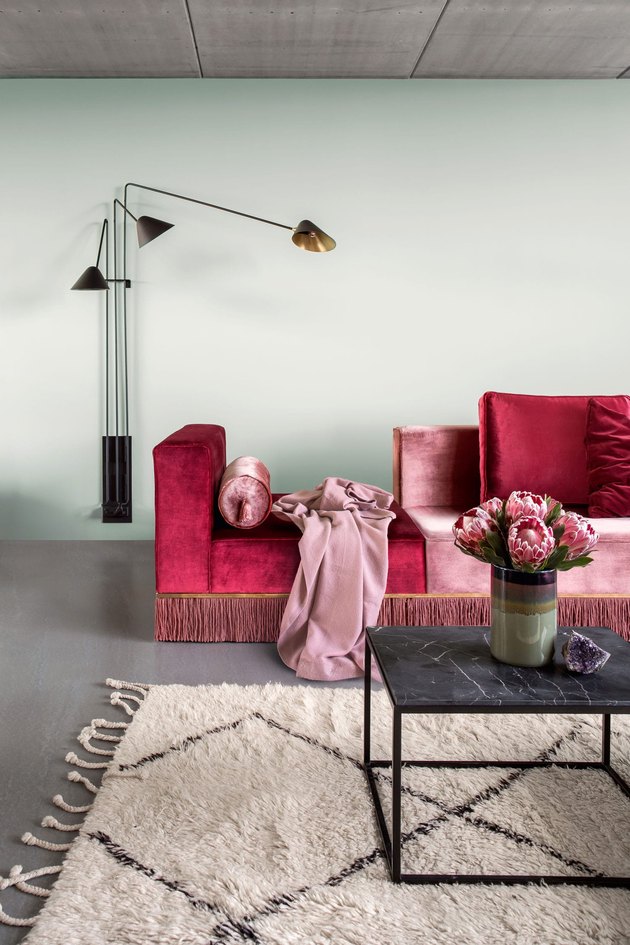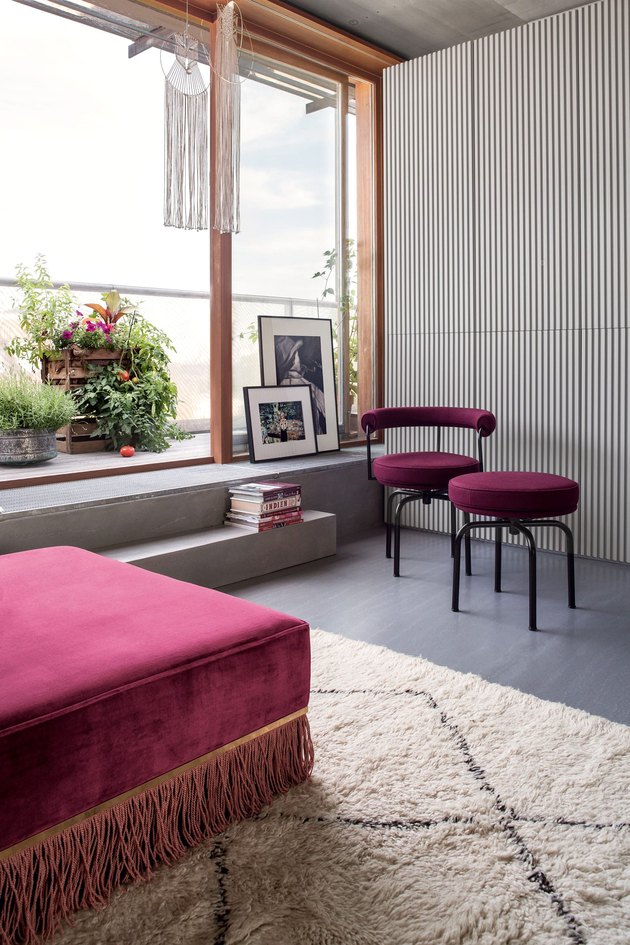 3 of 10
Living Room
Cement floors were matched with prefabricated concrete elements used on the ceiling. The floor and ceiling set a more neutral tone allowing for a splashy use of color.
4 of 10
Living Room With A View Of The Terrace
The apartment is located in what is called an Estradenhaus, one of the first residential buildings built in former Soviet Sector neighborhood Prenzlauer Berg after the fall of the Berlin Wall.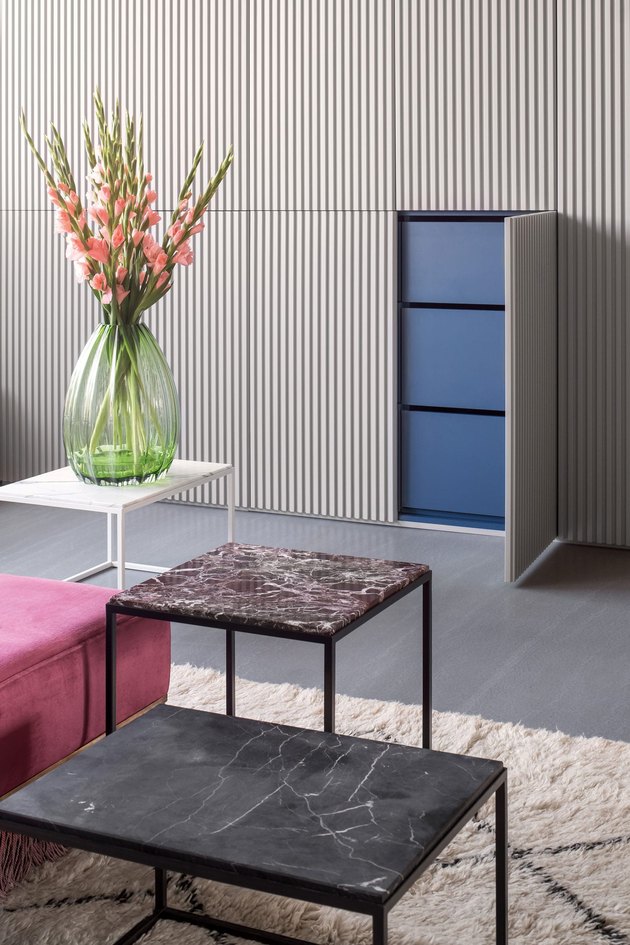 6 of 10
Living Room
"It's full of contrasts, which is how we like it. It's also full of surprises — for example, the apartment is designed as a dialogue between two room-sized boxes of restrained materials, one of light oak and the other of a cool gray," Bruzkus says. One of the biggest surprises lies within the living room: a cabinet made from wooden slats painted gray for an industrial look, while the inside was painted in a more nature-inspired sea blue hue.
8 of 10
Kitchen
Design influence from Le Corbusier can be found in the home's use of color and texture. The walls were painted with colors from the paint collection Les Couleurs Le Corbusier.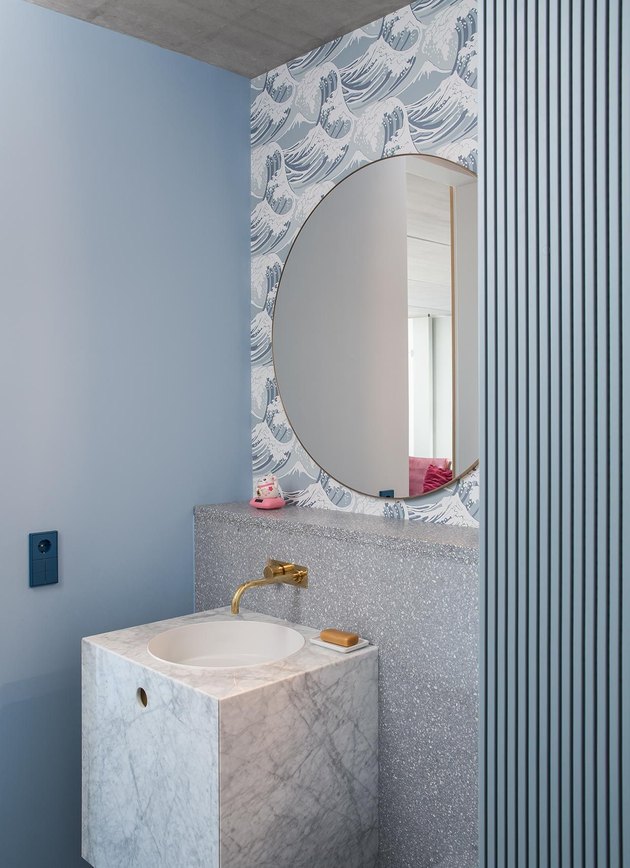 9 of 10
Bathroom
A small maneki-neko (a lucky cat figurine) from Japan welcomes guests into the bathroom. Dramatic wallpaper — called The Great Wave from Cole & Son — is an ideal match for the adjacent wall color.
10 of 10
Bathroom
Equipped with Vola brass faucets, the Lux Elements bathtub features a light-gray terrazzo. A slender door makes more room for storage in the small space.
---
After interning at Dwell magazine in San Francisco, Kate began writing about arts, design and culture for other national publications. She is based in Los Angeles and San Francisco.
View Work