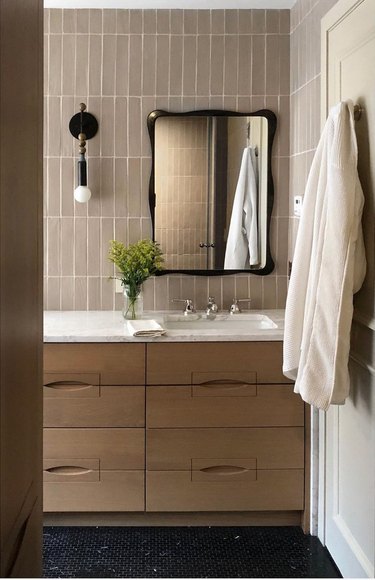 Subway tile was originally designed for use in, yup, subways. First seen in New York City back in 1904, the classic tile was quickly adopted due to its affordability and reflective quality as a way to brighten up the dingy underground stations — and they've been widely embraced ever since. An enduring material that imparts timeless charm, subway tile is also a natural choice for your bathroom design. It's easy to clean, versatile, and isn't a budget buster. We're partial to applying it to the walls and floors of small bathrooms, where it makes a visual impact without taking up precious visual real estate. Additionally, its natural luster reflects light, creating the illusion of more space.
The original (and arguably most popular) version of subway tile is the white ceramic 2-inch x 6-inch rectangular design that we all know and love. But, it's also available in a range of colors (from pink to black), materials (such as marble, glass, and cement), and shapes (including elongated rectangles and squares) which impart a more modern and streamlined sensibility to interiors. Although it's traditionally arranged in a horizontal offset pattern known as running bond, it can be installed in seemingly endless variations for an unexpected twist.
Love the look, but not sure how to make it work in a small bathroom? Scroll on for eight novel ideas.
1. Try a fun bathroom tile pattern.
This small bathroom might be short on space, but it's big on character thanks to out-of-the-box thinking by Sarah Sherman Samuel who repurposed a midcentury modern credenza as a wall-mounted vanity. The eye-catching subway tile backdrop features a unique step ladder pattern, made up of tile in different sizes. Mini pendant lights, a ladder for holding towels, a colorful rug, and greenery up the charm factor.
2. Consider a high-contrast look.
If you love the look of classic subway tile, but long for something a bit less ubiquitous, a black and white color scheme could be just the thing for you. This striking small design by White Oak Home Builders features the high-contrast combo in the form of black subway tile, black and white mosaic hexagon bathroom flooring, and a matching sink with nickel hardware.
3. Use ceramic tile to trick the eye into "seeing" more space.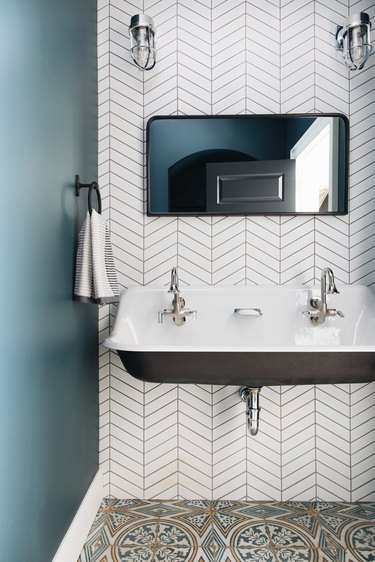 In addition to creating visual interest and dimension, installing subway tile in certain patterns, like herringbone and chevron, is a design idea that can actually make a small bathroom feel more spacious since it keeps the eye moving. For example, Jean Stoffer anchors this petite remodel with a white subway tile feature wall flaunting a chevron pattern. She then layers eye-catching details, such as a trough sink, a colorful floor tile, and teal painted walls. Industrial style accents complete the look.
4. Go luxe with marble tile.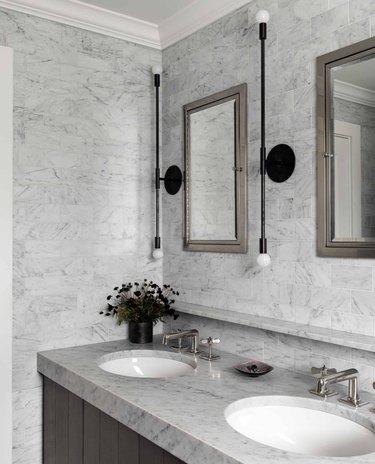 5. Embrace (a dash of) color.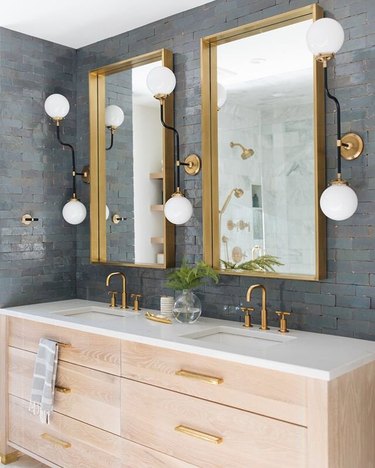 Introducing muted hues to a spatially challenged room infuses a subtle dose of color without overwhelming it. This small space design idea by Kate Marker features blueish-gray bathroom wall tile and a pale wood vanity resulting in a calming vibe with sophisticated undertones. Gold faucets and a trio of architectural sconces are striking additions that elevate the look.
6. Blanket your walls in white.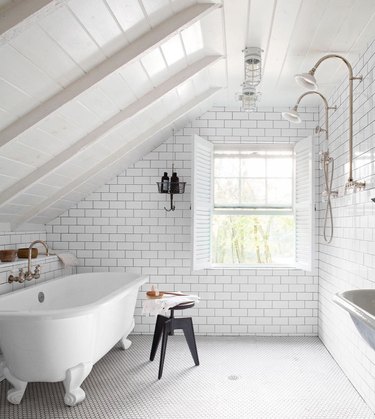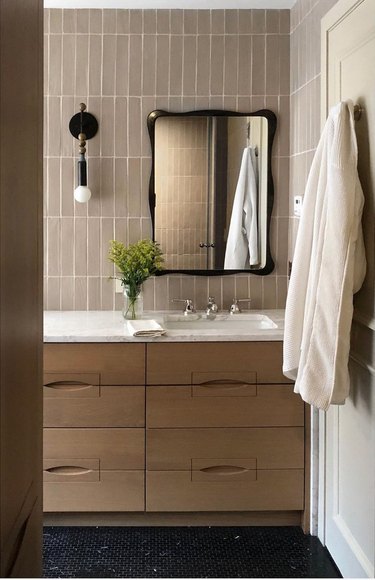 Vertically oriented subway tile in a stacked pattern naturally draws the eye up, visually enlarging a small bathroom and imparting a modern feel. This tonal space by Sketch42 serves up all the luxury of a more expansive washroom by including bespoke accessories, such as a scalloped mirror, a custom vanity with integrated handles, and a sculptural sconce.
8. Pair with bold colors.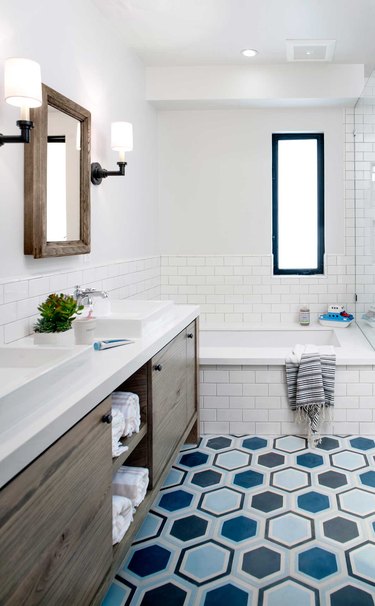 A small bathroom clad in subway tile leaves the door open for endless opportunities to personalize the space with color, pattern, and uncommon materials. In this thoughtfully appointed bath by Daleet Spector, walls and a bathtub surround flaunting white tiling serve as a neutral backdrop to the focal point — cheery graphic cement floor tile. A wood vanity and mirror add warmth while a carefully placed window filters natural light.