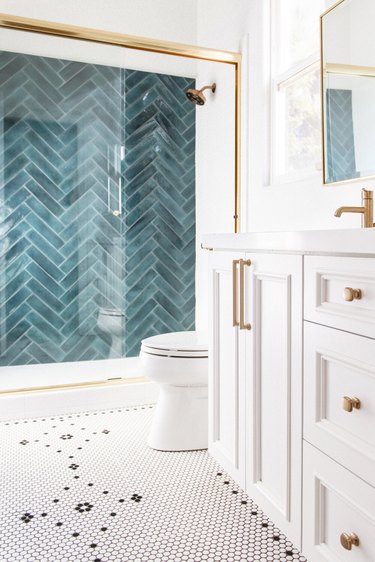 Let's face it: The color teal is seriously underrated. A captivating combination of blue and green, the dynamic hue can vary drastically from light to dark depending on which one of its parent shades is more dominant. A rich teal is filled with depth, emulating the tonal essence of the sea while on the opposite end of the spectrum, you'll find a vibrant, saturated, and more mature version of aquamarine. There's a muted genre — Benjamin Moore's 2021 Color of the Year, Aegean Teal, being a prime example — that throws soft gray undertones into the mix. Whatever the case may be, the tertiary shade deserves a little more time in the limelight.
It's a popular color choice in midcentury interior design — as well as contemporary and boho styles — namely when it comes to the bath. While it may not be your first choice for your shower, it definitely deserves a second thought. After all, white-on-white subway tile had its moment in the sun, and now it's time for something new and fresh. Need a little more convincing? Allow the dreamy design ideas ahead to prove just how impactful teal tile can be in a bathroom remodel.
1. Opt for a complementary scheme.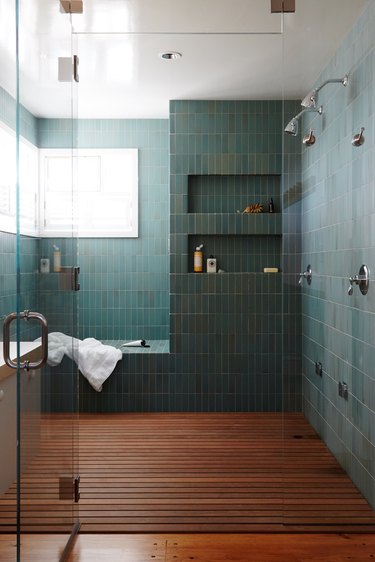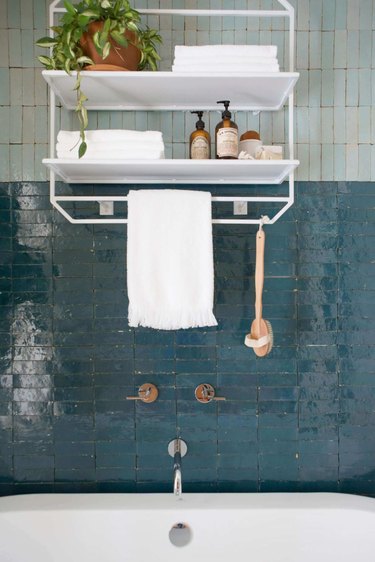 When using teal tile, look to the undertones of the specific shade (does it skew more blue or green?) and allow that to inform your color choices for the surrounding paint or even a different wall tile, if you're doubling down. Here, a soft whisper-blue tile offers a subtle contrast to the teal tile, without taking any attention away from it.
3. Bring it down to the shower floor.
Create an all-encompassing finish by allowing the teal shower tile to extend from the wall down to the floor. Jen Pinkston from The Effortless Chic did just that, not only resulting in a show-stopping waterfall effect but also delineating the shower area from the rest of the space with the bathroom floor tile.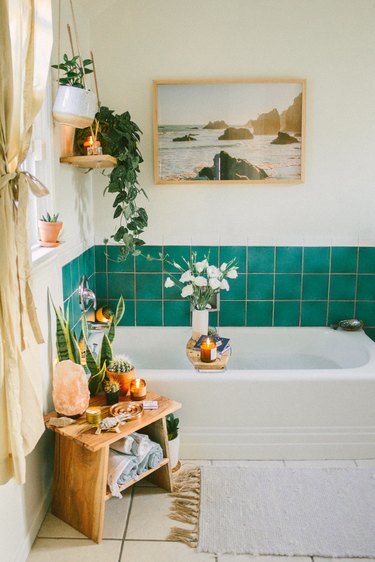 The color teal blue is a signature commonly seen in boho home decor, fitting right in with the abundance of greenery that the aesthetic calls for. When it comes to selecting a bathroom tile, err on the modest side and opt for a simple square tile, as Sara Toufali did here in her personal oasis.
5. Incorporate some flash.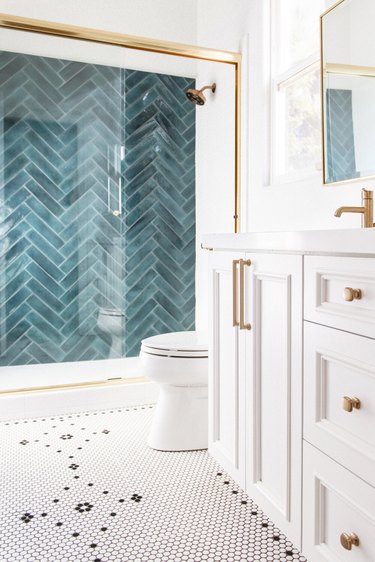 When integrating teal tile into your space, be mindful of the other colors that will be present in the room. Anything too saturated (think pink, yellow, or red) could run the risk of clashing with the aqua hue. When in doubt, remember that white is as foolproof a pairing as any. All you need is a little touch of luster and an unexpected detail — Savvy Interiors' addition of brass hardware and a hexagon mosaic tile floor is simply perfection — to reinvent your shower with flair.
If you're looking for bathroom ideas that wow, the Williamsburg Hotel's teal tile showers, as captured on Sweet Monday, are all the rage. Juxtaposed with elegant, warm metal finishes and sleek, steel-framed glass dividers, the aqua wall tile is undoubtedly a design idea to behold.
A high-contrast color pairing rarely goes out of style and when it comes to teal tile, stark white grout and a matching tub make for a truly wow-worthy combination. This bright nook from Aly Velji Designs shows the decorative prowess of the combo, which results in an entirely minimalist yet punchy finish.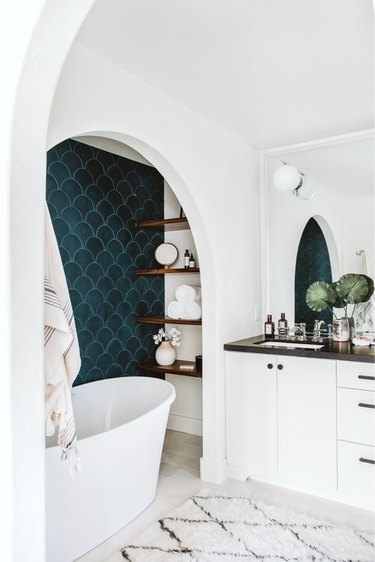 Your shower walls deserve more than just a standard tile selection — cue the statement teal backdrop spotted in this Mul-Mac project. Utilizing a unique arabesque tile pattern and a bluish grout, the designers brought a wealth of character to an otherwise all-white bathroom.