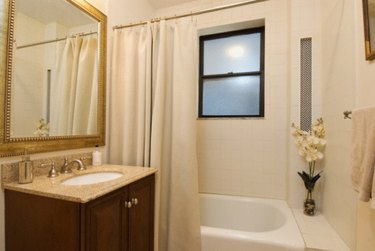 A 1990s bathroom is likely to be in fairly good condition, but it may have brass light fixtures and hardware, outdated paint colors and flooring. It's a good idea to browse through recent decor magazines to see what colors are trendy and fresh and what types of metal finishes and styles are being used in new homes. Note what aspects of your bathroom make it look dated. These are the features you will want to update.
Step 1
Remove everything from the bathroom, including what's inside the cabinets. Wash the bathroom from floor to ceiling. Pay attention to vents, baseboards, cracks, seams, along the edges of tiles or around the base of the toilet. Use a utility knife to remove bad caulk. Look for discolored caulk, dirt, mold, scum, mineral deposits, spotting and everything that makes the bath look old. Clean until the fixtures sparkle.
Step 2
Update your metal finishes by removing towel bars, paper holders, faucets, light fixtures and hardware. You may need to have a plumber replace your taps and an electrician to change your fixtures. If your towel bars and hardware are simply an outdated finish, consider spray painting them with a metallic spray paint. You can also tape off the brass or chrome frame around shower doors and spray paint them to update them. Be careful with your taping and use plastic sheeting to cover all other areas of the bathroom.
Step 3
Paint your walls the updated color you selected after looking through current decor magazines. Repaint your baseboards with fresh white paint. Spray paint your white plastic moisture fan so that it is fresh and white. Replace your floor vent covers if they have any pitting or rust.
Step 4
Update old vinyl flooring with easy-to-install floor tiles that look like stone. Apply fresh caulk along the edges of tubs and showers. Remove a wall-mounted mirror and replace it with a framed mirror that is centered over the sink. Add new artwork, linens and accent pieces in fresh new colors.