Bathroom fixtures are hardly what we'd call glamorous. But they're necessary, so why not make them as stylish as possible? We're talking unexpected sink basins, cool walk-in showers, and modern toilets. In fact, if you have a choice during your bathroom reno, avoid those clunky porcelain options at all costs. They're impossible to clean, and they're rarely environmentally friendly.
1. Keep other accessories to a minimum.
This powder room is simple but interesting. And even though the shiplap gives the white bathroom a farmhouse feel, the tankless modern toilet keeps everything feeling fresh. If you have a similarly small space, keep your decorative accents to a minimum and let the toilet get the attention it deserves.
2. Substitute color for tons of texture.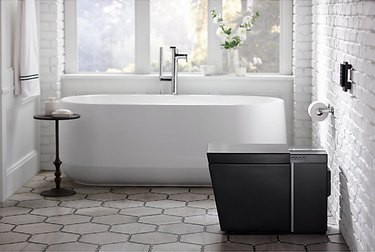 This modern toilet from Kohler is the epitome of sleek. But even that matte black finish seems cozy because the rest of the bathroom has so much texture. The rough brick walls and large hex tiles might not be super colorful, but they still give the space character.
3. Give your toilet a vibrant backdrop.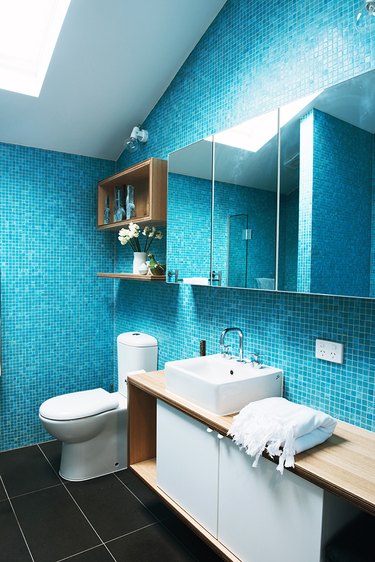 The team at Nest Architects really leaned into the tiled look. But the floor-to-ceiling blue squares actually make the modern toilet stand out beautifully (and we can't help but be impressed by that eco-friendly dual flush feature, too). If your loo is as aesthetically pleasing as this one, don't hide it.
4. Amp up the color.
The toilet and sink in this bathroom might be modern, but everything else is a bohemian dream. If you don't want to sacrifice color for up-to-date features, take a page from Chango & Co.'s book. They went for a vibrant wallpaper, arched windows, and green paint that contrasts the stark white fixtures — and the colorful choices paid off.
5. Go for glam details.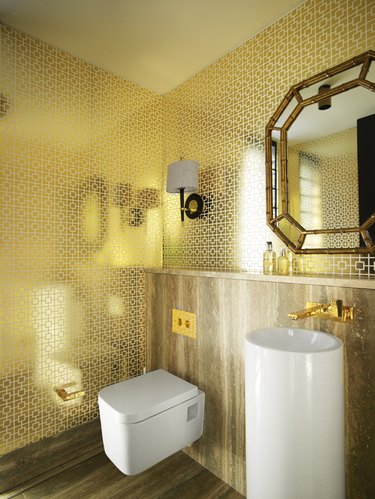 Gold wallpaper in a bathroom with a floating modern toilet and vintage brass mirror? Why not? Take a chance with your bathroom design; go glam in the small space even if you'd never be comfortable doing so in a room with more square footage. In fact, here, a modern toilet will balance out the more is more approach.