To decorate with the color black is to make a statement, or so the saying goes. But there's more to this depth-defining hue than what meets the eye. For starters, it's quite versatile and, in a bathroom especially, the smallest dose can really go the distance. Pair it with warm metals and a glossy finish to evoke a more glamorous feel. Or, opt for matte black and couple it with stark white accents for a high-contrast and timeless vibe. Either way, it's guaranteed to catch the eye.
In lieu of wall paint or cabinets, we're all for embracing the color by way of a bold shower tile that's primed to offer a much-needed departure from the conventional white-on-white. And while designing with black tile can feel intimidating, we're here to dispel all of the misconceptions that surround it with a few tried-and-true tips. Read on for eight inspired shower design ideas that we can't seem to get enough of.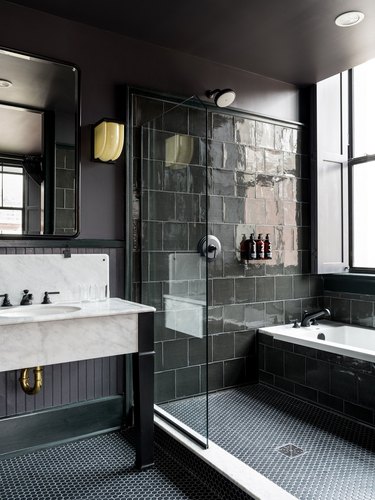 2. Take it to new heights.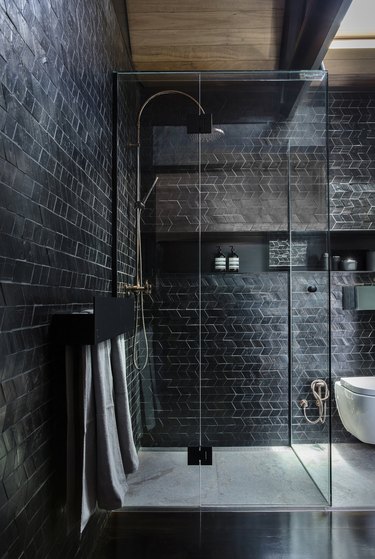 When it comes to bathroom ideas that feature a dominant hue, the devil is in the details. Sure, black tile can be impactful all on its own, but if you install it in a unique pattern, it will be exponentially more so. The herringbone layout — which extends well past the shower wall to the bath and beyond — in this moody scene by Australian designer Louise Walsh is a prime example.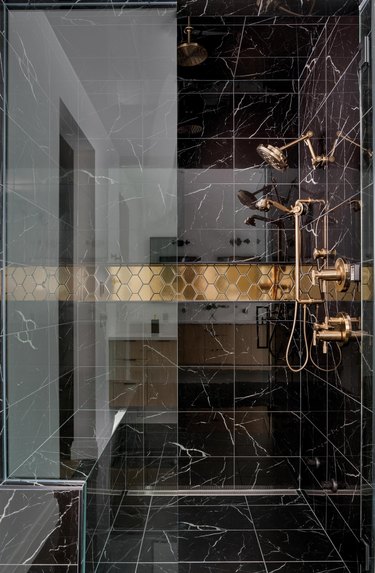 If you're going for a bathroom design that's rooted in elegance, black marble tile is the way to do it. Aly Velji Designs' take on the concept features an all-encompassing installation that goes wall-to-wall and floor-to-ceiling. A glass partition fits in seamlessly with the shower walls while bold, brass hardware and the corresponding niche add a striking detail that completes the look.
Flip the script on standard white subway tile by opting for a black version with white grout, as designer Zoe Feldman did in this light-filled shower. The white veining of the natural stone plays well with the lustrous gold fixtures, while the unexpected herringbone floor tile keeps it all fresh and unexpected.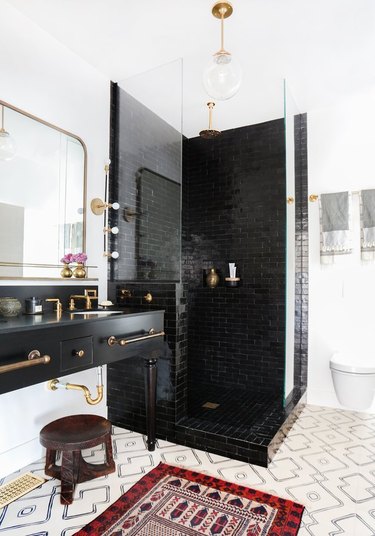 Black and white is a tonal combo as classic as they come, so naturally, you really can't go wrong with this palette. In the case of this rad bath by Vanessa Alexander of Alexander Design, glossy black tile (with a seamless black grout, no less) sets the confines of the shower area. It offers a sharp element of contrast to the white walls and flooring, while also securing itself as the focal point of the room.
6. Take the minimalist route.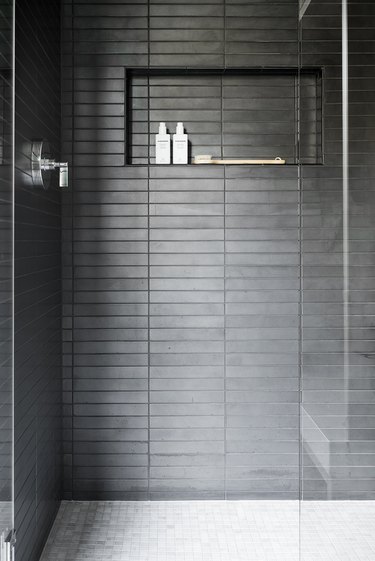 A black bathroom design with a minimalist touch looks a little something like this effortlessly cool scene from Studio McGee. Using a light gray marble mosaic tile for the shower floor, the creatives were able to brighten the alcove that's covered in black rectangular stacked tile in a matte finish.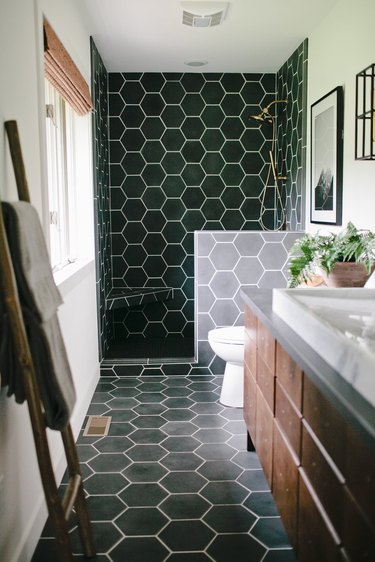 Hex tiles have been all the rage lately and we're all for incorporating the trend on the walls and the floor. This large scale design idea lends itself to a versatile installation that can complement a variety of aesthetics — modern, boho, and contemporary included. This version from Clé Tile is made from cement, which results in a matte-like finish, and features a charcoal tone that's a step lighter than jet-black.
8. Designate an accent wall.
A black accent wall is typically found in a living room, dining room, or bedroom behind the headboard, and meant to establish a sense of depth in an otherwise all-white space. Translating the concept into the bathroom means utilizing a captivating black wall tile to achieve the same effect. Follow designer Sarah Montgomery's lead and install the material in a unique pattern to further elevate the look.