A little paint can go a long way in a bathroom. "Bathrooms are the perfect place to incorporate a pop of color and really make a statement," says Sara Barney of BANDD Design. "If you're not a fan of bright colors, you can also use neutral shades of paint to elevate and define the space."
Interested in hearing more about how you can use paint to make an impact in a bathroom? We asked a few of our interior designer friends to share their advice, and here's what they had to say.
1. Paint the entire room an eye-catching color.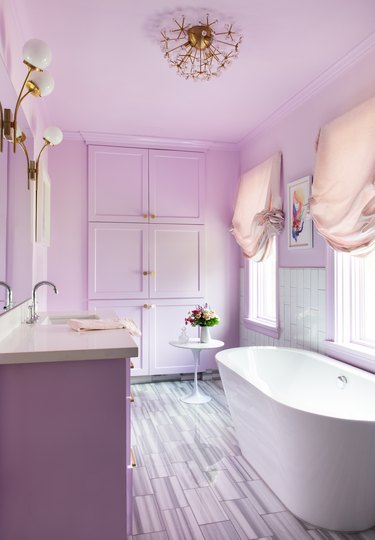 "I think painting an entire room makes a huge impact," says Mary Patton of Mary Patton Design. "For this little girl's bathroom, I used Valspar's Fancy Pansy. It's fun without being juvenile and painting all of it one color prevents the room from feeling choppy, and truly tricks the eye into thinking it's larger than it actually is."
2. Paint your bathroom cabinetry.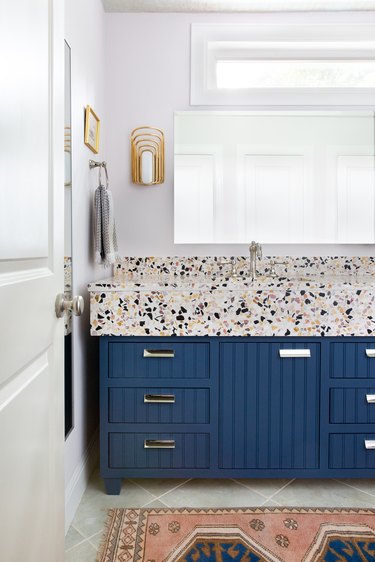 "Painting your bathroom cabinetry is such an easy way to bring a whole new life to the room, especially if you have builder's grade cabinets that could use a little something extra," Barney says. "We applied a deep blue color in this master bathroom to give the space some contrast and tie in with the terrazzo counters."
3. Use a bold color on the walls of a small bathroom.
"One of my favorite applications of paint in a bathroom is utilizing a bold color on the walls of a powder bath," Marie Flanigan says. "Something about the confined space makes the saturated hue even more impactful!"
4. Paint the walls to match the cabinetry.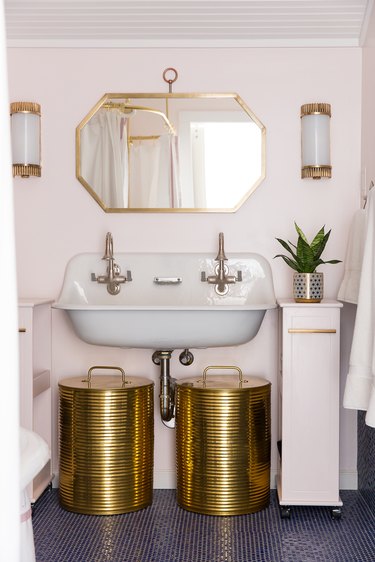 "Going matchy-matchy is sometimes the way to go!" Maureen Stevens of Maureen Stevens Design explains: "In this small bathroom, we chose the sweet pink hue on the walls and also used it on the identical cabinets that flank the sink on each side. Going a pale pink was our immediate choice to go with the penny blue tile floors and the gold accessories."
5. Create contrast in a bathroom.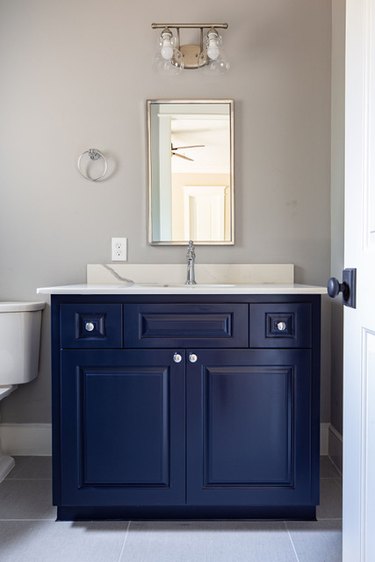 "Get creative with paint in the bathroom and paint the vanity a different color than the walls to create contrast," Ashley Moore of Moore House Interiors says. "Whether you use a neutral color or a bright color, mix it up and have fun with your bathroom sink cabinets. This is a great way to personalize a bathroom, too. Think a soft pastel for a girl's bathroom or bold green for a powder bathroom. The possibilities are endless!"
6. Use dark paint to make the bathroom feel more intimate.
"I am loving the new trend of moodier bathroom spaces," says Nina Magon of Contour Interior Design. "One way I have found to produce this moody aesthetic in an impactful way is by painting the cabinets in a dark hue that compliments the other dark materials and finishes within your bathroom space. A simple coat of paint on your cabinets can instantly transform your bathroom space into a sleek and modern oasis!"
7. Paint the millwork to make a statement.
"Choosing a bold hue for the trim, door, vanity, and all the millwork in the bathroom makes a major statement without breaking the bank," Maggie Griffin of Maggie Griffin Design says. "Incorporating an unexpected pop of personality is a fun way to make your guests smile."
8. Use black paint to play up wallpaper.
"Powder baths are one of my favorite spaces to break the rules and think outside of the box," says Abbe Fenimore of Studio Ten 25. "This small powder bathroom under the main staircase felt cramped and dark, so we installed a striking wallpaper with a large-scale pattern and painted the ceiling, trim, and door a high gloss black to make a big statement and brighten the space."
"A hugely impactful way to transform your bathroom is by painting the floors," Annie Sloan, founder of Chalk Paint explains. "It's so much quicker (and cheaper) than replacing them; and you can paint anything from tile patterns to checkerboards."