Taking inspiration from those who choose to lead a free-spirited life, bohemian or boho interiors are a bit unpredictable and hard to pin down. They're often rooted in bold jewel tones — blue, orange, green, and amethyst — and prominently feature patterns and layered textiles interspersed with natural, woven components for warmth and dimension. Boho style's laid-back approach to decorating is a welcome opportunity to break the rules and express yourself.
If you're intrigued by bohemian style but aren't sure you've got what it takes to pull off the daring aesthetic in high traffic areas of your home — like living rooms, dining rooms, and kitchens — consider trying it out in a confined space, like the bathroom. The out of the way nature makes it the ideal spot for pushing design boundaries without the fear of commitment a larger room brings. And if you have a shower, we're particularly fond of incorporating boho elements — such as fringed shower curtains, graphic tile, and of course, plants — here.
Check out the following six bohemian shower ideas to get you started.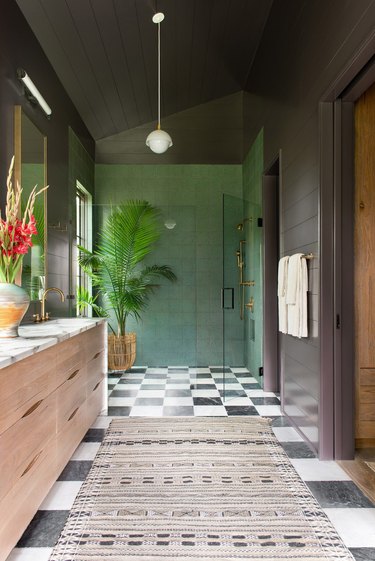 Potted plants are de rigueur in boho design. If you're short on space, you can hang them from the ceiling or line pint-size versions on shelves. However, maybe you've been blessed with an ample shower like the one in this spacious bohemian bathroom by Cortney Bishop. If that's the case, then by all means, add one to your shower for the ultimate tropical vibe. Black and white marble floors and a marble countertop are refined additions that keep the look elevated.
2. Play with contrasting hues.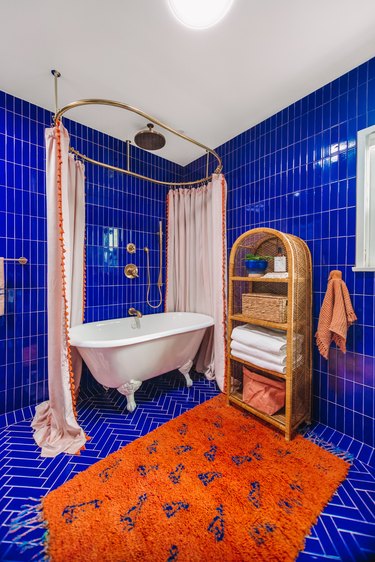 This bohemian bathroom by Kelly of Studio DIY doubles down on saturated, bright colors by combining vibrant cobalt blue tile with equally bold orange tones for a unique boho-maximalist space full of personality. Woven accessories — like a fabric shower curtain with tassel fringe — and white accents — like the clawfoot tub — add visual space and temper the contrasting hues.
3. Welcome prints on prints.
Bohemian decor, where pretty much anything goes, is a refreshing departure from some of the more structured interior design styles, like minimalism, Scandinavian, and traditional. Julie Rose transformed this builder-grade setup with a can of paint (used to paint barely-there pinstripes on the walls), some vintage bathroom decor, and a free-spirited floral shower curtain. A rattan hanging planter adds another layer of color and texture.
4. Consider an exposed wood ceiling.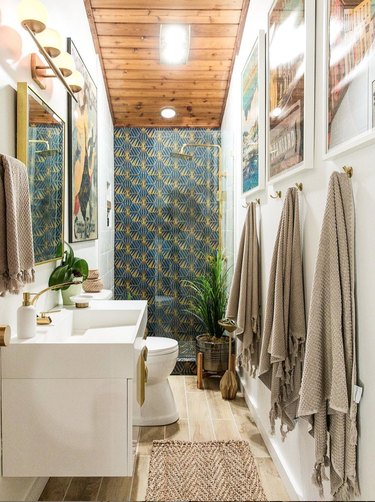 If you're dealing with a spatially challenged bathroom design, think of creative ways to add personality and character. What this petite boho space by Jessica Brigham lacks in square footage, it makes up for with plenty of texture, pattern, and color including a woven bath mat, exposed wood ceiling, and striking wall tile that anchors the shower.
5. Opt for Moroccan-inspired patterns.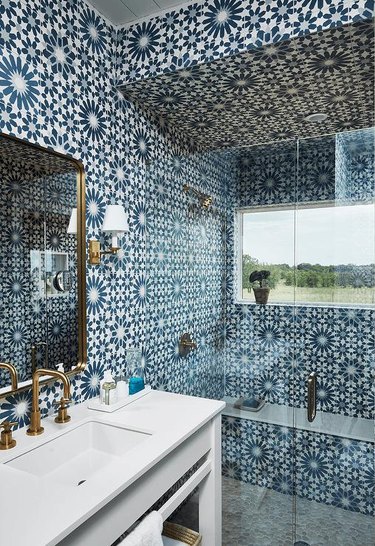 Boho interiors often include multicultural influences such as arches, eclectic rugs, and one-of-a-kind accessories. Jan Jones makes a compelling case for embracing all-over Moroccan-inspired tile in this glam boho bathroom. The detailed pattern energizes the walls and ceiling while the soothing blue and white color combo, traditional home decor, and seamless glass shower enclosure keep the look from feeling overwhelming.
6. Make your walls the focal point.
Expertly curated boho-chic interiors are a sum of their creative parts and usually involve ​how did they pull that off​ combinations of color and pattern. Justina Blakeney designed this small bathroom with the bohemian shower/bath combo as the focal point, cocooning it in teal tile in a chevron pattern. Inset cubbies are highlighted by a novel tile and showcase a few potted plants, while reclaimed wood shelves add an organic component and are the perfect perch for stashing everyday necessities.