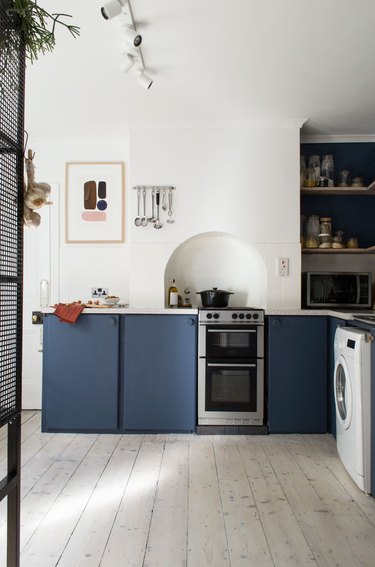 In a dream world, we'd have a kitchen large enough for a spacious island, plenty of cabinets, and a fancy wine fridge. In reality? Most of us are working with a space that's only half the size. Ugh.
Creating extra storage space — plus organizing all of your gadgets, cookware, and utensils — is challenging enough. But to make your small cook space actually look stylish? It can often feel like Mission: Impossible. The good news is that you don't have to let your square footage — or, well, lack thereof — compromise your design skills. In fact, you can bring your love of virtually any design style into your tiny culinary space. Ahead, you'll find 10 small kitchen design ideas that don't skimp on style:
1. Modern Farmhouse Small Kitchen
2. Minimalist Small Kitchen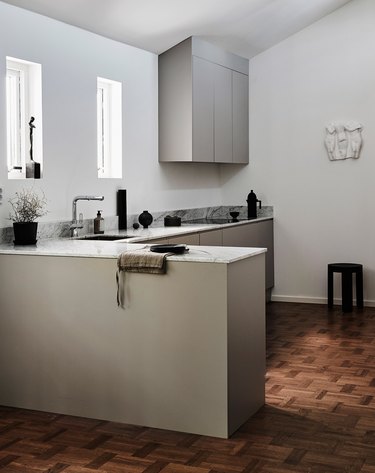 What's black, white, gray, and sleek all over? That would be this minimalist small kitchen from Nordiska Kök. Sure, you may not be able to hide the crown molding in your traditional space, but you can achieve a minimalist vibe if you clear off your countertops, leaving only a curated selection in sight.
3. Bohemian Small Kitchen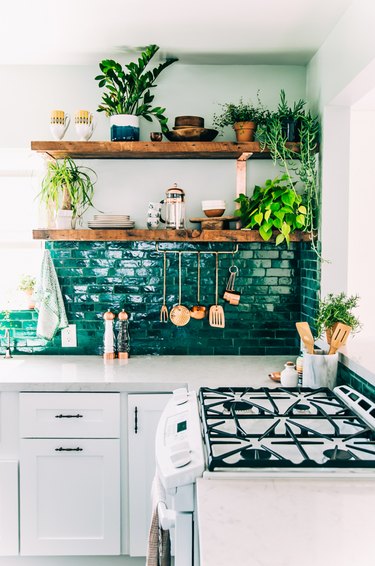 Bursting with plants, texture, and a hint of whimsical charm, this color-drenched space from Justina Blakeney over at the Jungalow screams, "La vie bohème." Bohemian style is all about embracing the imperfections, so while you may not be itching to redo your backsplash, you can give your small kitchen one-of-a-kind charm by displaying your collection of mismatched dinnerware on open shelving. Bonus points if you add a faded, antique Persian rug to the mix.
4. Midcentury Modern Small Kitchen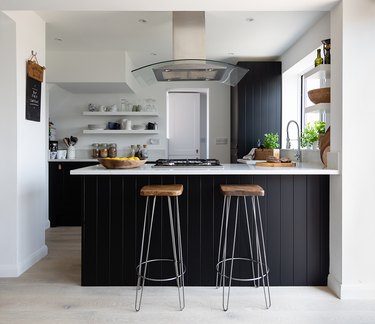 5. Maximalist Small Kitchen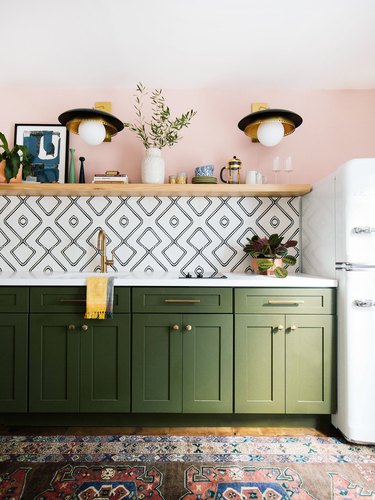 Love pattern, texture, and bright colors? More is more, as seen in this cheery space from Dabito over at Old Brand New. Create a bold backsplash by adding patterned tile or fun peel-and-stick decals to your space. Want to take it up a notch? Of course you do. You can spice things up by painting your walls and cabinets two different — but equally fun — colors.
6. Contemporary Small Kitchen
It's hard to have a space feel simultaneously timeless and trendy, yet this kitchen from Tim at Bay on a Budget strikes a nice balance. If you want to create a space that can pay tribute to today's (and tomorrow's) style, complement your kitchen's classic features with a handful of trendy elements such as open shelving or candy-coated accessories.
7. Scandinavian Small Kitchen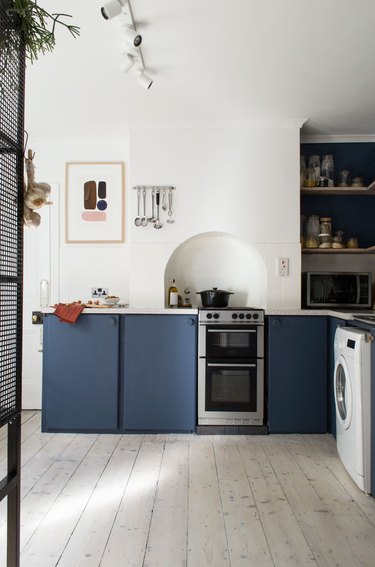 With strategically placed colors, simple hardware, and a lack of ornate detailing, Tiffany from Curate and Display's Scandinavian-inspired small kitchen teeters nicely between subtle and statement. Bring an effortless ease into your own cook space by painting your kitchen cabinets and knobs the same hue. It's a small monochromatic touch that packs a punch.
8. Industrial Small Kitchen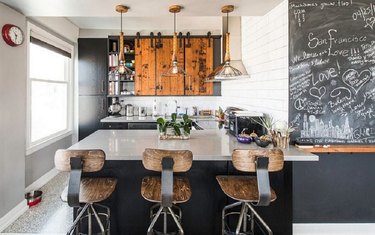 9. Traditional Small Kitchen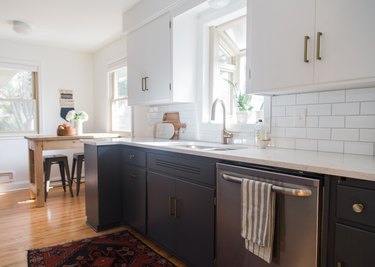 Repeat after us: Traditional doesn't mean boring. This kitchen from Kitty Cotten boasts classic features like a subway tile backsplash, simple color scheme, sleek hardware, and vintage rug to keep the space looking timeless, not timed out. Bring the same look into your small kitchen by adding similar subtle, classic details.
10. Coastal Small Kitchen
As London-based design firm Finch proves, you don't have to be on vacation to feel like you're in an easy, breezy ocean front villa. Give your small kitchen design some laid-back, coastal flair by dousing your cabinets in sky blue and adding a fish scale tile backsplash to the mix.
---
Kelsey Mulvey is a freelance lifestyle writer and editor. Her work has been featured in Lonny, Apartment Therapy, and Wallpaper*, among others.
View Work