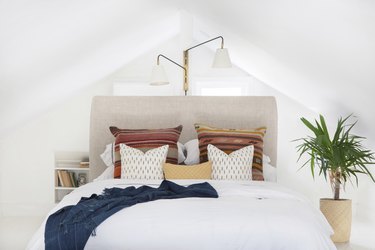 To find the perfect minimalist lighting for a given space, you have to take a lot of things into consideration — your other furniture, the height of your ceilings, the mood you want. Do you need living room lighting, kitchen lighting, bathroom fixtures? The list goes on. But perhaps one of the most important things to consider is the existing natural light your space receives. If you have a deep-set room with hard angles and few windows, you want light fixtures that can illuminate every corner. However, for spaces that are naturally bright, you can choose minimalist light fixtures with interesting lines.
Luckily, creating the perfect ambiance for your space, with minimalist design in mind, doesn't restrict you to boring floor lamps and tiny bulbs. In fact, the minimalist lighting in your space can even turn into the focal point for the room!
Consider one of the minimalist lighting ideas below to see how perfectly the trend can work in any room.
1. A Black Wire Pendant Light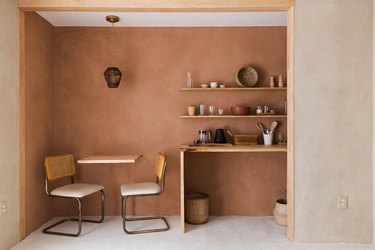 One of the beautiful challenges of interior designs is picking which materials to use. If you're working with a space that has a lot of natural colors and textures, try selecting minimalist lighting that subtly adds contrast. In this case, the black wire ceiling pendant above the kitchenette table helps balance the rest of the room's warm terra cotta tones.
2. A Subtle Arched or Angled Floor Lamp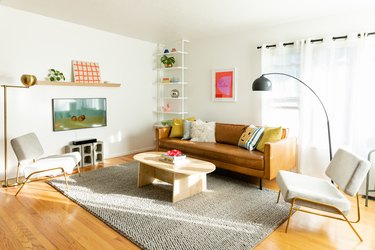 This living room achieves a lovely minimalist lighting design with not one but two floor lamps. The best part of arched or angled floor lamps is they can add various levels of light without being obtrusive. The gold angled lamp reaches up toward the ceiling, expanding the height of the room, while the black arched lamp illuminates the space itself.
3. A Simple Sconce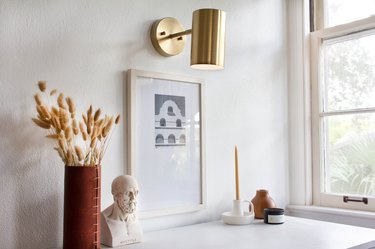 There is nothing a wall sconce can't do. They can somehow simultaneously be simple and unique while adding a little glam. Here, the desk sconce's polished brass tone plays off of the warm colors in the decor. And the cylindrical shape softens the hard, squared edges of the window, art, and desk.
4. A Clear Table Lamp
Depending on how much space you have in your bedroom, a small table lamp can add task lighting exactly where you need it. And we like how this lamp's clear base makes it appear almost weightless when paired with a heavy wooden dresser and brick wall. Other table lamps can easily feel obtrusive if their base is too large, so select a minimal style like this one when you want to keep this airy.
5. A Sconce With Duality
If you find yourself with a smaller space that needs serious lighting help, do two things. Illuminate both the height of a room (to make it seem larger) and individual areas, such as a desk or bathroom vanity. A two-in-one sconce like this one is perfect. It's a great space saver, and it looks gorgeous while shedding a little light everywhere you need it.
6. A Sconce for Two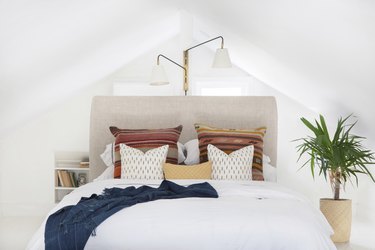 Don't be afraid to incorporate minimalist lighting in the bedroom. Most of the time, you'll want your bedroom to be a space of relaxation, so illuminating the entire ceiling might not be the best idea. Instead, make sure the bed is highlighted. To do this in a balanced way, look for a wall sconce with two swing arms. That way, you can add a little ambiance to both sides of the bed.
7. A Subtle Orb Table Lamp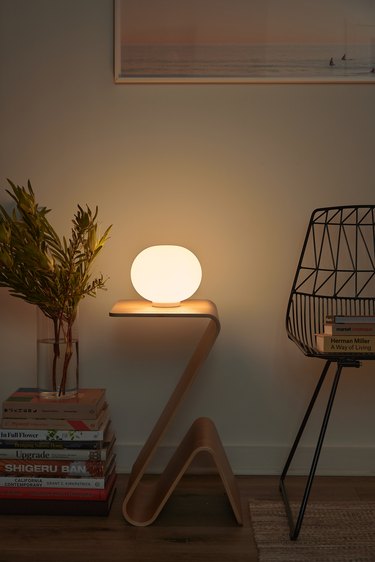 Take a close look at the shapes you're working with when decorating a small living room. Are they soft and curvy or sharp with hard lines? Oftentimes, choosing a minimalist light that contrasts with the area's existing shapes makes everything look more elevated and balanced. It helps with feng shui. Here, a small orb table lamp softens an area that's otherwise dominated by particularly hard angles and materials.
8. A Plug-In Sconce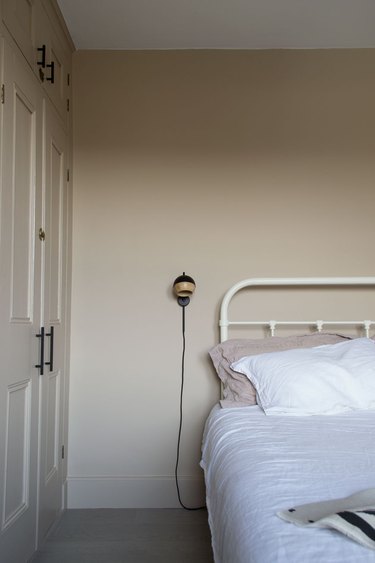 While they don't always give off a ton of light, plug-in bedroom sconces instantly amp up the charm. And in the right space, they add just enough ambiance without overwhelming the other decor. If you'd like to emphasize the airy nature of a room, skip the bedside table. The sconce can create a moment on its own.
9. A Cone-Shaped Pendant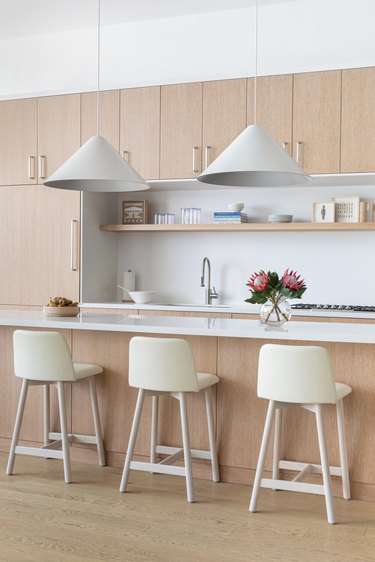 Even though many modern lamps and fixtures tend to be round, square, or rectangular, you can still find decorative lights in interesting shapes! Triangular or cone-shaped versions add intrigue to any space because they draw the eye up. Put one on a side table or hang one over your kitchen island for immediate personality.
10. A Glass Globe Light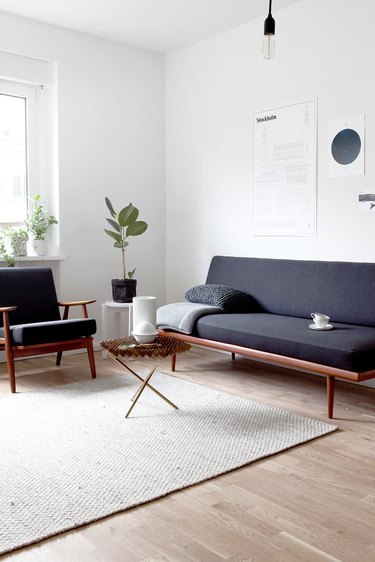 Sometimes it's the smallest spaces in our homes that need the most help with lighting. And if you're trying to achieve a minimalist style, it can be challenging to find a pendant light that won't completely take over. This is where the glass pendant comes in. It's versatile and comes in a variety of shapes and sizes. And if you choose an especially simple design, you can pair it with an industrial-style bulb.
11. A Paper Lantern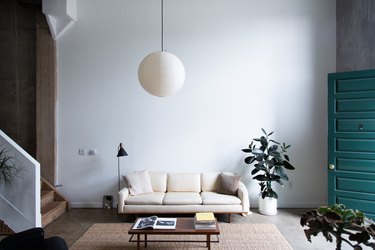 It can be really easy to forget about the grace and simplicity of a ceiling-mounted paper lantern. It's classic and lightweight. Plus, those rounded edges and the texture can make your space feel cozy. We love this minimalist lighting style in a Scandinavian room with plants.
12. A Slim Floor Lamp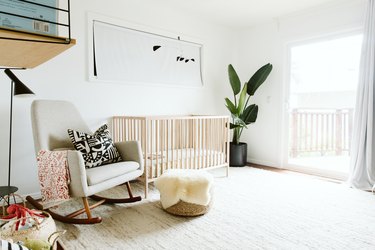 Minimalist lighting doesn't always have to fade into the background. In fact, treating your light fixtures like the gorgeous pieces of furniture they are can add a lot of depth. Here, the slim floor lamp stands out because its matte black hue contrasts with the room's neutral tones. Moreover, it adds a little drama to an otherwise sweet and airy nursery.