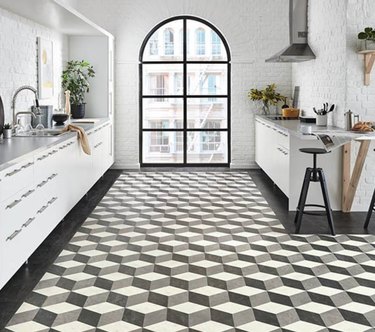 A new year can mean a clean slate when it comes to style, which makes it the perfect time to dive deep into redoing your kitchen. We're seeing Art Deco-inspired decor pop up everywhere lately. So, why not consider it for the heart of your home? Let's start at the bottom first, and we mean flooring. What does an Art Deco floor look like? Don't fret, we have all the info.
First up, what does Art Deco design mean? The style appeared in France originally around 1925 and showed up in everything from movie theaters and skyscrapers to vacuum cleaners and cars. The look was thought of as pure luxury and modernity, and introduced new materials into design like aluminum, stainless steel, lacquer, and inlaid wood and stone. The surfaces are glossy or perfectly polished. Shapes like chevron patterns, zigzagged, and stepped forms, and sweeping sunburst motifs popped up on facades and interior spaces everywhere. Rich jewel tones and glossy finishes are also big nods to the look.
Now, are you feeling this all might happen underfoot while preparing your favorite food? If the answer is yes, here are some looks that will inspire you when thinking about an Art Deco kitchen floor.
Chevron? Oh, It's On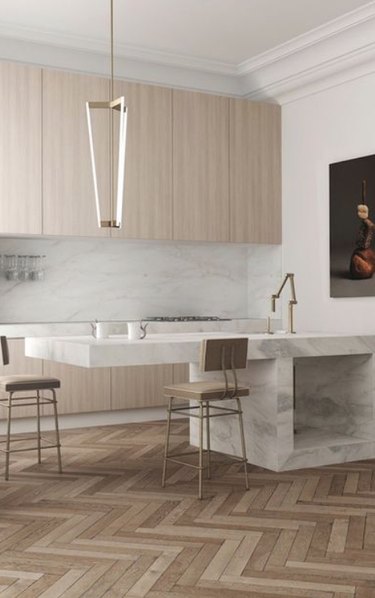 Chevron patterns are a common motif in Art Deco, especially in wood flooring. This look from Katty Shiebeck brings the classic and elegant look into a thoroughly modern minimalist kitchen. The results are swoon-worthy.
Stepping It Up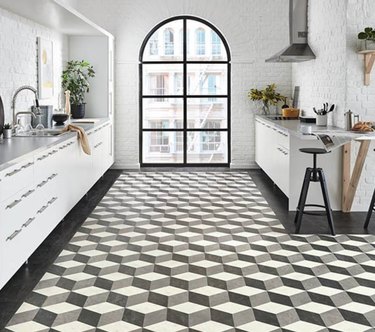 Flooring was often so intricate during the Art Deco era, people rarely, if ever, looked up. Well, we can't actually prove this, but patterns like this kitchen look from Kardean are a modern homage to the stepped forms that graced many elegant foyers underfoot in the 1920s and '30s. And we can't stop staring.
Glossy Glamour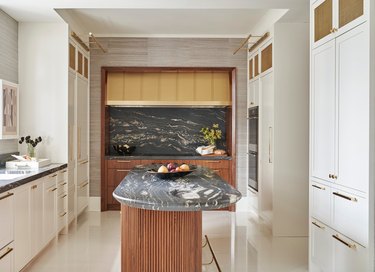 Another big characteristic of Deco was any surface that was polished to perfection, in particular flooring. Whether wood or terrazzo, high gloss floors added to the luxury look like this striking kitchen from BK Designs.
Checkered Present
Black and white checkered floors were all the rage in entryways throughout the era and beyond, but became a classic look in kitchen floors too. Emily Henderson designed this modern kitchen with Art Deco touches and finished it all off with the classic black and white floor of our dreams.
Inlay All the Way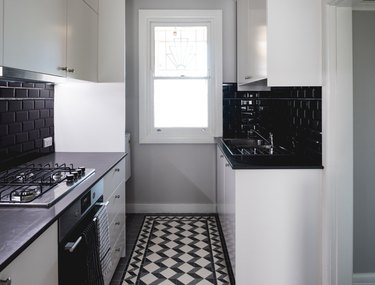 When it comes to Art Deco flooring, the more complicated, the better it seemed. Tile or stone floors featured sophisticated inlays that were anything but uninteresting. This small kitchen does just that with an inlay tile pattern by Olde English Tiles in an otherwise simple black and white space.
Strike Out the Sunburst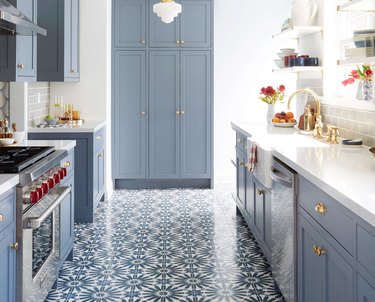 Sunburst patterns were seen everywhere in Art Deco. This remodeled kitchen by Emily Henderson features a subtle homage to the emblem with a tiled floor in the pattern that is a match made in heaven with those dreamy cabinets.
Parquet All Day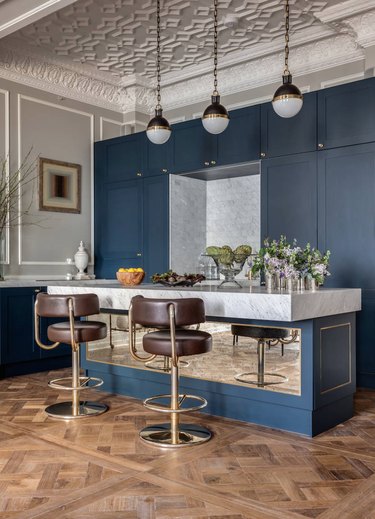 Who needs a cocktail? This kitchen by PEEK Architecture has us positively parched with its modern take on Art Deco. But just take a look at those parquet floors. There's wood installed in a way that has us saying "wow." Don't you just want to sit on a stool here for your favorite evening refreshment?
Where to find Art Deco flooring: