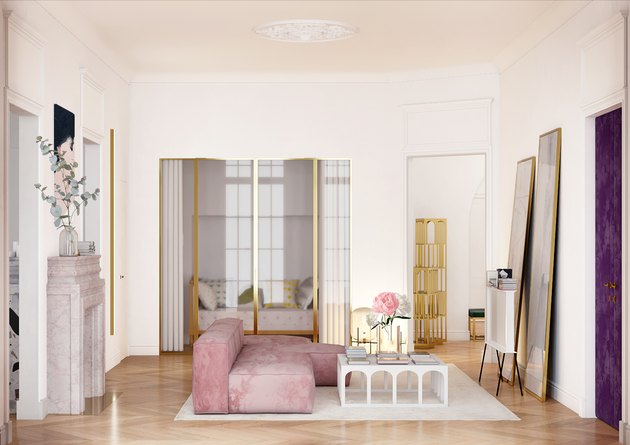 If you can't live in Paris, then why not make Paris come to you? At least, that's what's going on in this NYC apartment, where architectural firm Crosby Studios brought serious Francophile vibes by incorporating the neo-traditional aspects of Parisian design: parquet flooring, large windows, marble fireplaces, and a modern feminine color palette.
In true French fashion, the renovation was done with little infringement upon the home's historic components. "The building is an architectural heritage; that's why [the client] asked to renovate this apartment without any big construction," said architect Tyler Billinger. The result is a home that feels classic and fashionable, with details directly imported from across the pond.
1 of 9
Living Room
Ordinarily, a pink-and-purple color combo can come across as Malibu Barbie, but here it feels edgy thanks to a reserved use and incorporation of interesting textures: Those doors are covered in violet velvet.
Even bold colors, when used sparingly, can feel understated and chic. And Gubi's classic Beetle chair is also upholstered in velvet.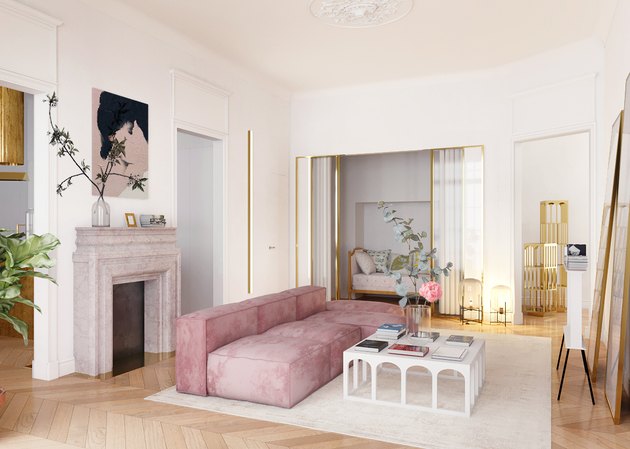 2 of 9
Living Room
In the living room, you really get a sense of the Parisian inspirations the team worked with: There's an ornate ceiling molding, as well as a faux pink marble fireplace, which are both nods to typical French Haussmannian apartments.
3 of 9
Living Room
In an interesting move, sliding glass doors in the living room open to reveal a recessed pocket with additional seating. The couch and coffee table were custom made by Crosby Studios.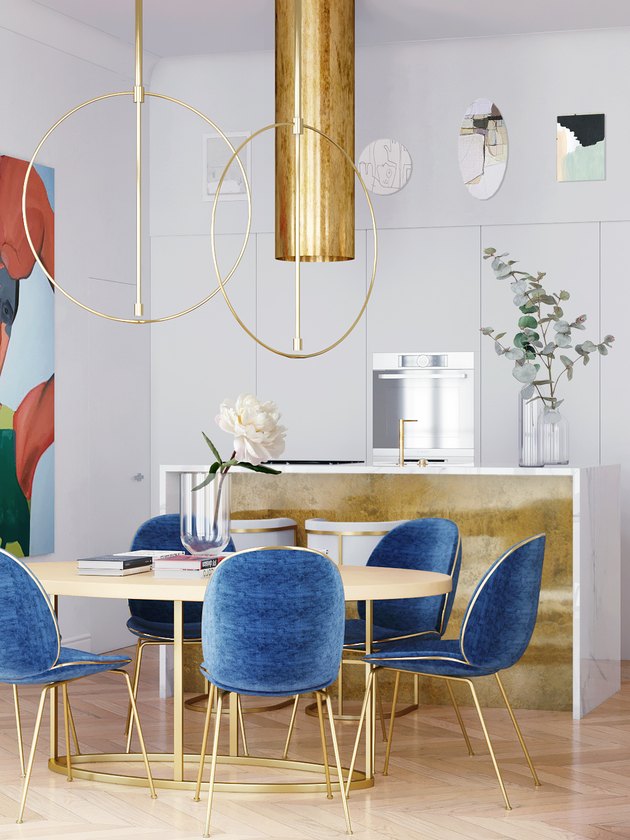 4 of 9
Dining Room
A custom-built dining table is surrounded by Beetle Dining Chairs by Gubi in Blue. Windows from the dining room overlook a courtyard outside.
5 of 9
Dining Room
A custom marble kitchen island, along with ceiling lights from Studio Forma Fantasma (created by designers Andrea Trimarchi and Simone Farresin), divides the kitchen from the dining area in the open space. Sleek minimalist custom kitchen cabinets were built to create more space in the new layout.
6 of 9
Dining Room
"Our biggest challenge during this project was the construction," Billinger said. Without destroying the historic elements of the house, Crosby Studios was able to transform the layout. "We carefully entered the area of the premises into the existing walls. The openings were transferred in accordance with the design feature of the building. We even created a second level in the children's rooms."
7 of 9
Dining Room and Kitchen
The parquet wood floors are a quintessential nod to Parisian design. The home design also features bright white walls, multiple uses of heavy marble, and a mix of silver and gold metallic details.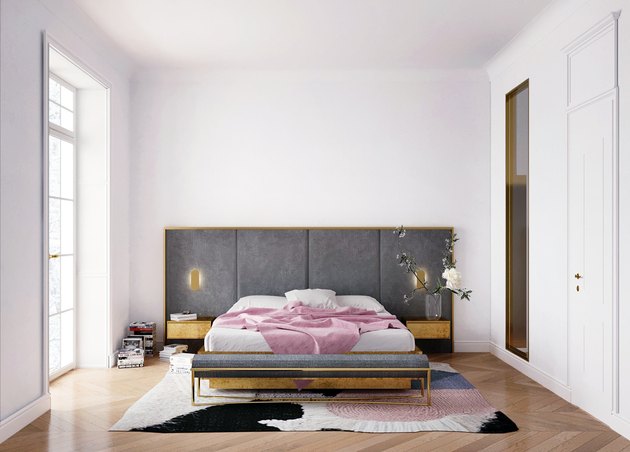 8 of 9
Bedroom
A custom bed, outfitted in custom bedding, anchors the spacious master bedroom. A balcony, inspired by the ones in France, overlooks the courtyard and allows natural light to brighten up the space.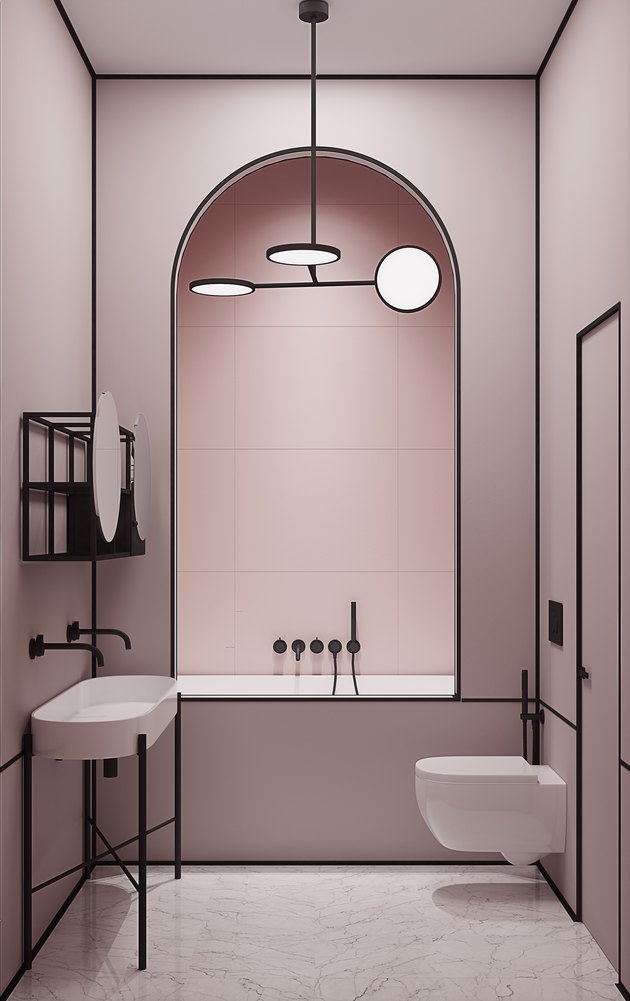 ---
After interning at Dwell magazine in San Francisco, Kate began writing about arts, design and culture for other national publications. She is based in Los Angeles and San Francisco.
View Work