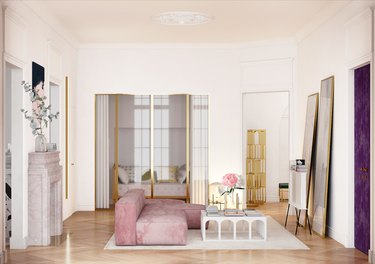 If you can't live in Paris, then why not make Paris come to you? At least, that's what's going on in this NYC apartment, where architectural firm Crosby Studios brought serious Francophile vibes by incorporating the neo-traditional aspects of Parisian design: parquet flooring, large windows, marble fireplaces, and a modern feminine color palette.
In true French fashion, the renovation was done with little infringement upon the home's historic components. "The building is an architectural heritage; that's why [the client] asked to renovate this apartment without any big construction," said architect Tyler Billinger. The result is a home that feels classic and fashionable, with details directly imported from across the pond.
---
After interning at Dwell magazine in San Francisco, Kate began writing about arts, design and culture for other national publications. She is based in Los Angeles and San Francisco.