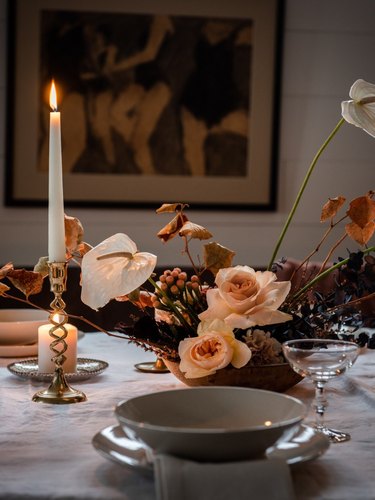 It's time for Fall at Home: Hunker down, bundle up, and make the season as cozy as possible with our foolproof guide to autumn.
For a lot of people, the fall season signals the start of a deep dive into all things plaid, pumpkin-flavored, and apple-scented. Those hallmarks aren't bad (but dear heavens, someone please tell coffee shops that too much pumpkin spice is not a good thing). However, the autumnal onslaught doesn't always have to follow the same patterns. In fact, seasonal decor that skips all the gourds and traditional colors can be just as exciting. That's where fall floral arrangements with a twist come in.
Bouquets that air on the side of sparse are some of our favorites for the season. But arrangements that complement your year-round decor take the cake. Here are some ways to get the floral look without the fuss.
1. Keep it simple with just a few bulbs.
Fall decor does not have to mean more is more. And sometimes, the more understated you go, the classier things will look. This delicate fall arrangement has a mere three bulbs — but in a room that's classically minimal, it stands out. You could even go for petals that are a bit more vibrant (think: plum or burnt orange) if you want to up the intrigue and maintain a bit of subtlety.
2. Add tapered candles to the mix.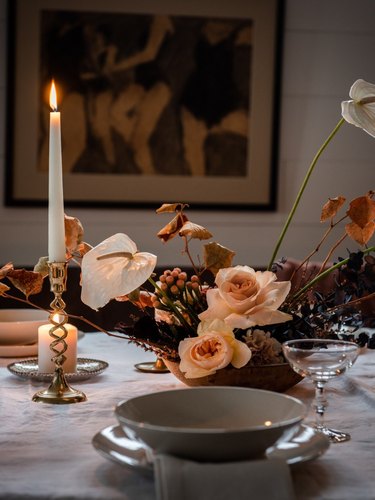 No, you don't want to put candles directly into your bouquet. But take a page from Erin of Francois et Moi's book and incorporate them in your tablescape. The height of the white tapers creates a fun balance between the shorter arangement and gives her Friendsgiving table an inviting glow. Erin chose warm pink, peach, and white flowers for this look. And we can't help but applaud the color choice.
3. Up the drama with long stems.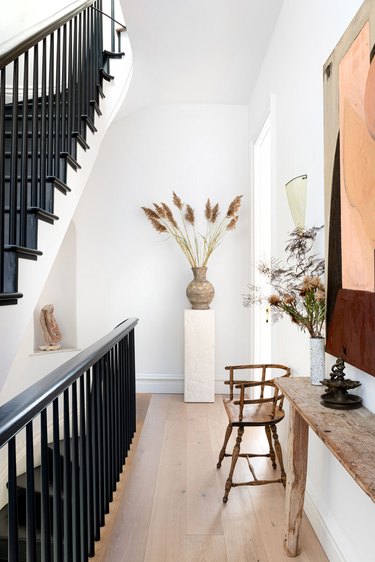 Looking for a way to add height to to an otherwise simple space? Bring in some fall florals with super long stems. We love the fluffy pampas grass that Athena Calderone added to her hallway. But beyond just looking interesting, they take up vertical space without feeling overwhelming. Grab a vintage vase and pedestal, and pop your arrangement right in. A dried situation, in particular, would last throughout multiple seasons.
4. Keep the pumpkins in the background.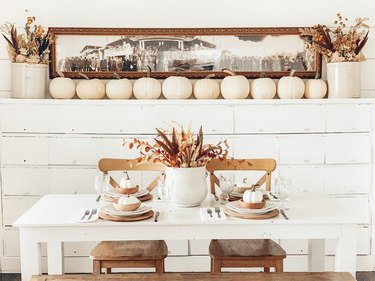 If you can't do fall decor without pumpkins, this is how you make them look chic. Add a few small gourds (either real or faux will work) to your table setting, but make sure you have attention-grabbing floral moments to balance out the more traditional look.
5. Double up on your arrangements.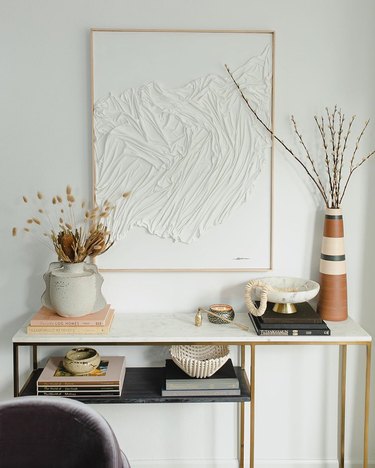 If you have the space, two bouquets are better than one. Dress up a console or entry table with two fall floral arrangements and steer clear of symmetry. Go for a bunch of dried stems (mustard yellow craspedia bulbs would look lovely) in a short vase and longer branches (both linum and caspia bunches are great choices) in a tall vessel.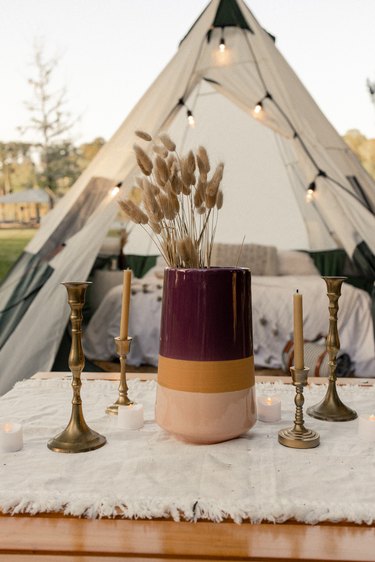 If you really want your autumnal decor to feel unexpected, don't neglect your outdoor area. Whether you have a small balcony or an expansive backyard, a fall floral bouquet will make things extra special. For this, we recommend foraging in nature for a few hardy sprigs and arranging them in a heavy vase that can withstand gusts of wind. Then when you're outside enjoying the brisk air, you'll have a little view to grace your space.