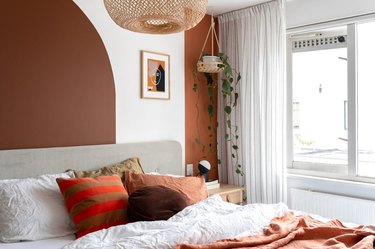 It's time for Fall at Home: Hunker down, bundle up, and make the season as cozy as possible with our foolproof guide to autumn.
Fall decorating ideas usually tend to err on the rustic side — after all, nothing captures the essence of the season quite like a trail of pumpkins sitting on a farmhouse stoop or a living room filled with abundant layers of cozy textiles. But for those who prefer to take a more low-key approach, decorating with modernism in mind is the way to go.
Allow the key characteristics of the aesthetic to serve as your guide. Modern decor is all about streamlined details and a pared-down color palette. Translating those elements into an autumnal scheme means you can forgo the flashy accents — we're talking vibrant red foliage, haystacks, or mums at every turn — and instead, opt for a more subtle approach that will still pack a punch.
To help you get started, we've rounded up nine modern fall decor ideas that will give your space a current makeover with a seasonal twist.
Warm textiles, chopped wood, and foraged branches in ceramic vases are just a few of the many ways to emulate the season's best in your home. Another idea — as beautifully demonstrated by this living room from Emily Henderson's mountain house — involves layering a rich array of textures, including a woven knit ottoman for good measure.
2. Give it a bucolic twist.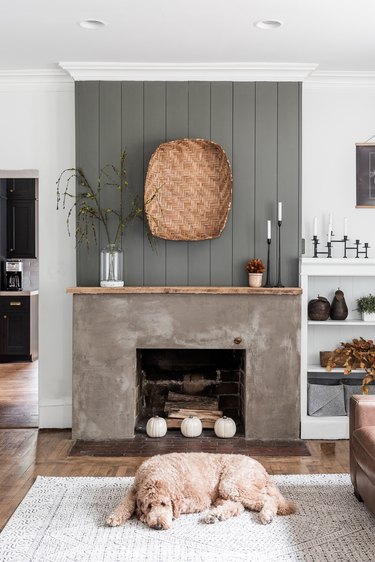 Modern fall decor with a rustic spin looks a little something like this beautifully designed scene by Cherished Bliss. The thoughtful choice and placement of each decorative accent prevents the space from feeling cluttered while still contributing a bold splash of interest to the mantel. The sleek, matte black candleholders visually extend the height of the vignette, while the basket on the wall doubles as a textured focal point. Lastly, a trio of pumpkins pays homage to the season with a whimsical touch.
3. Embrace a monochrome palette.
Fall decorating ideas don't always have to incorporate the usual red and orange palettes. For a more subtle approach, follow Michelle Janeen's lead and pair green-leafy foliage with a white and black monochrome palette. Add a few white mini pumpkins to the mantle as a subtle reminder of the season.
4. Rethink traditional colors.
Instead of decorating with the usual bold, saturated hues, embrace a palette of soft neutrals for a visually refined look that fits right in line with modern fall decor. A Fabulous Fete's idea of pairing pampas grass with brass candleholders and blush tapers is pretty close to perfection. The dark tortoiseshell tumblers offer contrast that's prime for an autumn tablescape.
5. Swap in seasonal goods.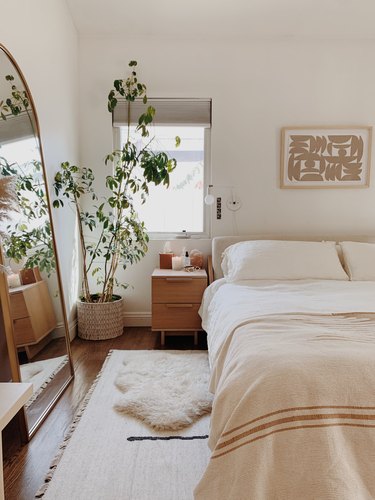 Transition your bedroom by swapping out a handful of staples to give it the ultimate revamp. Molly of Almost Makes Perfect schools us on the art of modern fall decor with a space that integrates all the cozy textures and tonal florals. Take a page out of her design book and add an extra landing pad beside the bed, or trade your duvet cover for one in a warm shade of blush or terra cotta.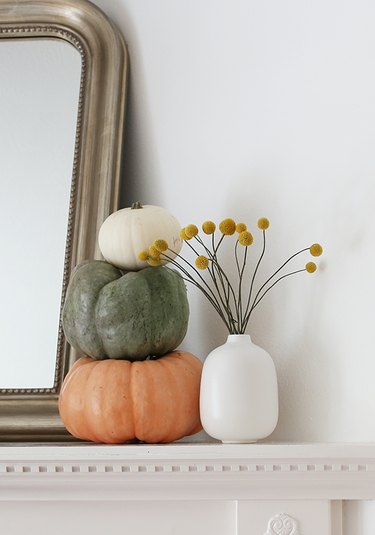 Turn your farmers market pumpkin haul into art with a stacked trio that can double as a sculptural moment. We're loving this high-contrast version by At Home In Love, which feels modern and fresh especially when paired with the minimalist mantel and a small assortment of bright yellow Billy buttons.
Here's to low-effort swaps that can still make an impact. Use the end table next to the sofa, or even your entry console, as an opportunity to tease out a few seasonal accents as demonstrated by this minimalist vignette spotted on Clark + Aldine. Olive branches might be evergreen but pair them with a decorative gourd and a scented candle, and you'll have perfectly modern fall decor.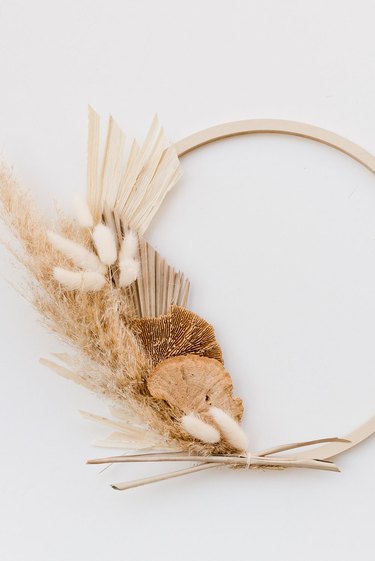 9. Let your walls do the talking.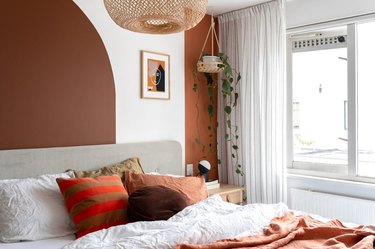 To say that we're obsessed with this modern fall decor idea by Marij of My Attic would be an understatement. With the help of color blocking and a warm shade of terra cotta paint, she gave her white walls a seasonal makeover that's far from traditional and oh-so-dreamy. But if you really want to take things to the next level, follow her lead and add bedding in a complementary hue.