Purchasing a kitchen faucet isn't quite as simple as running to the local home improvement store and grabbing any faucet off the shelf. The best faucet for your sink depends on quite a few factors, such as the hole placement and size of the sink, your preference for faucet style and finish and whether the sink layout requires a deck-mount or wall-mount faucet.
Numerous options are available for just about any kitchen faucet configuration, so the choices may seem overwhelming if you don't narrow down your preferences ahead of time. A kitchen faucet buying guide helps take some of the guesswork out of finding the faucet that perfectly suits your kitchen sink.
Check Your Kitchen Sink's Holes First
If you are purchasing a new faucet for an existing sink or even for a sink you have yet to install, it's all about the sink's faucet holes. For the typical deck-mount kitchen faucet, the number of faucet holes in the sink serves as a guide to the type of faucet that fits the sink. For instance, a sink with two mounting holes that are 8 inches apart from center to center is designed for a faucet assembly that fits into those holes. In many cases, you can still make modifications if you prefer a different faucet configuration as long as it doesn't require ​adding​ holes to the sink, which could damage it.
If your sink has more faucet holes in it than you need, those extra holes can be covered with a deck plate, base plate or faucet hole covers. Size and style options abound for any of these plates or covers, so pick an option that fits the sink and that matches your ideal faucet. It's helpful to purchase the faucet and deck plate at the same time if shopping in a brick-and-mortar store to ensure the finish matches.
Kitchen Sinks Without Faucet Holes
If your sink does not have holes for a faucet, that means you're free to choose either a ​deck-mount​ or a ​wall-mount​ faucet. A deck-mount faucet stands vertically and mounts to the countertop behind the sink (or on the sink itself if the sink has holes on the horizontal back edge for it). Without faucet holes in the sink, you're free to select any type or configuration of deck-mount faucet.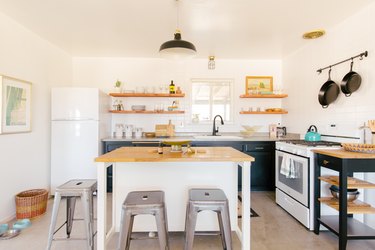 While a deck-mount kitchen faucet is quite common, it does have a few drawbacks. It takes up countertop space behind the sink, so there must be ample space between the back of the sink and the wall or window behind it. The countertop must be drilled to fit the plumbing for the faucet you've chosen, which could prove difficult or even problematic for a stone countertop, such as granite. If there's only a tiny space between the installed faucet and the wall behind the sink, it could prove hard to thoroughly clean it.
Wall-mount faucets protrude from the wall behind the sink, which makes cleaning the area behind the sink a bit easier since the faucet hardware won't be in the way. On the other hand, installing a wall-mount faucet is a bit trickier than the deck-mount variety and may require cutting into the wall and hiring a plumber to run or reroute hot and cold pipes so they travel up through the wall.
If the backsplash is already in place, you'll also have to drill through it, which could be difficult or cause a little damage if dealing with stone or ceramic tile. You'll also have to choose the right size and height of faucet so its head sits 8 to 10 inches above the countertop and at least 7 inches away from the back of the sink bowl. This offers ample room to fill pots or wash your hands.
Numerous Faucet Configurations
A kitchen faucet buying guide wouldn't be complete without mentioning faucet configurations. Choices include single- or double-handled faucets that control the flow of hot and cold water, an optional hand sprayer that mounts through a separate hole in the sink or countertop or a pull-down (or pull-out) sprayer mounted within the faucet spout, retracting when no longer needed.
If you are choosing a faucet with a pull-out or pull-down spray head, opt for a quality version made of sturdy metal and with braided nylon or stainless steel sheathing on the pull-out hose. Since this type of faucet gets tugged a lot when the spray feature is used, the quality of the actual faucet structure must be able to handle lots of use and abuse, otherwise the faucet may crack or break.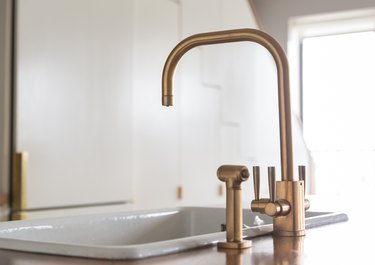 Yet another kitchen faucet option, most common in commercial kitchens, is the pot-filler faucet. This type of faucet is more of a luxury than a necessity for most home cooks. It is installed behind or within reach of the stove to fill pots too large or too heavy to tote from sink to stove. These unique faucets have articulated parts that move so that when not in use, the faucet tucks neatly against the wall and out of your way while cooking.
When you need it, it's easy to swing the faucet over the pot sitting at virtually any burner. A pot-filler faucet requires a cold-water line, so it's best to install it during a complete kitchen renovation or a new build when plumbing routes are still being configured, but it can also be installed as a retrofit.
Kitchen Faucet Styles and Finishes Galore
The most visibly obvious features of any kitchen faucet are its shape or style and its finish. A large gooseneck faucet looks simple yet classic, offering plenty of room to fill large pots. Some contemporary faucets look as though they'd be right at home in a commercial kitchen, while a retro wall-mounted chrome faucet may look as though it has been in place for generations. Opt for a style that looks right in your kitchen based on the styles of door and drawer handles, small appliances and the room's decor in general.
Since just about any faucet style comes in a variety of finishes, it's best to also consider how that finish fits into your kitchen's decor. For instance, if most of the major appliances and all the drawer handles in your kitchen are stainless steel or chrome, opt for a similar chrome, nickel or platinum finish for the faucet as well.
Chrome is durable, hard to scratch and available in numerous faucet styles, but its shiny surface easily shows water spots. Durable brushed nickel offers a similar look without so much shine. Other metallic finishes such as copper, brass or oil-rubbed bronze are also available in either a shiny polished finish, a matte finish or a brushed finish.
Plain black or white kitchen faucets are also available if you prefer a nonmetallic finish. These hues are less common than metallics, so they may be available in only a few limited faucet styles. While a matte or brushed black finish hides dirt and probably shows water spots, a white faucet shows greasy, dirty fingerprints and may need more frequent cleaning. If you'd rather not touch the faucet much, opt for a touchless variety, which requires batteries or an outlet to power this feature depending on the model.