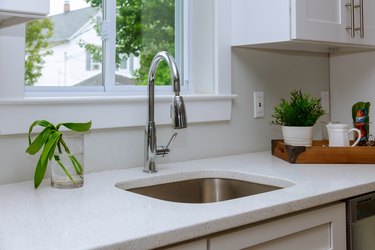 If you are planning to install or replace a faucet in your home, it's important to know a little something about standard sink faucet hole size and faucet hole spacing. Your new faucet will need to line up with the number of holes in the sink and match the space between the holes. Faucets and sinks come in many configurations, but if your faucet doesn't match there are usually ways to make it fit.
A three-hole sink is a common bathroom faucet hole size and is also a common type of kitchen sink. Faucets used on a three-hole sink usually have a plate or a base, called an escutcheon, which covers the holes. An escutcheon can also be used to cover the extra holes when installing a single-hole faucet in a three-hole sink.
A four-hole sink is the most common type of kitchen sink. It is similar to a three-hole design with an extra hole set a little further away for a sprayer or soap dish. A two-hole sink is designed for a single-hole faucet and a sprayer or soap dish with no escutcheon. A one-hole sink is used with a single-hole faucet, usually without an escutcheon.
You should be aware of how many holes are in your sink before deciding on a faucet, and you'll also need to know about faucet hole spacing. If the distance between the outer sink holes on a three-hole sink measures 4 inches, you will need what is known as a center set, or mini-spread, faucet. Because both single- and two-handle faucets fit this configuration and it is a common bathroom faucet hole size, you don't need to modify the sink when installing either type of faucet.
If the holes are 6 inches apart or more, you will need a widespread faucet. Many two-handle and single-handle kitchen faucets are widespread faucets. On many three- and four-hole kitchen sinks, 6 or 8 inches is a standard sink faucet hole size. Widespread faucet hole spaces can be as far apart as 16 inches. Faucets with this wider spread consist of separate parts that are individually spaced without an escutcheon or base plate joining them.
Hole Diameter and Measurements
Depending on your sink or countertop material, holes can be drilled to accommodate an odd-sized faucet or one that does not fit the predrilled holes in your sink. A standard sink faucet hole has a diameter of 1 3/8 inches, but because not all faucets are the same, some will require a 1 1/2-inch hole. It's also important to check the depth of the sink or countertop before installing a faucet or drilling a hole. If the deck is too thick the faucet may not fit correctly.
Before buying a faucet, you will also want to measure the distance from the center of the holes to the backsplash and to the edge of the sink. Then compare it to the width of the faucet escutcheon or base to make sure it will fit. If you are going from a three- or four-hole faucet to a single-hole faucet, many bases will cover holes up to 4 inches apart and some single-hole faucets have bases that will cover up to 8 inches.