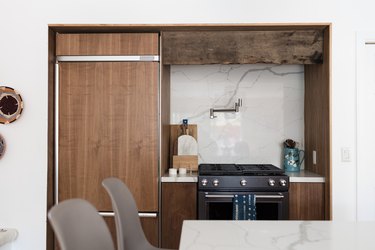 Whether you spend a large amount of time in your kitchen or simply love kitchen gadgets, a pot filler faucet might be perfect for you. These special faucets do save time and are useful for more than just filling pots, but they have some drawbacks. If you decide that the pros outweigh the cons, do some research and make sure you get one with the practical features you'll want.
Tip
A pot filler faucet is essentially a water spigot mounted above your stove. It works like an articulated arm, allowing you to easily fill any pot on your stove, saving you a trip from the kitchen sink.
What Is a Pot Filler Faucet?
Once reserved for restaurants and luxury kitchens, pot filler faucets are starting to appear in an increasing number of homes. Mounted to the wall or backsplash above the stovetop, a pot filler faucet is a simple, cold-water-only faucet that brings water directly to your stove. The faucet is designed like an articulated arm that allows you to move it wherever you need it and then push it back against the wall when you're done so it doesn't get in the way while you cook.
Pot filler faucets come in a wide variety of finishes and styles so you can easily match the rest of your kitchen decor. They also add a touch of luxury and a bit of a high-end feel to your kitchen.
The biggest benefit of a kitchen pot filler faucet is that it can save you some heavy lifting. Weighing in at about 8 pounds per gallon, water is quite heavy. If you have a big crowd on spaghetti night, you could easily find yourself lugging 16 to 18 pounds of water plus your pasta pot from the sink to the stove. With a pot filler, you could simply place an empty pot on the stove and fill it where it sits. It's true that you still have to carry the pasta pot from the stove to the sink to drain it, but that's half as much work as carrying it both ways.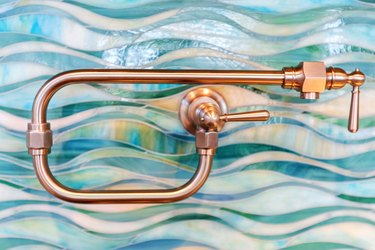 Pot fillers also make it much easier to fill tall pots that don't fit into your kitchen sink well. Not only do they make filling big pots easier but they also do the job faster. According to Delta, the flow rate of pot filler faucets is often 4 gallons per minute. In contrast, the flow rate of your kitchen sink faucet is only about 2 gallons per minute.
Versatility is another benefit of pot filler faucets. You can use one to do a lot more than fill pots. You can also use them to fill tall flower vases, watering cans, humidifier reservoirs, carpet steamers and coffee pots. The rapid flow rate also makes filling reusable water bottles and tea kettles much faster.
Pot filler faucets add convenience, but they also add some potential issues. For one, they live above your stove. Things that sit too close to your stove tend to attract a lot of greasy dirt. This is often hard to remove, but it can prove especially so in the multiple articulated joints on a pot filler.
It's also important to note that, like all faucets, pot fillers can drip or leak. When leaks happen above your stove, there is no drain for them to drip into. The leak instead ends up on your stovetop and can make quite a mess, especially if you have an electric stove.
If you do opt for a pot filler, make sure you use it. Water left sitting in your pipes unused can stagnate. After one week of disuse, that unused water can harbor millions of bacteria. While usually safe for all but the very young or old, this bacteria can make you sick, and it's just gross to think about it.
Kitchen Faucet Features to Look For
If you decide you do want a pot filler faucet, there are a few features you should look for when choosing one. Ask the Builder recommends making sure you get a faucet with two valves rather than just one. These pot fillers have a valve to turn the water on and off at the spout and another at the wall. This gives you an extra layer of leak protection, allowing you to close both valves when going on vacation. It also provides you with a backup valve if one of the valves develops a leak.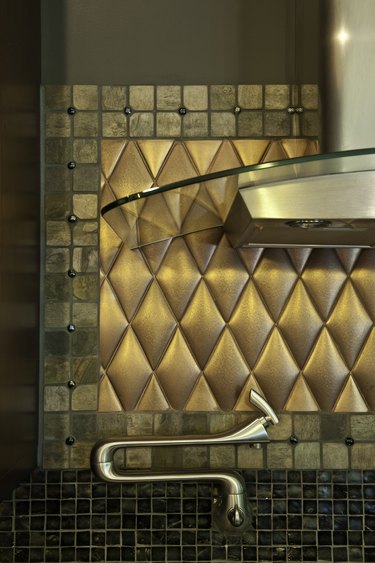 It's also best to choose a pot filler with a water spout that rotates a full 360 degrees. This allows you to get the water exactly where you want it. You'll need to take some measurements too. You want a pot filler that sits high enough to work with your tallest pot. Make sure that the articulating arm will sit well out of your way when it's not in use and will move freely without bumping into nearby kitchen cabinets or other obstacles.
To reach every burner on your stove, choose a pot filler with at least a 22-inch radius. If your stovetop is oversized, consider a model with two joints rather than just one. This ensures that you can reach everywhere and still get the faucet to fold flat against the wall and out of the way when you're cooking.
Pot Filler Kitchen Faucet Installation
Installing a pot filler is a fairly simple DIY project for most homeowners, but it does involve some plumbing. To begin, you'll need to run a 1/2-inch cold water supply line to the place above your stove where the pot filler will sit. You'll then need to cut a hole in the wall where the supply line will attach to your pot filler and install an adapter to connect the line to the faucet. The next step is to drill the holes you'll need to mount your pot filler and screw it into place. Attach your supply line, turn the water back on and you're done.
The process is simple, but it is absolutely crucial that you position your water supply line in the correct place. Get it wrong and your pot filler may bump into your kitchen cabinets, sit too low to be useful or prevent your pot filler from settling snugly against the wall when you're not using it. If you have any doubts about installing the supply line yourself, call a plumber. They can install the necessary water supply line in about 30 minutes at an average cost of around $100.
Although most homeowners today opt for a pot filler mounted over their stove, there is another option. Instead of placing the pot filler on the wall, you can opt for a deck-mount style that sits on top of your kitchen counter next to the stove. These pot fillers work the same way as others and offer the same pros and cons.
For some, however, deck-mounted pot fillers come with two additional negatives. The first is that they are mounted on the countertop, which means drilling holes in the counter. It's easier to patch and repair holes in your wall than it is in a granite or stone countertop should you opt to remove your pot filler faucet later.
The second issue is counter space. Although they don't take up massive amounts of room, anyone who has ever worked in a small kitchen knows that every square inch of countertop is valuable real estate. When space is at a premium, building up often makes more sense than building out.
---
Home is where the heart is, and Michelle frequently pens articles about ways to keep yours looking great and feeling cozy. Whether you want help organizing your closet, picking a paint color or finishing drywall, Michelle has you covered. If she's not puttering in the house, you'll find her in the garden playing in the dirt. Her garden articles provide tips and insight that anyone can use to turn a brown thumb green. You'll find her work on Modern Mom, The Nest and eHow as well as sprinkled throughout your other online home decor and improvement favorites.