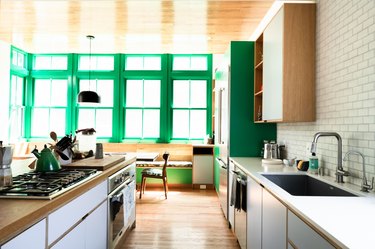 Get just about any look you want, at a fraction of the price with laminate counters. Made from layers of plastic that are bonded to particle board, this non-porous surface resists stains, scratches, heat damage, and impact better than stone, which makes it almost a no-brainer for any kitchen. Plus, cleanup is simple with just soap and water. Here's what you need to know about laminate counters and why they could be the perfect addition to your home, no matter your budget.
1. Laminate can be ultra modern.
Laminate counters were a midcentury favorite, becoming popular in the 1960s and '70s, used all the way up to the '90s before getting a bad rap for looking dated. Now, laminate is experiencing somewhat of a renaissance as an affordable, durable, moisture-proof, and attractive alternative to luxury materials (like natural stone), given the wide range of colors, patterns, and textures that are currently available from common home improvement retailers like the Home Depot and Lowe's.
These days, you can get laminate that replicates the look of just about any material — granite, marble, and wood grain — so closely that it's often hard to tell the difference. You also get a variety of finishes to choose from, including a satin sheen, matte, and textured. And if you prefer the midcentury look, various brands still make throwback designs to keep it retro, yet modern.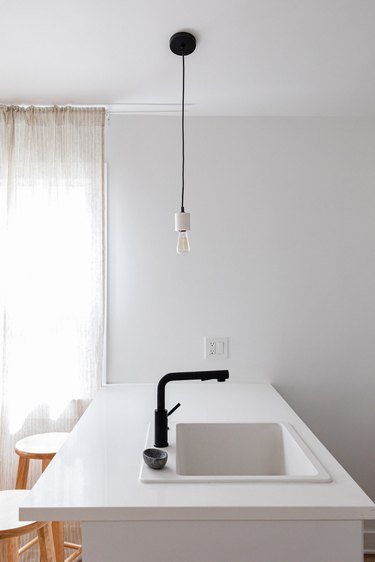 2. Laminate is easy to install.
Post-form laminate countertops seamlessly mold the laminate to the wood backer, and are pre-cut and much lighter than stone, making them a breeze to install yourself. These prefabricated products can integrate a backsplash with the countertop, creating a seamless surface from the front edge all the way to the wall. Home improvement stores offer a wide range of prefabricated post-form laminate countertop sections, ready-made in a variety of sizes for simple DIY installation.
3. Laminate is highly customizable.
Custom laminate countertops can easily be built to your exact specifications — a perfect option if you have some difficult angles in your space. Plus, they don't have an integrated backsplash, but one formed separately and then attached during installation. This allows you to choose something other than the standard 3-inch height that comes with post-form varieties. Seamless up to 12 feet, depending on the type you select, custom laminate countertops also feature a variety of edge designs to choose from, like square, beveled, waterfall, bullnose, and more, while post-form countertops offer limited options.
The Formica brand alone offers a vast selection of colored solids, classic midcentury patterns, and touchable textures that mimic everything from earthy stone slabs, to rusted metal, to butcher block and to other wood, like oiled walnut. And they can even mimic fabric or recycled leather.
4. Laminate countertops cost less.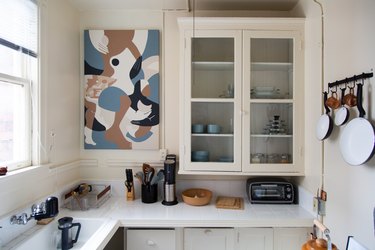 You really can't beat the affordability of laminate counters. Priced at $10 to $40 per square foot installed, while granite will run about $50 to $100 and quartz $65 to $100 per square foot. Choosing laminate allows you to stretch your remodel budget and is undoubtedly the most cost-effective choice on the market being three or four times less expensive than stone. Even if your kitchen is on the smaller side and you choose a less pricey natural stone, your quote is still likely to be somewhere around $2,000 on a good day. You can instantly cut that in half or more by choosing plastic laminate instead.
5. Laminate is highly heat resistant.
You may be surprised to learn that today's laminate countertops can withstand high temperatures on par with granite. Consumer Reports gave both laminate and granite the same 'Excellent' rating when put to the test. Despite the high rating, using a protective trivet is still a good idea, as discoloration from heat can happen and one of the few downsides of laminate is that burns can't be repaired unless you replace the whole piece.
6. Laminates repel stains and scratches.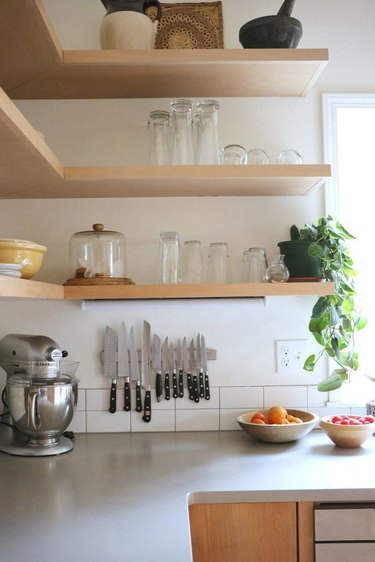 Consumer Reports also did a study to test how well laminate counters handled stains, and they again scored the highest possible rating. Not even the popular, much more expensive kitchen work surface quartz faired as well and was ranked lower. If you're particularly concerned with scratching, opt for a laminate such as Golden Romano by Wilsonart, a high def countertop option that features the trademarked AEON scratch and scuff-resistant technology.
7. Laminate counters are antimicrobial.
Laminate will even kill germs. Both of the most popular brands of plastic laminate countertops, Formica and Wilsonart, feature products with an antimicrobial shield baked right into them to resist the growth of mold and damaging microbes, helping to kill some of the invisible pathogens that can make us sick. This is why you'll see laminate counters in most hospitals and commercial kitchens, which have been relying on this kind of technology for decades to limit the spread of germs and pathogens.
8. Laminate counters are highly impact resistant.
If you have experienced stone countertops, you know how easily they chip and even crack under certain conditions. Granite, marble, and quartz all get low grades when it comes to impact resistance. Laminate, on the other hand, has been shown to stand up to just about anything you can throw at it. Not even a clumsy cast iron skillet will cause laminate counters to chip or crack.
9. Laminate counters are easier to maintain than stone.
About once a year you must seal natural stone counters with a topical sealer in order to keep them looking new. It's not necessarily an expensive process, but it is one more chore to add to your to-do list. If you don't seal stone counters properly, you're pretty much guaranteed stains and scratches that are near impossible to remove.
Laminate countertops can look almost identical to natural stone, yet require zero sealing or upkeep beyond wiping up spills. Even if the worst happens and a spill sits on the surface overnight, it's likely to wipe up with just soap and water. Laminate really is a set-it-and-forget-it type of material.
10. Laminate counters offer an under-mount sink option.
Back in the day, your only sink option for laminate countertops was of the drop-in variety. Not anymore! Thanks to innovation on the part of the laminate and sink manufacturers you can now achieve a more modern look with an under-mount sink.
11. Laminate counters can be used in bathrooms, too.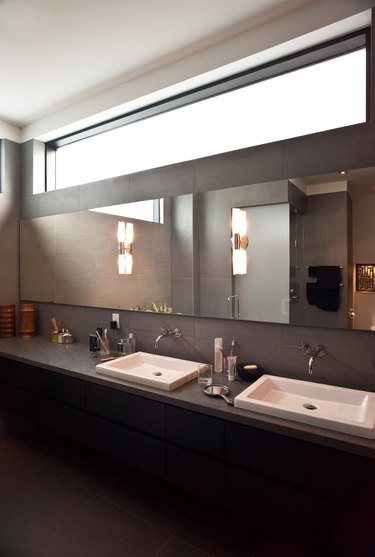 Indeed, you can use laminate as bathroom counters. The post-form, pre-fab varieties work especially well for bathrooms, but resist the urge to use laminate in the shower. The constant onslaught of moisture will indefinitely end up seeping into the laminate seams, and there are simply too many other affordable options for shower walls that will last 50 or more years under constant moisture conditions, like tile or drop-in showers, that are even easier to install.