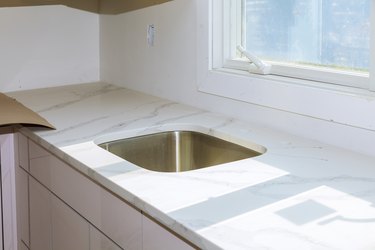 If you're undergoing a kitchen renovation, you want to make sure you get all the details right, including the laminate countertop dimensions. But with so many options for kitchen countertops, it can be tough to know you're working with the right numbers. Learning more about laminate counters can arm you with the information you need to make sure you enjoy yours for years to come.
New Era of Laminate Countertops
Laminate didn't always have the best reputation. Once known as the super affordable material of midcentury countertops and floors, some interior designers and homeowners dismissed it as looking too cheap, preferring natural stone or wood instead.
But in recent years, a variety of new retailers have upped their laminate games. There are now laminate countertops available in a wide range of styles that mimic natural stone, as well as faux wood, imitation butcher block and unique designs that can give kitchens an upscale retro feel. In addition to quality looks, many homeowners love that laminate is durable, easy to install as a do-it-yourself project, super simple to clean and more affordable than many natural stone options.
How Thick Is Laminate?
Laminate countertops are generally made out of three layers of particleboard and papers that have been soaked in resin, according to Builders Surplus. Some of that paper is brown Kraft paper, the same kind you'll find in the brown grocery bags you can get at the supermarket. The middle layer is typically the decorative design that you see when you look at the counter, with the top layer being a translucent, resin-soaked layer that protects the entire countertop.
Since this is all done in a factory, laminate thicknesses can vary depending on the retailer, and can sometimes even be ordered to custom thicknesses. But in general, the laminate used for high-impact surfaces like kitchen countertops is referred to as horizontal grade, and it is usually 1/16 inch thick. The standard total thickness of the three layers of laminate countertops, including particleboard and resin-soaked papers, is 1 ½ inches.
Though some prefer thicker countertops to mimic the look of a natural butcher's block wood or a thick stone like marble, horizontal grade laminate countertops at or around 1 ½ inches total will be able to hold up against daily countertop demands like chopping and handling heavy pots.
Shopping for New Countertops
If you've decided you want laminate countertops for your kitchen, there are many different places to shop for them. You can search online for discount kitchen countertops or Formica countertops. Formica was the originator of laminate countertops in the early 1900s. Though many other retailers offer laminate today, many people use the words "formica" and "laminate" interchangeably, so a search for formica countertops could help you find some design inspiration, even if you don't end up buying Formica-brand countertops.
You may be interested in doing a DIY project. If that's the case, you can often find prefab laminate countertops, or ones that have been prefabricated, sealed and are ready for installation, at your local hardware store or building materials retailer. Representatives at those stores may also be able to give you helpful tips on installation and maintenance so that you are able to get the best use out of your countertops in the coming years.