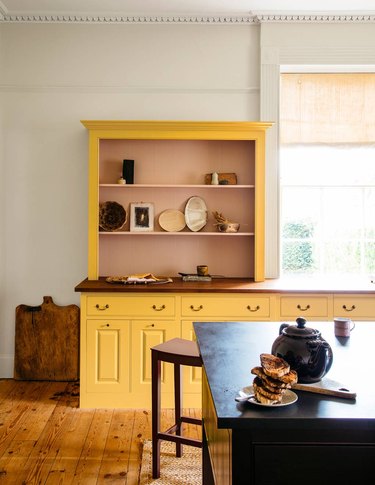 Looking to achieve a traditional style in your cooking area? Your kitchen cabinets are probably the right place to start. While you might have already considered Shaker cabinets, let us present you with another underrated option — raised panel cabinetry.
These cupboards consist of a frame with an elevated center panel which can have molding or varied edge details to create a unique profile. And they're perfect for a DIY if you're handy with wood glue and a nail gun.
After the installation process is complete, get ready to coat your cabinet doors in the perfect hue. Whether you prefer warm tones, inky ones, or something vibrant, these raised panel cabinetry ideas will bring the perfect dash of ornate to your kitchen remodel.
Get ready for a cook space that's quaint in all the right ways.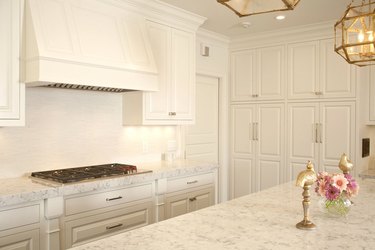 2. Add depth and dimension.
Raised panel kitchen cabinets are ideal for adding depth and dimension to your kitchen thanks to the optical illusion they often create. Go this route if you want something a bit more intricate and layered than Shaker style. Notice how the dark raised panel cabinets in Sarah Gibson's home accentuate light and shadow? That's the kind of drama we like.
3. Bring in some country charm.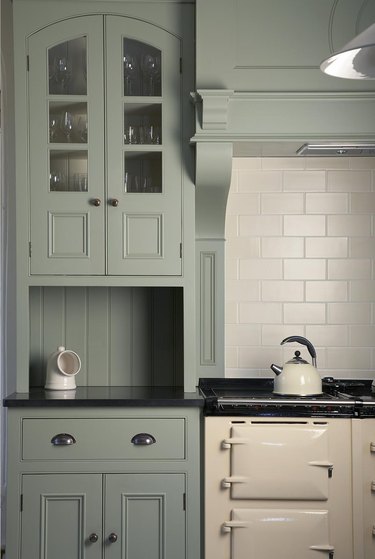 The elegant style of raised panel cabinetry is understated, but it will complement a variety of design aesthetics. It works particularly well in country and rustic kitchens. And the cabinets in this bespoke space by Christopher Peters have been painted in a calm and muted green — Lichen by Farrow & Ball — adding to the cozy cottage feel.
4. Match the kitchen island.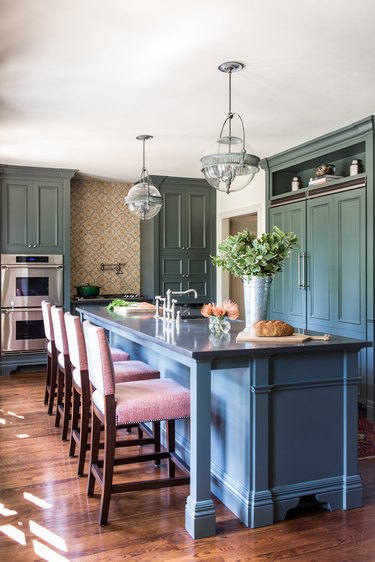 Raised panel cabinetry looks great in larger spaces; the additional square footage allows the design room to breathe and won't make things feel busy or cluttered. This spacious family kitchen, designed by Caitlin Moran Interiors, is a perfect example of getting the look right. The blue raised panel cabinets match the traditional kitchen island, while a styled shelf, patterned backsplash, and stainless steel dual wall oven break up the color.
5. Consider other focal points.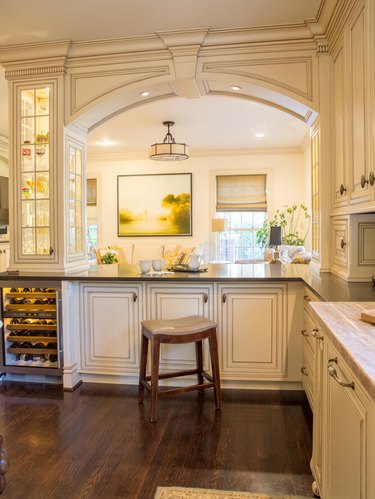 Going all out on raised panel details can really help to create a unique kitchen that stands out from the crowd. Take this design by Lori Wiles. The cabinets feature a slightly more complex design, resulting in a final look that's rich in dimension. Panel detailing even makes an appearance around the elegant architectural arch.
6. Blend with contemporary features.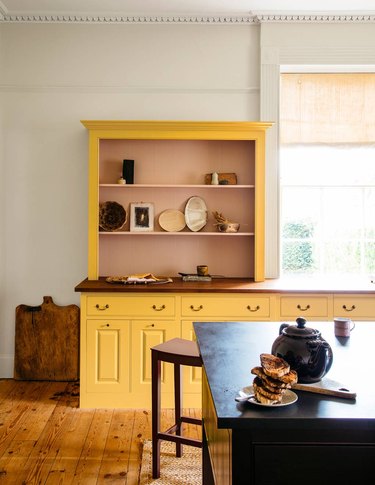 Want to achieve something both traditional and contemporary without installing an entirely new kitchen? Transitional design will blend the two aesthetics, as evidenced by this vibrant kitchen from Plain English. In this instance, the mix of cabinets with raised and fielded panels, as well as flat panel drawers, got an instant update with a hit of canary yellow.