Kitchen cabinets are painted or stained and clear coated in a vast array of colors. After the paint or clear coat dries, it leaves a particular sheen. The sheen means how much your cabinets actually shine when light is reflected onto the surface. There are at least six distinct types of sheens available in paint and clear coat products. These sheen types range from no sheen at all to a very high sheen. The amount of sheen that you choose for your kitchen cabinets is based on your own personal preferences, but there are specific sheens of paint and clear coat that perform best on kitchen cabinets.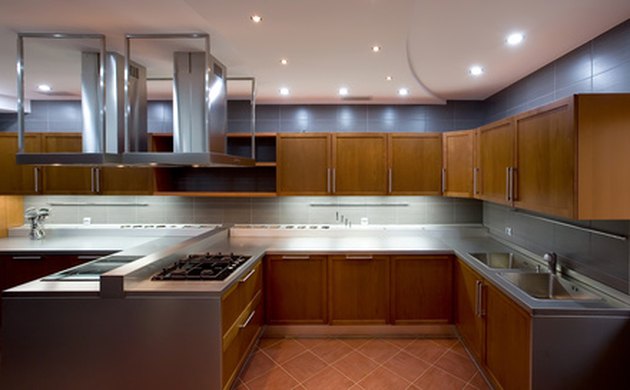 Satin Paint and Polyurethane
Satin paint or polyurethane will provide the best sheen for you if you prefer a soft glow on your wood. Both products are one step above a flat paint or clear coat in which there is no sheen at all. Flat sheen products are not suitable for kitchen cabinets. They are very difficult to clean and maintain. A satin sheen is easier to care for, and will show the least amount of dirt, grime and imperfections on the face of your cabinets.
Semi-Gloss Paint and Polyurethane
Semi-gloss paints and urethanes have a sheen that is one step above a satin sheen. This is one of the most popular sheens, not only found on kitchen cabinets, but on woodwork throughout the home. A semi-gloss sheen will provide a nice shine to your cabinets, but it will not be an overbearing shine. The semi-gloss sheen is very durable in high traffic areas such as your kitchen, and it is easily maintained. This sheen will show or reflect a little more dirt and grime than satin, but overall it is a good choice for your kitchen cabinets.
Gloss Paint and Polyurethane
Gloss paint products and polyurethane will provide a shine one step above semi-gloss products. Gloss products reflect more light, and are even easier to clean than semi-gloss or satin products. This sheen is best used if there is no surface damage on your cabinets. A high sheen product such as gloss may be easy to clean, but it will also show more imperfections in your cabinets.
The best sheen is really all about what you prefer, but if you want super easy cleaning, choose gloss sheen. If you want easy to clean, but have surface imperfections choose satin sheen. If your cabinets are in good shape and you want a nice sheen that is not too reflective choose semi-gloss.