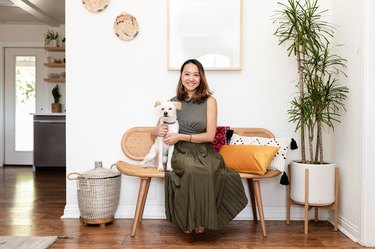 Where: Glassell Park, Los Angeles
Style: Flea market chic meets Danish minimalism
A trip to Europe changed Stephanie Chang's outlook on decor. Travel has always played an important part in the event producer's creative process, but during this particular visit, something about the minimal interiors of the Airbnbs where she stayed really struck a chord. She wanted to recreate the look back home, so she started with an important step.
"They don't have a lot of space to work with, so you just sort of have what you need," Chang tells Hunker. "I came home and purged a lot of furniture and a lot of antiques I used to have... I just kept the pieces I loved."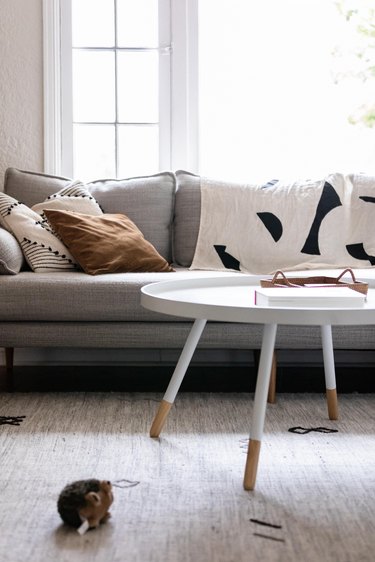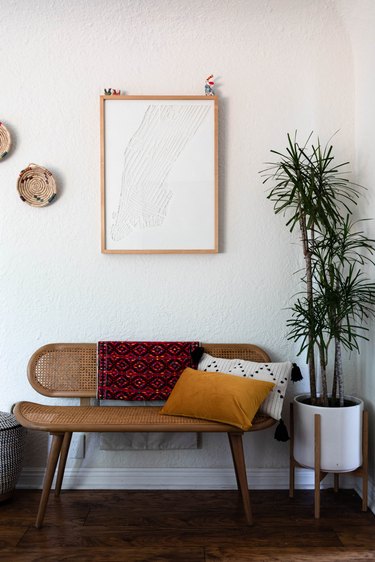 Of course, maintaining a clutter-free home gets harder to do when kids and pets are in the mix, but somehow Chang has made it work. Originally from Austin, she has lived in Asia and New York and moved to Los Angeles seven years ago. When rent became more expensive in their Venice, California apartment, Chang and her husband decided to look elsewhere. Seven to eight home offers later, the couple scored a three-bedroom 1928 house in Glassell Park, where they now live with their dog Neko (named after one of their favorite artists, Neko Case) and their newborn.
The couple put in a solid amount of work to update the space and fix a few issues.
"We didn't realize it, but the roof started leaking when it rained," Chang says. In addition to tackling the roof issue, they knocked down a wall in the kitchen and retiled the counters and cabinets. Blue and white tiles from Clé Tile create a colorful backsplash (although Chang stresses they put "a million and one coats of sealant" on them to make oil splatters easier to clean).
For her unique dining room seating, Chang transformed an IKEA bench by using a patterned cloth she found at the Long Beach Flea Market and turning it into a cushion cleverly secured with yoga straps.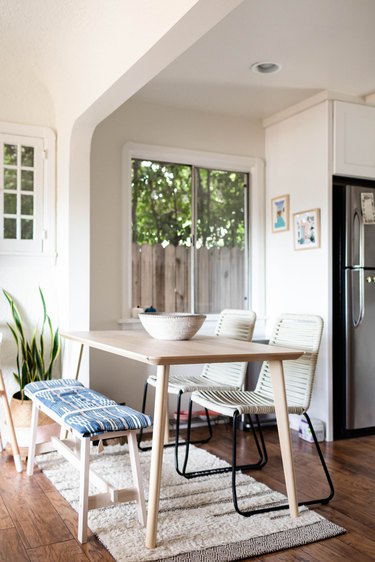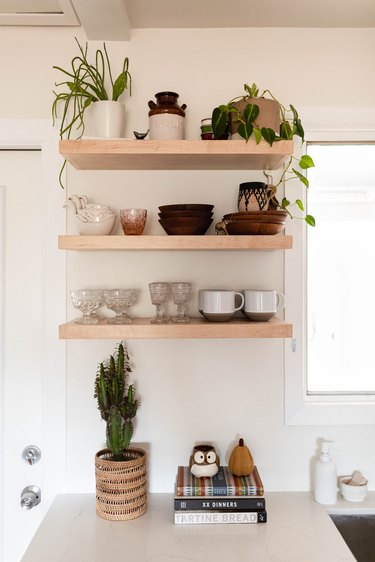 To create their nursery, the couple transformed a back room, ripping down its walls and adding insulation. The hanging lamp and mobile in the space are DIY projects by Chang, who often hand-makes objects for work projects.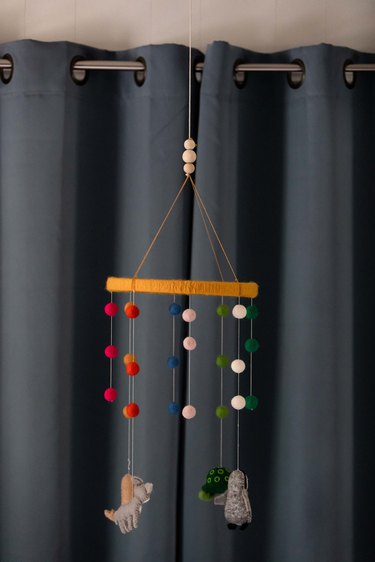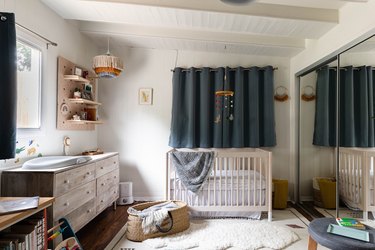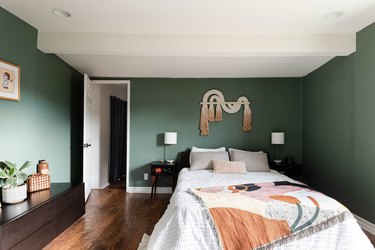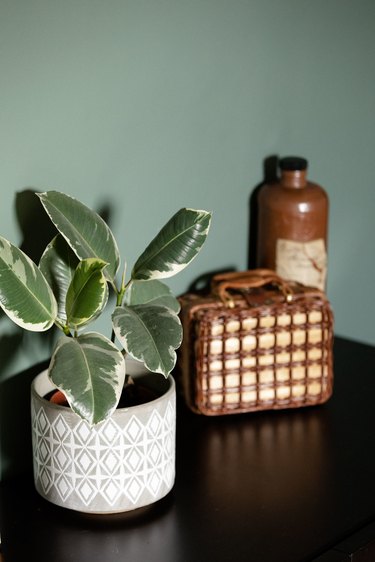 Chang's home features plenty of greenery throughout, highlighted with planters from brands like The Potted Earth Co. The house's guest room features a pastel-meets-earthy color palette, with pieces like a minimalist desk from Akron Street, a wall hanging from Society6, an embroidered pennant from Slow North, and a DIY wall hanging by Chang.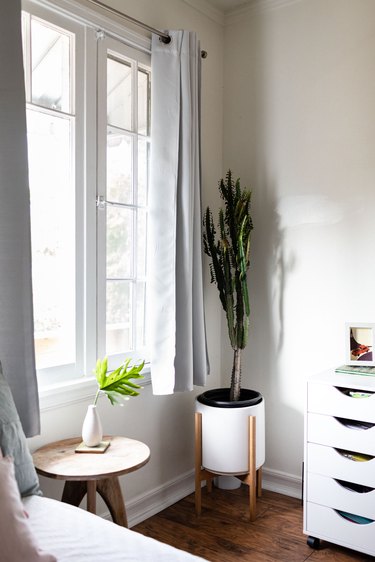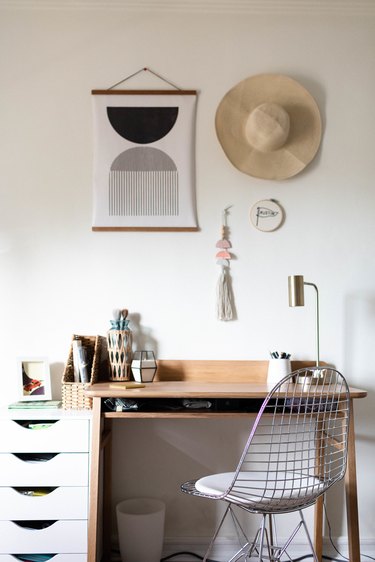 Chang continues to keep the space new with "little souvenir pieces" from travels. Outside, she grows vegetables like eggplant, dino kale, cauliflower, and lettuce. It all comes together to create a cozy look with a focus on warmth and comfort — and proof that you can maintain a minimalist look even with a growing family.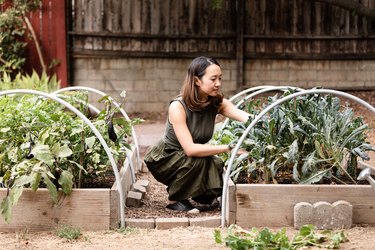 Favorite piece of design or architecture in your neighborhood, town, or city: You can't beat the classic midcentury house design of the 1960s. One hidden jewel in L.A. — and a place I've done an event at — is the Stahl House designed by architect Pierre Koenig in the Hollywood Hills. It's architecture perfection.
Best places for thrift store finds, antiques, or flea markets: The Council Thrift Shops are a gold mine if you like pre-curated pieces to pick from at a slightly higher price point, but to be honest, the Long Beach Flea Market is where I've found some great, one-of-a-kind vintage pieces and furniture.
Best farmers' market: The 3rd Street Promenade has the best farmers' market on Wednesday and Saturday mornings, but my favorite one is actually a smaller one by where I live in Atwater Village on Sundays.
Best happy hour: Too bad I never get off work early enough to catch a good happy hour, but when I do, my husband and I LOVE hitting up the happy hour at L&E Oyster Bar for fresh oysters and beet-cured salmon paired with some awesome cocktails.
Best cheap and cheerful restaurant: Lately in Chinatown is solid — nothing fancy, great and simple interior design, minimalist decor that brings joy to my heart, and the food is delicious at such a great price for brunch. Must try the fried green tomato sandwich.
Best place to experience art and culture: Being in L.A., you have to hit up The J. Paul Getty Museum at some point. That tram ride up the hill in itself is a departure from the crazy city. Once you're done with that, hit up Zuma beach for a relaxing SoCal day in the sun and watch the surfers catch the sunset waves.
Best coffee shop: Little Ripper Coffee in Glassell Park, a tiny little joint run by Australians. The lavender latte is amazing and gives you that perfect jolt of caffeinated power you need. Needless to say, it's a neighborhood joint, so you'll always run into someone you know.