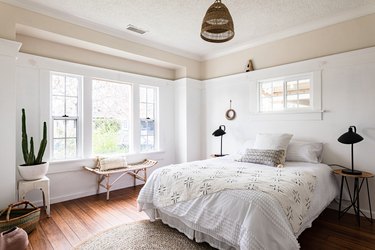 There is nothing quite like staying in a clean, crisp, relaxing hotel bedroom, which is an experience many of us have missed during the coronavirus pandemic. Thankfully, you can easily recreate hotel bedroom vibes in your own home. To find out exactly how, we consulted interior designers for their expert tips and tricks. Your bedroom staycation oasis awaits!
1. Think refreshing, cool wall colors.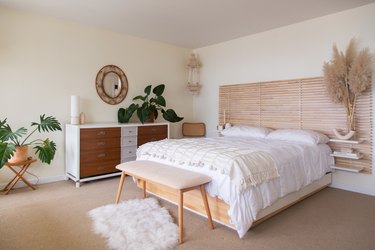 "When I think of a hotel, the first word that comes to mind is 'clean' (if you don't think of this, I'll need you to change the hotels you visit IMMEDIATELY lol)," interior designer Justin Q. Williams tells Hunker. "As you create hotel vibes in your home, think of clean colors, clean lines, and clean looks."
2. Focus on comfortable bedding.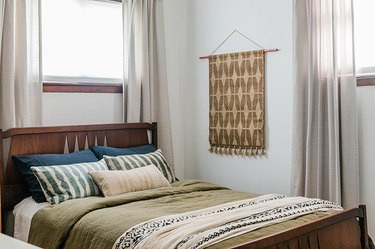 One of the best parts about staying in a hotel is, hands down, the bed. That's why you should pay close attention to finding comfortable, chic linens for your bedroom. Williams specifically recommends Macy's Hotel Collection for an affordable hotel look. The 680 Thread Count Bedding Collection ($69.99+) is a great place to start, since it highlights the hotel color palettes we know and love.
London-based interior designer Stephanie Barba Mendoza tells Hunker, "I've been told that cotton thread count is merely a marketing ploy, so instead I go with how good the bedding feels to touch. For laying the bed up, I do like a bottom and a top sheet, which is quite old-fashioned but feels gloriously indulgent." For more information on how to make your bedding look and feel expensive, click here.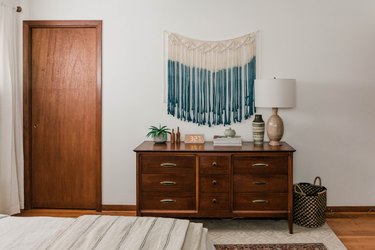 You'll want to keep both the furniture and decor in your bedroom as simple as possible. "Start with your staple pieces: the bed, nightstands or side tables, a dresser, and an accent chair(s)," Williams advises. "From there, add your textiles (pillows, rug, bedding, and drapery) as these are items that will yield a super comfy feel in your space."
4. Control your lighting.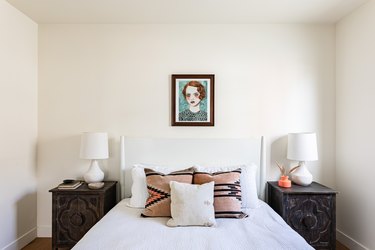 Hotels have adjustable lighting for a reason. When it comes to this aspect of the bedroom, Mendoza says, "Add a blackout blind or curtain for a good night's sleep, but also include a sheer blind or curtain for privacy and so that the light can come in during the day." Brookstone's Blackout Window Curtain Panels ($29.99) are a solid option that comes in soothing colors.
5. Keep your bedside tables both fashionable and functional.
"Bedside tables need to be big enough to hold a table lamp as well as your drink, a pile of books, and reading glasses," says Mendoza. "Having one drawer to hide a few necessities is always a plus, too!" Try Urban Outfitters's Huxley Nightstand ($179).
6. If you want a TV, find one that complements your space.
While TVs aren't the best for a distraction-free, sleep-friendly space, hotels do tend to have them as amenities. With this in mind, Williams prefers the sleek televisions that Samsung has to offer — like the Frame TV ($599.99+), which looks like a piece of wall art when it's not playing your favorite shows.
As for where to put your TV, Mendoza suggests placing it on a dresser or chest of drawers to keep the space as homey as possible.
7. If you can, carve out a cozy seating area.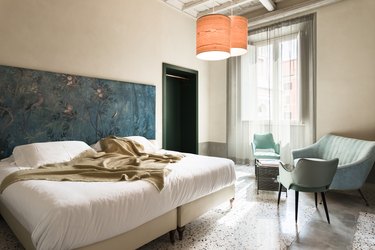 If you have the space, Mendoza advocates for a seating area à la hotel suites. "I favor skirted slipper chairs," she says. "Pair this with a low table and it creates a cozy space to sit back with a book or enjoy a morning coffee away from the rest of the household."