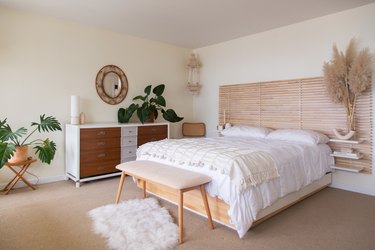 There is nothing better than hopping into a luxuriously made bed. Nothing. But when we say ​luxurious​, we don't mean ​expensive​ — because upscale-looking bedding doesn't have to completely drain your bank account. With this in mind, we reached out to design and bedding experts for their tips on how to make bedding look expensive, no matter what your budget.
1. Make your bed in the morning — it's free!
"The most important thing you can do is make your bed," Genevieve Rosen, the founder of Bed Threads, tells Hunker. "It sounds obvious, but sometimes it can be easy to forget to do this if you're busy or rushed in the morning. No shame whatsoever! We've all been there. But making your bed takes five minutes and will instantly make even the most simple bedding look more expensive. Smooth out the creases, fold back the duvet, plump up the pillows. Hello, hotel spread!"
2. Ensure that all parts of your bed and bedding feel comfortable to you.
Interior designer Marie Burgos of Marie Burgos Design tells Hunker that complete comfort makes a huge difference. From your mattress to your pillows, finding pieces that feel comfortable will make your bed look comfortable — especially if these pieces are made of natural materials.
When it comes to comfy materials, Burgos specifically recommends organic fibers, like linen and cotton, with higher thread counts. "Linen quality makes a huge impact on the overall look and feel of your bed, and also your sleep," she says.
3. If you associate hotels with relaxation, go for all-white bedding.
If you want a luxurious, fresh hotel feel, Burgos recommends that you go for crisp white bedding. In fact, if you have relaxing memories tied to hotels, sleep expert Dr. Sabrina Magid-Katz tells SheKnows that white, hotel-inspired bedding can even help you sleep better.
4. Mix and match your bedding for an editorial feel.
"My tip is to try no more than three shades: two makes for a nice contrast, while three can be a really delicious bedding sorbet," says Rosen. "Mixing and matching like this will elevate your bedding look, and if you already own more than one set of sheets that work well together — a white set and an oatmeal-hued set, for example — you can do this right now at no extra cost."
When it comes to layering, Burgos also recommends that you focus on different textures and volumes. "You can, for instance, use a combination of a duvet cover with a coverlet for added texture or a different pattern over the duvet," she says. "Then add a faux fur throw, or a blanket folded to the foot of the bed or casually laid over the bed, for added texture."
5. Pair a high bed with a skirt.
If you have a high bed, Burgos recommends that you cover the bed frame and box springs with a skirt. If you can invest in a bedskirt in a thick fabric that will stay straight and won't easily wrinkle, that is ideal.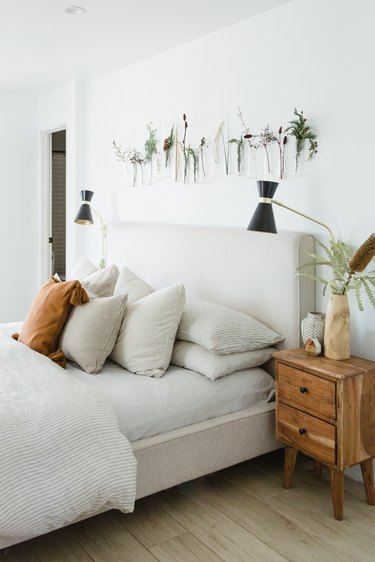 "I favor a fabric upholstered headboard, which provides a softer look than a wood one for instance. It can be padded, tufted, solid … The important factor is that it has to make a significant impact in terms of its scale," Burgos explains. "Having a tall headboard or an oversized long headboard is a great way to create a luxurious bedroom."
7. Have fun with throw pillows.
"Throw pillows are a great way to add a classic stripe or a subtle pop of color without making a commitment," Decorist designer Christina Manzo tells Hunker. "They are perfect to swap out during the seasons and can easily create a mood for your bedroom." Though the amount of pillows will vary depending on the size of your bed, Manzo specifically recommends three square euro pillows for a king-sized bed.