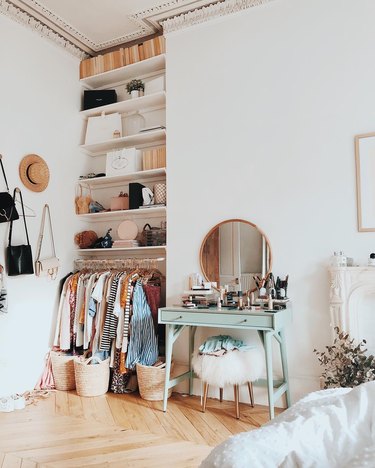 A single episode of HGTV's House Hunters will remind all of us of how fervently potential home buyers dream of a spacious master bedroom. When we're finally given exactly what we wished for, we find ourselves stumped on exactly how to utilize the extra space. Sure, we do our duty of setting up the bed, the dresser, and a couple of nightstands, but then what? Nine times out of 10, we're out of ideas, and faced with a vacant or awkward corner with zero plans of what to do next. Well, as it turns out, there's a host of bedroom layout ideas perfect for those tricky corners that serve both form and function, and we've rounded up six of the best ahead.
1. Create a Dedicated Work Space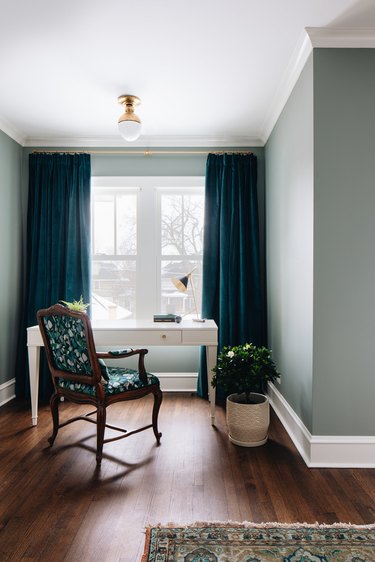 Initially it may seem like a bedroom layout faux pas to put a home office in your bedroom, but this nook designed by Jean Stoffer proves that it's anything but. With an elegant upholstered chair and clean white desk perched against a pair of windows, you'd be hard-pressed to ever convince us to leave our "corner office." Pro tip: Be sure to choose a desk with some storage to quickly tuck away a laptop, computer cords, and extra papers before winding down for the evening.
2. Bring the Outside In With an Oversize Plant
Plants instantly add color and texture to a neutral space. An empty corner, like the one pictured here from Chris Loves Julia, is the perfect place for an oversize fiddle leaf fig, which complements the otherwise subdued room. Use a woven basket as a planter for added interest and texture.
3. Create a Cozy Reading Nook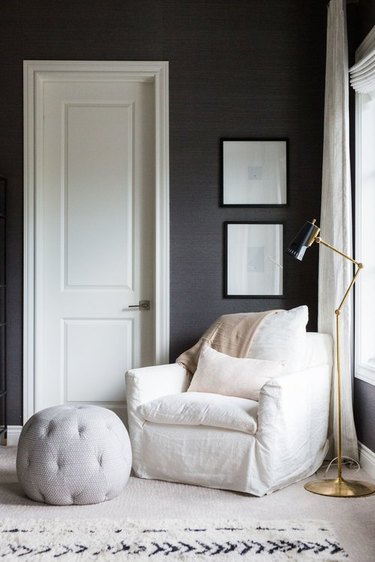 Recreate this bedroom layout idea from Studio McGee with just a few ingredients: a cloud-like lounge chair, a plush ottoman, and a tall floor lamp. Oh, and a throw blanket or two to make it extra cozy. Can't you picture curling up here to start your day with a good book and a cup of coffee? Maybe we finally cracked the code to becoming a morning person.
4. Add a Freestanding Mirror
5. Add Architectural Interest with a Faux Fireplace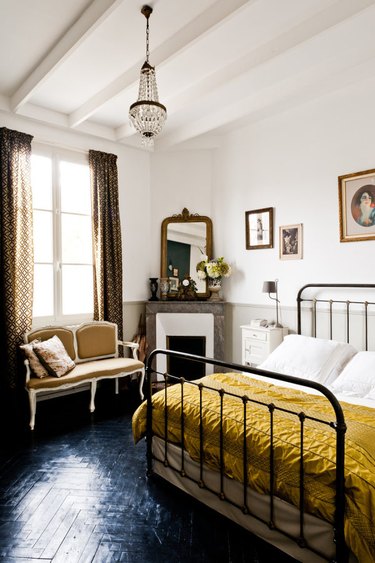 6. Customize an Enviable Dressing Area