When you live in a home that's short on space, you're familiar with the art of the compromise; after all, you can only have so many pieces of furniture in a small room. But there's an answer — at least when it comes to lighting. Behold the beauty of the hybrid shelf-lamp: a piece that provides storage, while also bringing necessary light to your space.
1. Cylindrical Three-Shelf Lamp
This round shelf lamp ( available on Hayneedle, $75 ) features three spaces for storing objects, and there's ample height in between each tier for storing taller objects like water bottles or vases.
2. Round Side Table Lamp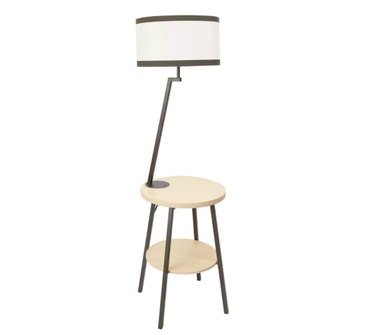 Try this mid-century-inspired floor lamp ( available at Overstock, $114.74 ), which features two shelving units that function like a side table. Added bonus: It has a built-in USB port for charging your devices.
3. Wood and Steel Tripod Lamp
While this lamp by Pottery Barn ( $199 ) only features a single shelving unit, the tripod frame is unique, combining rustic wood and industrial steel.
4. Marble and Wood Three Tier Lamp
Form meets function in this chic lamp by Adesso ( $270.99 and available at Bed Bath & Beyond ). It features two discreet USB ports underneath the socket, while three floating shelves make it the perfect piece for a small space.
5. Square Wood Shelf Lamp With Linen Shade
This Target lamp ( $49.99 ) is simple, clean, and functional. It would go perfectly in a studio or dorm or anywhere with a focus on bright and airy design.
6. Modern Metal Shelf Lamp
A modern, gold-plated lamp from Target ( $89.99 ) is timeless and elegant.
7. Wood and Metal Tripod Lamp
This single-shelf lamp from Urban Outfitters ( $129 ) features a fun take on the tripod design. This shelving unit mostly adds personality, rather than serious storage.
8. Mid-Century Inspired Table Lamp
While on the pricier side, this lamp by West Elm ( $399 ) is worth it for its sophisticated profile, which combines a '50s-inspired design with a rich walnut veneer to make it actually feel vintage.
9. Pyramid Shelf Lamp
Work a bold black and white color scheme with this triangular floor lamp ( Amazon, $249.99 ). This pure wood unit with three shelves gradually becomes smaller at the top, but it's sturdy and could easily be a bookshelf or just a unique display case.
10. Narrow Metal Floor Lamp With Double Shelf
We love the art deco flavor of this lamp by Pacific Lighting ( sold at Bed Bath & Beyond, $269.99 ). Its narrow build also makes it appealing for tight spaces or corners.