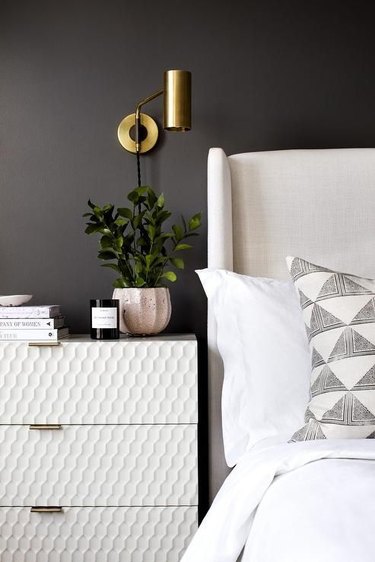 Who hasn't experienced that rush when you score a stay in a completely gorgeous Airbnb? One that's equipped with posh furniture, chic decor, and luxurious bedding? A private bathroom with a spa-style rain shower doesn't hurt either.
Luckily for your guests, they can get the same vacay experience when they stay at your house. All it takes to create this dreamy respite are some carefully chosen elements to make them feel extra special. Whether you're looking to legitimately get into the hospitality business or you just want to freshen up your guest bedroom, here are nine Superhost-worthy ideas to get you started.
1. Set out fresh flowers or greenery.
There are few things that say "welcome" more than a vase brimming with fresh flowers or green foliage. It's a small accent, but it shows that you took the time to add a personal touch for your guests' arrival. This farmhouse guest room belonging to Ashley of Little Glass Jar looks fresh and friendly thanks to the pale-green eucalyptus next to the bed.
2. Provide a nook for relaxing.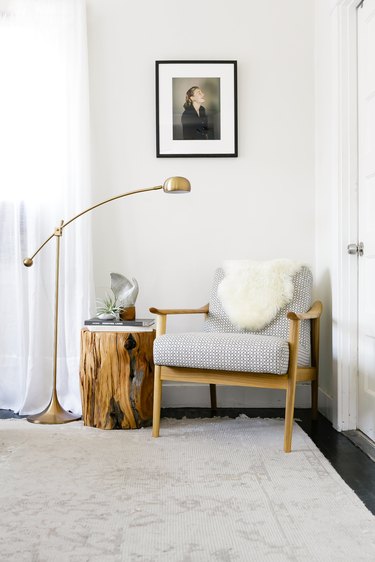 Before going to bed, or first thing in the morning, your guest may want to spend some quiet time reading ... or playing Candy Crush. So dedicate a corner in your guest bedroom for a comfy chair and soft textiles. We just love the accent chair by the window in Anne Sage's bedroom, which makes the perfect reading nook.
3. Decorate with one-of-a-kind, personal pieces.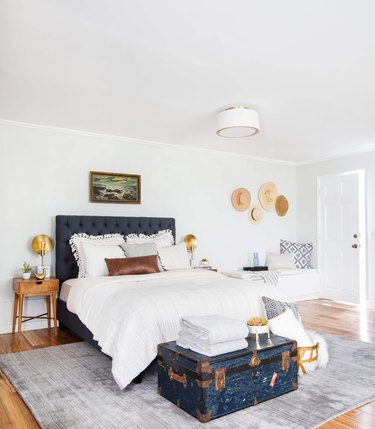 Even though it's not your personal sanctuary, don't be afraid to show your personality. It'll give your guests a completely unique and original stay, one that they wouldn't get anywhere else. An easy way to do that is with vintage finds, which are impeccably displayed in this guest bedroom designed by Emily Henderson.
4. Include plenty of storage.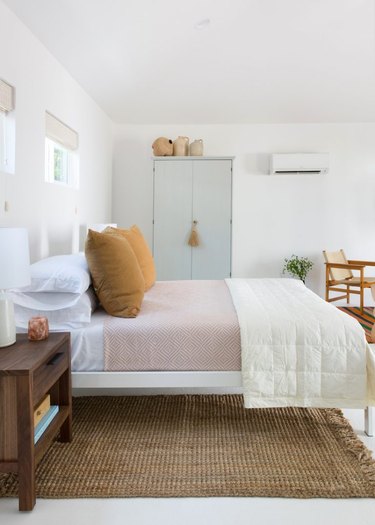 Another way to show your guests that you're looking out for them is by providing plenty of storage. Be sure to include an armoire for hanging coats and clothes, like the one in this guest bedroom belonging to Chanel Dror. You can also offer luggage racks, closet space, and upholstered storage benches, too.
5. Create a mini library of beloved books.
A small, thoughtful touch in a guest bedroom is to display a few of your most treasured books so visitors can peruse them during their stay. Tuck your fave tomes into a nightstand, or stack them next to a comfy lounge chair like Melbourne-based designer Beci Orpin did in her bedroom.
6. Offer breakfast in bed.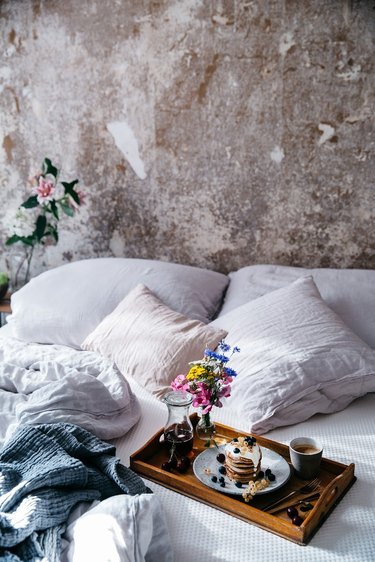 Maybe you're feeling ambitious enough to serve your guests a gourmet breakfast in bed, like this buckwheat pancake spread by Laura and Nora from the blog Our Food Stories. (Or, just throw a few frozen waffles in the toaster — they'll be appreciated, too.) All while surrounded by soft, luxurious bedding ... your guest bedroom couldn't get any cozier.
7. Bring in candles and soft lighting.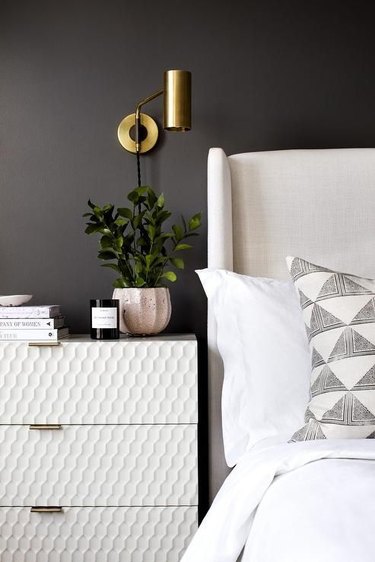 Regardless of the room, ambiance is key, and the guest bedroom is no exception. Make your space feel inviting and cozy with the help of soft lighting and candles to inspire relaxation. That's what Elizabeth Lawson did in this bedroom design, with articulating wall sconces and artisan candles right next to the bed.
8. Let the outside in.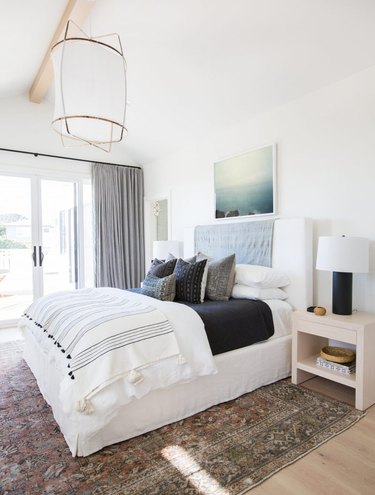 To avoid your guest bedroom feeling like a dark dungeon, be sure to open up the windows by pulling back the window coverings, and let natural light flood the space. If you can, install French doors like this bright bedroom designed by Amber Lewis, which will give your guests a better view of the great outdoors and provide them with a private entrance and exit.
9. Dress up the bed with plush linens and pillows.
When you stay at a hotel, you'll probably agree that it's all about the luxurious linens and sumptuous pillows, right? (OK, and maybe the minibar, too.) Create that same dreamy vibe in your guest bedroom by splurging on good sheets, blankets, pillows, and even towels. We just want to sink right into this bed belonging to Jillian Guyette from Better Happier.