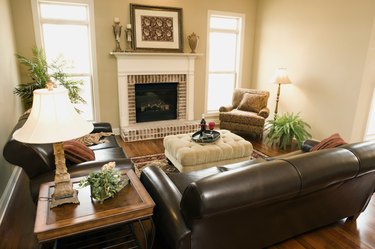 If you have a leather sofa in your living room or den, lighten up the look with chairs featuring fabric upholstery, such as linen or cotton. The fabric chairs will provide a soft contrast to the leather sofa and will keep the room balanced. You can also introduce other fabric textiles into the design to complement the overall look of the room. While a leather sofa can give the space a sophisticated style, fabric chairs will lend a warm touch.
Step 1
Choose chairs featuring colorful fabric that complement the color of the leather sofa. Pick an armchair with a bold pumpkin orange and cream-colored swirl or striped pattern to liven up a brown sofa. Complement a black leather sofa with chairs featuring red and white fabric to give the space a pop of color.
Step 2
Arrange the sofa and chairs in an aesthetically pleasing pattern. Place the leather sofa in the center of the room or against a wall and set a fabric-covered chair on either side of it.
Step 3
Place matching fabric-covered ottomans in front of the chairs to create a cohesive look and add comfort.
Step 4
Accent the leather sofa with a decorative throw blanket and pillows to create visual appeal. Choose a blanket and pillows featuring one of the colors in the fabric chairs. Place a pillow in each of the sofa's corners and fold the blanket over the back of the sofa.
Step 5
Enhance the space between the sofa and chairs with coordinating decor items and textiles. Place a large, plush rug on hardwood or tile floors. Decorate a coffee table with items such as a candy dish or a vase filled with flowers that matches the chairs' fabric.