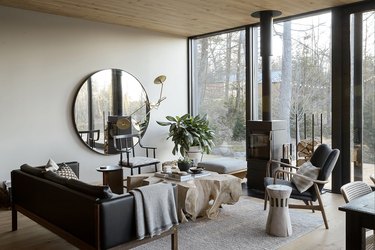 As the days grow shorter and darker, we find ourselves nestled indoors warming up by a crackling fire. And while there are many different styles of fireplace to choose from, one of our all-time faves is the wood-burning stove. These exceedingly functional furnaces have long been a go-to for keeping the home toasty due to their robust heat output, not to mention they can be integrated beautifully into more modern spaces. Here are nine cozy abodes showcasing wood stove fireplaces that are stoking our flames this season.
1. Create a dynamic backdrop.
In this renovated horse barn in the Catskills, the architecture and design studio General Assembly gives special treatment to the wood stove fireplace by designing a custom backdrop with terra-cotta-inspired concrete tile. The dynamic feature — which is paired with crisp white walls and a rustic wood-clad ceiling — draws the eye to the corner of the sparsely decorated living room.
2. Put it on a perch.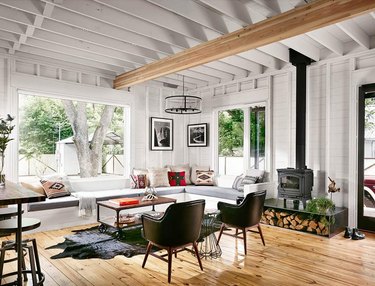 In this contemporary farmhouse designed by Austin-based Rauser Design, the wood stove fireplace is perched on a metal platform that's also used for storing chopped wood. The neutral backdrop of rustic, white-washed walls and natural wood flooring allows the black furnace and custom wood storage box to shine.
3. Use it as a room divider.
In this United Kingdom abode, Dan Brill Architects designed a custom concrete base to mount the wood-burning stove on, simultaneously providing storage for chopped wood. The sleek, modern fireplace acts as a room divider between the adjoining living area and kitchen, warming both spaces. Win-win.
4. Consider unlikely places.
Sweden's cold, dark winter days call for warmth even in the most surprising places. Victoria Skoglund, owner of Zetas Trädgård, transformed her greenhouse into a cozy getaway that can be enjoyed year-round, thanks to a wood stove fireplace that is flanked by raised garden beds.
5. Frame new spaces.
If you live in an open-concept space like a loft, a wood-burning stove can be used to help delineate specific areas. In this bright and airy industrial living room, a custom steel base doubles as storage for wood and a perch for seating.
6. Tuck it in the corner.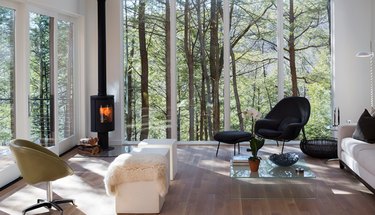 For the minimalist, or for those who are short on space, tuck a pint-sized stove out of the way like architect Marica McKeel did in this Kerhonkson, New York, pad. With floor-to-ceiling windows, this living room's miniature fireplace is seemingly set among the trees, nestled comfortably in the corner.
7. Pair with unique design elements.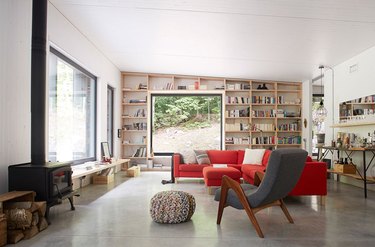 Rather than making the wood-burning stove the star of the show in this Frelighsburg, Québec, vacation home, the team over at Atelier Barda created some interesting architectural moments. Custom floor-to-ceiling bookcases and oversize windows steal the limelight, while the fireplace shines in the background as part of the supporting cast.
8. Play up the drama.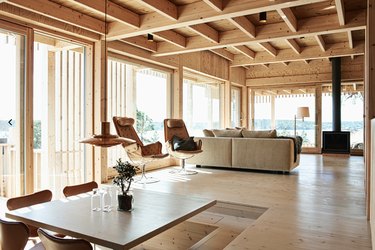 This eco-friendly Swedish beach house, dubbed Villa Moelven, was constructed purely out of wood provided by the Scandinavian timber manufacturer Moelven. The pared down design made up of raw wood coupled with floor-to-ceiling windows plays up the drama of the modern black wood-burning stove.
9. Let it take center stage.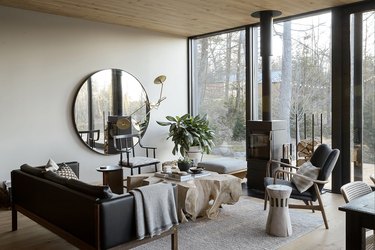 With a compact, contemporary wood stove as the focal point, interior design studio Nune subtly outfitted this upstate New York cabin with organic materials and a neutral palette. The cozy design blends in seamlessly with the floor-to-ceiling views of the great outdoors.