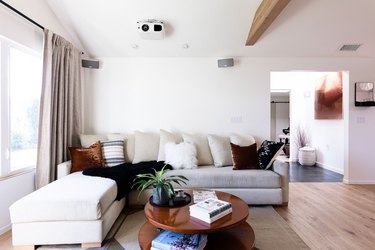 When Modsy analyzed data from the fall of 2019 (which feels like decades go?) to see what trends were at the top of people's lists in the U.S. it all whittled down to two styles: farmhouse decor and modern decor. You know all those shiplap walls and curved furniture pieces we keep seeing on Instagram? Those are the ones.
In the early months of 2020, both of these trends still held sway in the design landscape. But then the unprecedented happened: with a global pandemic, the commerce and design worlds took a huge hit. Stores closed, employees got laid off, brands started to shift their priorities. Shipping got delayed and launches of planned collections got pushed back.
Now, we're reckoning with a shifting lifestyle, one in which many people in the workforce are spending more time at home than ever before. They might live there with extended family, kids, or a partner. And with restrictions on leaving home, suddenly the spaces where we live have taken on a new meaning. Home decor starts to feel like both a necessity in order to configure one home for multiple people and a welcome distraction from current events, as many of us try to DIY or re-arrange at least one thing we can control.
What does this mean for decor trends? This might seem like a moot question, but in some ways it will prove an interesting reference point when we look back at this time. What did our home looks like and why?
We talked to design experts and a couple of common themes came through: an interest in sustainability and the outdoors and a pull towards practicality.
As we continue to reassess our living arrangements, it's not just about aesthetic concerns. Boston-based designer Liz Caan says that we'll see a trend of creating a welcoming interior in terms of both comfort and safety.
"We are learning that viruses and bacteria can live on plastics and some metals longer than natural organic materials," Caan says. "People will care less about stains and more about healthy living. What is the purpose of having a sofa covered in a material that won't stain but has tons of unseen germs living on it?"
Modsy's VP of Style, Alessandra Wood, says the company has noticed an increase in practical furniture purchases over the last month. Mostly due to home office decor, it indicates buying trends for the near future.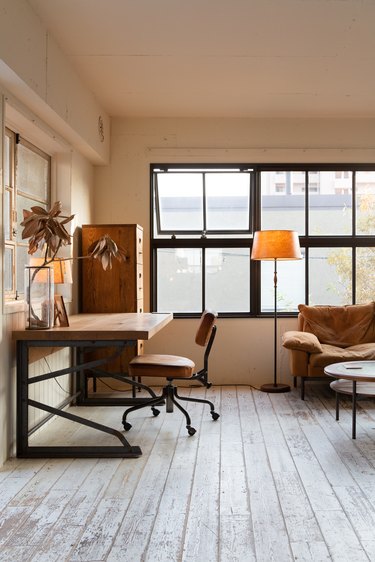 "People will be looking for stylish and functional pieces that can easily convert to the many needs we have in our spaces," Wood tells Hunker. Caan echoes this statement, predicting we'll see more interest in furniture pieces that "can adapt or serve multiple purposes."
That doesn't mean that we can't still have a little bit of decor fun — but it might be more within reason. This becomes especially evident when it comes to a home office. Etsy Trend Expert Dayna Isom Johnson says more and more customers are "looking for small but impactful ways to add a little joy to their space." Between March 1 to April 30, compared to the same time last year, the site saw a 523% increase in searching for home office wall decor or art; a 39% increase in searches for desk or desk accessories; and a 64% increase in searches for pots or planters.
The items we might've initially chosen for aesthetics before now have to stand the test of prolonged use, especially for anyone working remotely.
"Simple, durable pieces are taking precedence over bold colors and punchy prints," interior designer and real estate developed Amalia Graziani of Noor Property Group tells Hunker. "After spending so much time at home, we'll see a different set of considerations when choosing items. Perhaps that banana leaf wallpaper wouldn't be as great after looking at it every day for a few months!"
Caan says that trends like "a homework room" and workout-specific zones are now coming back into vogue as we rethink layouts. "We're all putting a ton of thought into how we can maximize and best utilize our indoor spaces, probably more so than ever," Caan says.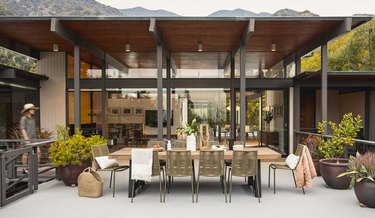 Lastly, people with outdoor areas will likely embrace them now and more than ever; how to make the most of their potential is a growing interest amongst decor lovers.
"Once the fog lifts after the pandemic of 2020, although I believe people will not be rushing to crowded venues, they will still yearn for that sense of being able to hang out at their preferred bar lounge or jet-set off to their favorite far-away destination locale," Keita Turner, President and Creative Director of Keita Turner Design, tells Hunker.
Turner also imagines we'll see more earth tones inside as well as "hues mimicking the beauty of nature." With companies advertising pieces as perfect for both indoor and outdoor uses — like Article's "outspo" inspired outdoor collection — the lines between the two sections will continue to blur.
"Outdoor living spaces are definitely becoming more livable with the introduction of more thoughtful outdoor decor." Lance Thomas of Room Service tells Hunker. Caan also says her clients seem especially interested in outdoor lighting and decor, in order to create an outdoor section that feels more "like extensions of their homes."
Turner also sees the design industry as a whole moving towards "more conscientious and mindful choices when it comes to producing and purchasing decor for the built environment."
It's tough to predict just what stands on the other side of this new normal, but the actions and attitudes that change within the design world are just one way to see these shifts reflected.