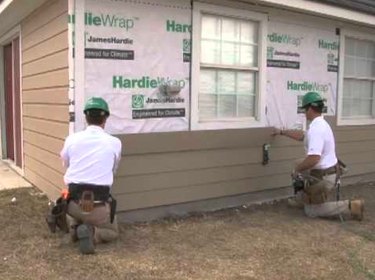 Nothing affects the appearance of a house as much as the siding, but appearance is just one factor to consider. House siding helps regulate the climate inside your house, and it's all that stands between you and the elements. It must be waterproof, windproof and pest resistant, and it must last. Installing siding is a major undertaking and major expense, so choosing a long-lasting siding is critical. The last thing you want is to replace siding every 10 years or so.
You can choose from seven different types of material when shopping for siding. They include metal, vinyl, wood, fiber cement, stucco, stone, and brick. If you consider each material a category, you'll find a number of subsets within each one. For example, wood siding can come as horizontal planks, shakes or plywood sheets, and stucco may be the traditional cementitious material or a more contemporary acrylic product applied as part of an exterior insulation and finish system (EIFS).
Budget is often a constraint when choosing siding, but there are usually options for those unable to afford the more expensive types. If you like the look of stone, you can install a faux stone panel system, and if you're put off by the cost of wood clapboard, you can get the same effect with less expensive vinyl planks. In some cases, the less expensive knock-off gives better protection than the original.
Metal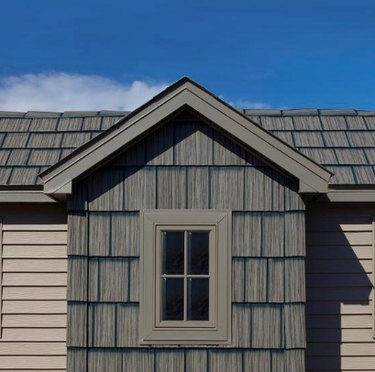 Lightweight and insect-proof, metal clapboard siding was patented in 1903 and became popular during the post-World War II housing boom. Steel and aluminum are the two most common metals used for siding, and aluminum siding tends to be thicker than steel siding to compensate for the difference in weight and softness. Although clapboard planks are still common, homeowners today can choose from a number of other metal siding styles, including shakes and panels.
Metal siding requires little maintenance, and it's fireproof. Moreover, it's impermeable to water and it doesn't promote mold growth. Metal siding can and should be painted—steel will rust when left exposed to the elements, and although aluminum doesn't technically rust, it does corrode. One of the main drawbacks of metal is that it dents, so a hailstorm or a stray baseball can damage it. Pre-painted colors tend to fade, so it can be difficult to match a damaged piece without repainting the entire wall.
Vinyl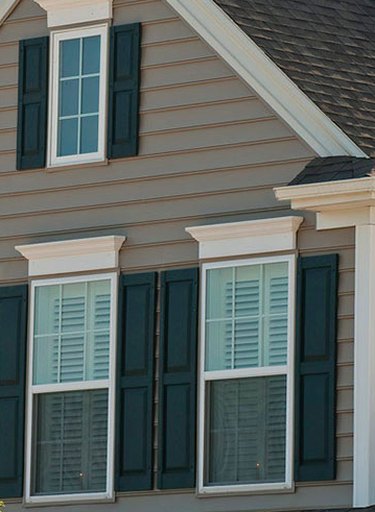 The Vinyl Siding Bureau, citing U.S. Census statistics, asserts that more U.S. homes have siding made from vinyl than any other material. Vinyl is a low maintenance material that can be fashioned into many styles, including clapboard, board-and-batten, and shakes. Vinyl is impervious to water and resists rot and mold, and it's lightweight and easy to install. Complete vinyl siding systems include trim, fasteners and sealants.
One of the main problems with vinyl planks and shakes is that water can get underneath the bottom edges. That isn't a problem as long as the waterproof house wrap is intact, but if there are holes or deterioration, water incursion can create serious problems. Another problem with vinyl is that factory colors can fade, and you can only repaint with vinyl-safe colors, most of which are light. Finally, vinyl doesn't dent, but it cracks, especially when weakened by years of sun exposure.
Wood
Wood is the material that many other siding systems seek to emulate. Manufacturers offer wood products in a variety of styles, such as clapboard, shakes, board-and-batten, and plywood panels known as T1-11. Wood is a good thermal insulator and helps keep a home warm in the winter and cool in the summer. Redwood and cedar are both insect- and decay-resistant and are the preferred materials for boards and shakes.
Wood is an organic material—a good thing for the ecologically minded, but a not-so-good thing when it comes to decay and weather vulnerability. When left untreated, even cedar and redwood can succumb to mold and fungus to some degree, and all wood species lose their natural color. Painting or finishing with a semi-transparent stain is recommended, and fortunately, you can find products that provide protection while enhancing the natural colors.
Fiber Cement
A mixture of wood pulp, fly ash and Portland cement, fiber cement siding is a rigid material that is a fairly recent addition to the home improvement market. A low-maintenance, paintable product, it combines the appearance of wood with the durability of vinyl and metal. Fiber cement comes in planks, panels, and shakes, and it usually carries a 25-year guarantee, although it can last much longer than that. It's one of the densest building materials available, provides good insulation, and it's waterproof.
One of the things you might not like about fiber cement is the cost of installation, which is generally higher than wood, vinyl or metal. Combined with the cost of the material itself, fiber cement is the most expensive of all these materials. Its weight and the need for special tools to cut, drill and fasten it mean that you probably can't defray the cost by installing it yourself. Although it's easy to maintain once it has been installed, it does have to be painted, and the paint must be updated periodically.
Stucco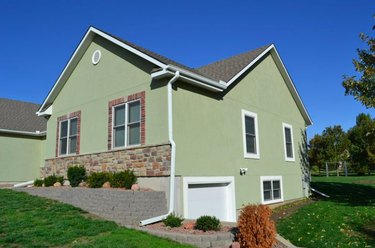 Traditional stucco is a whole-house siding system that works best in warm, arid climates. It was introduced to Mexico and the southwest states by the Spaniards, and stucco and adobe houses that are many centuries old are still standing. For northern and eastern houses, there is EIFS, which is a stucco system that relies on a flexible plasticized acrylic coating rather than a cementitious plaster.
Stucco requires professional installation, which involves installing a metal, or —in the case of EIFS—fiberglass mesh over a water-resistive barrier before applying up to three finish coats. Cracking can be a problem with traditional cementitious stucco, especially for a house situated on shifting ground. Moreover, traditional stucco has pores that give a foothold to mold spores, which can cause significant discoloration when they grow, so it isn't the best siding choice for moist climates.
Stone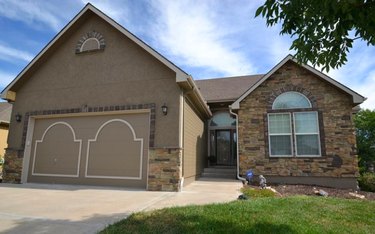 When you see a stone in a modern neighborhood, you're usually looking at a traditional wood-framed house with stone-veneer paneling. Real stone is prohibitively expensive for most homeowners, although if you have the budget for it, it will last a lifetime. Stone veneer is usually made from fiberglass or acrylic, and it's crafted to look like the real thing, especially when viewed from a distance.
Stone veneer comes in large panels that are easy to install over properly-prepared and waterproofed sheathing. One of the problems is that the factory-produced panels are sometimes identical, creating a repeating pattern that destroys the realism. And this is not a material that appeals to eco-friendly homeowners since the materials are entirely synthetic. However, if your dream is to live in a stone dwelling in the forest, they can help you realize that dream at a fraction of the cost of building the real thing.
Brick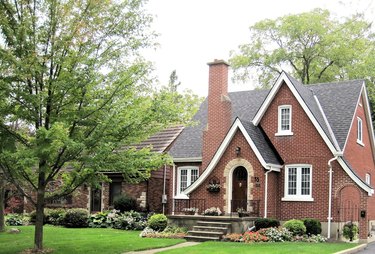 Today, few builders construct a house brick-by-brick as was common in the past. A brick house less than about 40 years old is usually constructed with wood faced with either a layer of brick siding or faux brick panels. A layer of brick siding provides the same insulation value as if the house were entirely constructed of brick, but the arrangement of the bricks makes it easy to distinguish between the two.
Adding a layer of real brick to the outside of your house is bound to be an expensive endeavor, and you can get nearly the same effect by installing faux brick panels. Like stone panels, they are made with synthetic materials and they have the same drawbacks. However, they wear well, and if you want you can even paint them. Doing so and allowing the paint to age can give your house a weathered appearance reminiscent of a brownstone in an upscale New England neighborhood.