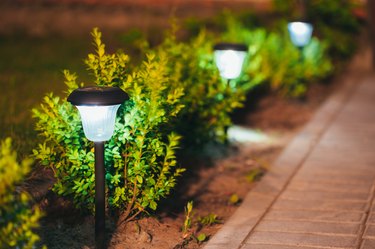 The idea of solar powered exterior lighting might seem daunting to the everyday home decor enthusiast, but it doesn't have to be. Opting for solar powered outdoor lights can actually narrow down your selection, and in the long run it will save you money on electricity. There are several varieties of outdoor solar lighting, and any one (or all) of them could work for your yard. Here are seven types of solar lights to keep your outdoor space looking bright and inviting after the sun goes down.
1. Solar Stake Lights
Stake lights are the most ubiquitous form of outdoor solar lighting, by far, due to the fact that they're the easiest to work with and install. Literally all you have to do is stick them in the ground (somewhere that they'll be exposed to sunlight) and your installation is done. These cracked-crystal effect 'ice orb' stake lights are available from Amazon. Pro tip: Gently clean your solar garden lights every few months to get rid of dirt buildup and keep them shining brightly. ( Gardman, $49.75 )
2. Solar Floor Lamp
Outdoor floor lamps are surprisingly effective at exterior illumination. They're the modern day version of the lamp post, and they bring a new kind of charm to exterior landscaping. The hemispherical shape of this contemporary solar powered floor lamp was inspired by an eclipse, making it a fitting outdoor fixture. ( YLighting, $1,575 )
3. Solar Path Lights
The primary job of path lights is to illuminate dark pathways, so they tend to be brighter than other outdoor light fixtures (apart from flood lights, of course). Although stake lights can also be used as path lights, buying enough of them to border your path can get pricey. This stainless steel path light will not only look great in a modern space, but it's also sold in a convenient four-pack. ( Home Depot, $28 )
4. Solar String Lights
Outdoor solar string lights are almost exclusively used to add decorative accent lighting to your yard. When selecting the style of outdoor string lighting you want, consider the type of ambience you're aiming for. There are fairy lights to make a magical oasis, rope lights to make sleek modern lines, and many, many more. For a rustic or industrial look, try these lantern string lights. ( Wayfair, $42 )
5. Solar Wall Sconce
Solar powered outdoor sconces are perfect for lighting any exterior doorways, or for illuminating the area of your yard that's located on either side of your house (depending on the layout of your space). There are nearly as many varieties of outdoor wall sconces as there are indoor sconces; however, the solar powered selection is slightly smaller. Pick this <ahref="https: www.themine.com="" outdoor-sconces="" btr-btr1503b-solar-1-light-solar-led-outdoor-sconce_12737631.html?ppc="2615&af=2615&cm_mmc=sce_google&s_kwcid=AL!4500!3!110011570947!!!g!271713131695!&gclid=Cj0KEQiA5bvEBRCM6vypnc7QgMkBEiQAUZftQG7T-KQgfrnyBEkLuHWAXTrd3q6Lfq0BSH6afJzw0igaAi6V8P8HAQ&ef_id=VqZjLQAABehaFVkX:20170130142819:s""> </ahref="https:>one-light solar LED wall sconce for a cool contemporary look that will last up to eight hours. ( The Mine, $47 )
6. Solar Bollard Light
The nautically inspired bollard lights are lit vertical posts that extend from the ground and are often seen demarcating driveway openings. They're also frequently used as path lighting. Bollard lights are easily recognizable by their shape, which is traditionally cylindrical. However, since modern design loves to challenge the traditional, bollard lights are popping up in all kinds of creative new forms these days, like this two-for-one-planter-bollard-light that adds additional greenery while it lights. ( Overstock, $86 )
7. Flush-mount Solar Step Lights
If your yard has a deck (or steps), installing solar lights is pretty much a no-brainer. Avoid stubbed toes, trips, and falls with subtle step lighting that lights your way by night and is almost unnoticeable by day. Thanks to their flush-mount design, these lights hardly intrude on your deck's visual appearance. Check out the Seriously Solar lighting collection by Wildon Home to find recessed solar lighting that fits your outdoor design perfectly. ( Wayfair, $68.99 )
---
Karyn is a passionate wordsmith and creative thinker, currently pursuing a career writing and editing in the media and entertainment industry.
View Work