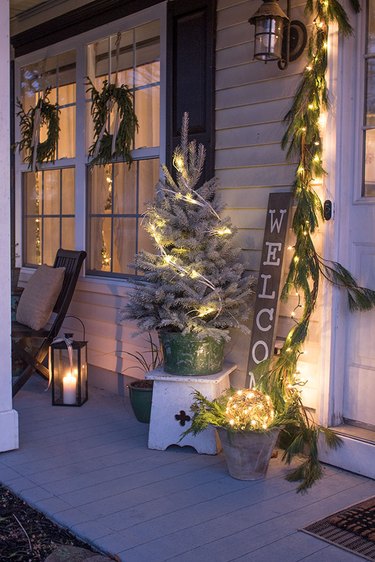 For holiday lovers, coming up with Christmas light ideas each year brings as much joy as curling up with a blanket and a glass of eggnog, watching sappy yuletide movies, and exchanging gifts. But even in the midst of all those heartwarming activities, the holidays tend to be stressful. So if you're drawing a blank on fresh exterior Christmas decor iterations, please accept the following list as as an early present from Santa (Hint: We're Santa!).
Here are six stylish holiday light ideas to guarantee that your outdoor decorations are seen and admired by all.
1. Use an illuminated carousel for an eye-catching yard display.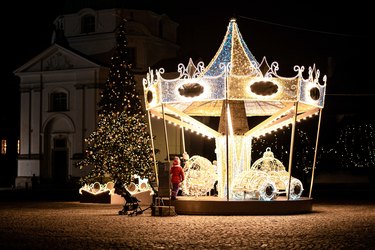 We honestly can't think of a better Christmas decor idea than a gorgeous holiday carousel in the front yard. Instead of lighting the house, shift your focus to the grounds and position a well-lit tree nearby for ultimate anti-Grinch points.
2. Highlight your small porch.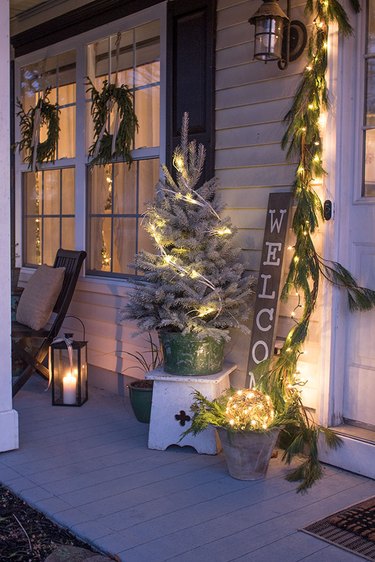 Don't let limited space kill your plans for exterior Christmas light arrangements. Use this small porch as a blueprint for your holiday decor. We can practically feel the warmth emitting from the simple combination of garland with lights intertwined, a decorative basket, and a tiny potted tree accented with a few bulbs.
3. Maximize the door decor.
This lovely red front door from Emily Henderson is already decked out with the classic Christmas colors. Plus, the fresh garland, potted plant with ornaments, and minmal lights around the entrance collectively earn this festive display our seal of approval.
4. Stick to a single color.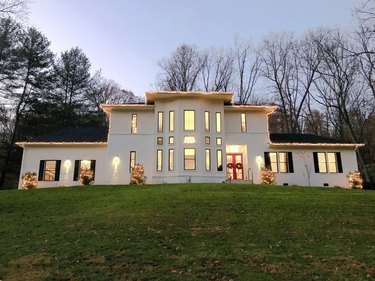 Thanks to the use of lightbulbs in only one color (no glaring reds, blues, or greens here) this Christmas light idea from The Home Edit feels simple and clean. To get a similarly timeless look, hang lights on the roof, and accentuate the design by wrapping each of the shrubs in tiny bulbs as well.
An A-frame cabin like this will be charming enough on its own. But the addition of warm, outdoor string lights is a simple, classic way to increase the cozy holiday feel tenfold.
6. Use the entire front yard.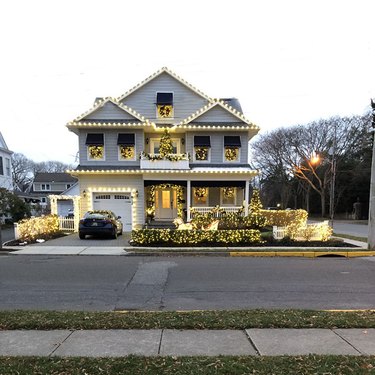 This residential exterior from The Honeycomb Home isn't for the modest Christmas decorator. If you replicate the look, passersby are sure to be enthralled by the light-lined roof, porch railing, and garage. We love the attention to detail that continues throughout the illuminated bushes, garland, festive yard display, and decorative wreaths in each window.
---
Kenya is a freelance writer from Dallas. She currently contributes to Apartment Therapy and has written for various online publications, including Playboy, Essence, Bustle and more.