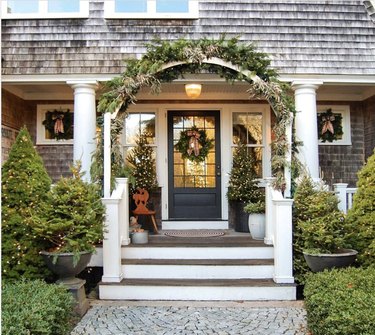 Just how much cheer can you spread this year? If your outdoor holiday decor starts and stops with a yuletide wreath on the door, there is so much more you can do. And we aren't talking about an inflatable Santa, reindeer, and sleigh. Christmas yard decorations have come a long way.
Here are seven ideas to steal that are chic, tasteful, and never over-the-top.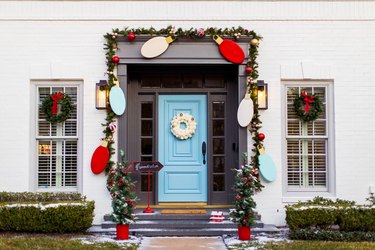 If your tastes lean modern-retro, colorful, and bold, this Christmas door decoration DIY from Sugar & Cloth is for you. It's no ordinary holiday garland. Blogger Ashley Rose doubles down on her aqua front door color with matching red, white, and blue oversized light bulbs — which take the traditional wreaths and evergreens to the next level.
2. Mix and match silver and evergreens for a chic update.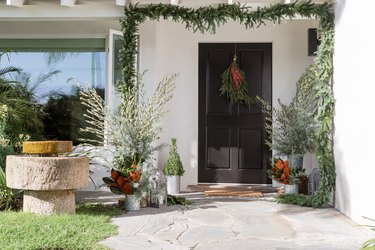 If you have more of a boho Christmas in mind, you can layer in plants that say happy holidays — like rosemary and a cedar garland — with your existing landscaping, palm trees included. It's a chic way to reference the festive season without veering into kitsch.
3. Pot mini trees for a sophisticated statement.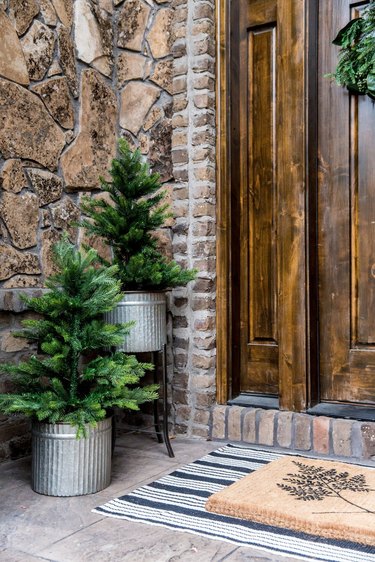 4. Hang a garland to end all garlands.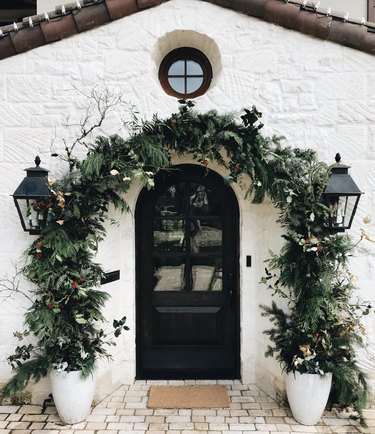 5. Put a wreath in every window.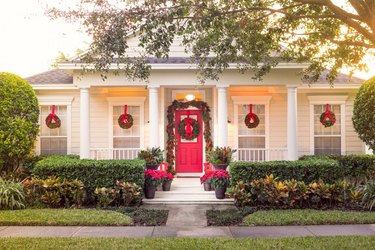 Ashley Brooke of Ashley Brooke Designs calls this holiday look "a little Christmas dollhouse." And it couldn't be more apt. The classic red front door color and columns make it easy to create a truly traditional holiday look. Just add symmetrical wreaths, not one but two 10-foot garlands around the front door, some potted poinsettias, and voila! Picture-perfect.
6. Go ahead — add snowflakes.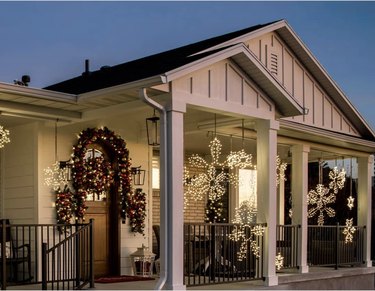 Christmas lights can feel staid and cliché, but they don't have to. With so many off-the-shelf lights and exterior Christmas decorations, though, you just have to choose wisely. These LED snowflakes, hung along the porch of this Utah home, feel classy and traditional. And the oversize scale makes them whimsical and modern — perfect for a farmhouse holiday vibe.
7. Use greenery to your advantage.