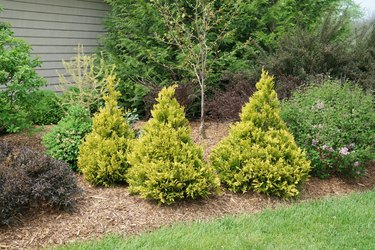 Evergreen shrubs are a staple of front yard landscaping for several reasons, some quite obvious and others somewhat less intuitive. The most-cited plus is color—and in particular, off-season color. While there are those who might marvel at the natural geometry and stark shadows of a barren shrub or tree crown silhouetted against a cold winter sky, evergreens offer a pallet of hues that truly stands out against a sea of browns or a fresh snowfall, and their appeal as a source of winter color is hard to deny.
Another benefit most evergreens bring to a front yard is structure. This might sound like yet another garden design buzzword, but having a mass of four-season greenery does add a discernible foundation to a yard, lending a hand by highlighting your more flamboyant feature plants and creating a backdrop from which they will shine.
There are practical benefits as well. Once an evergreen shrub has established itself and confirmed that it is well-matched with the microclimate it was planted in, you'll be hard-pressed to find another plant that can thrive with as little attention and maintenance. A bit of pruning here and there, a deep watering a few times a year if rainfall is scarce, and occasional doses of fertilizer or other amendments (almost all evergreens prefer a slightly acidic pH soil), and they will perform very reliably. Plus, when stationed at the leading edge of a front yard, evergreens are very good for blocking out noise or even dirt and grime from the street
And finally, evergreens, especially the flowering ones, make very hospitable homes and feeding locales for pollinators and many other forms of wildlife.
What is an Evergreen?
As a class, evergreens are best understood through comparison to deciduous trees and shrubs that drop their leaves and enter dormancy during the nongrowing seasons. We tend to think of them as needle-bearing plants that propagate with cones, and many of them are exactly this. But technically, plenty of popular broadleaf shrubs, such as azaleas and boxwood, fit into the evergreen classification because they hold onto their leaves, especially in less-harsh climates. In many cases, these evergreens do shed leaves periodically but never _en masse,_and the leaves are soon replaced.
Distinguishing an evergreen shrub from an evergreen tree is a less precise matter, but the preponderance of opinion holds that shrubs are less than 15 feet tall on maturity, they have multiple branches or trunks at their roots, and they accept and thrive under routine pruning and maintenance. This is why evergreen shrubs are such popular subjects for bonsai.
An Evergreen for Every Yard
Choosing an evergreen shrub that will be happy in your front yard can be a long-term task that requires some trial and probably some disappointments along the way. One of the challenges is that we tend to think of evergreen shrubs in very broad categories: cedar, juniper, yew, cypress, arbor vitae, etc. But within each of these categories you will find dozens if not hundreds of species and cultivars with vastly divergent preferences. A good nursery or garden center can certainly be helpful to you by stocking and recommending the specific varieties that are likely to prosper in your neighborhood. But at the same time, they are in business of selling plants, and thus will stock whatever is most popular. And as a gardener or landscaper, you may not want to adorn your front yard with precisely the same species of landscape plants that can be found on every lot on your block. So with that in mind, here are a few suggestions to get you started in your quest for unique but hardy evergreen shrubs for your own front yard. It is a fast-changing category and well worth the time to research latest options through catalogs and internet sites.
Warmer zones (Zones 7 to 9). As you are likely aware, there is an enviable selection of tropical and flowering plants, including evergreen shrubs, that will flourish if you live in a warmer climate. And the selection just keeps getting better. A series of new azaleas developed by Proven Winners has been garnering attention for their bright, long-lasting, colorful blossoms. Among them is the Bloom-a-Thon Red Azalea, which re-blooms and stays in color mode for five months. If you live in a warmer climate, you should, of course, avoid most non-heat tolerant shrubs, which includes many conifers. Junipers, however, will thrive in an arid environment, and rosemary is another good option that has the added benefit of supplying herbs along with year-round color in warm climates.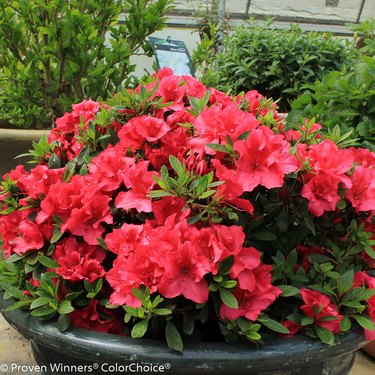 Colder zones (3 to 7). The needle-bearing evergreens are generally hardier in cold-climate front yards than the broadleaf types, although there are exceptions, such as some hollies, some rhododendrons, and boxwoods. Still, once you reach zone 5 or 4 and northward, you'll want to look at needle evergreen shrubs to get the most payback in color during winter.
A few very tolerant shrubs, mostly low-growing conifers, are hardy virtually anywhere in the continental US and well into Canada. But whether you are planting delicate and rare shrubs that are unique to your environment or the most ubiquitous species sold at building centers throughout the country, here are a couple of basic principles to keep in mind when landscaping you front yard with evergreen shrubs:
Arrange your evergreen shrubs (and other plants, for that matter) with an eye toward curb appeal. That means creating motion and working to direct the eye toward a focal point in you yard, often the front entryway.
Pay attention to foundation plantings along the front wall of your house. Don't let the plants get too close, but choose a dense-growing shrub that will fill in to create a contiguous visual effect. Remember that the soil near your house may need amendments to become acidic enough to support evergreens.