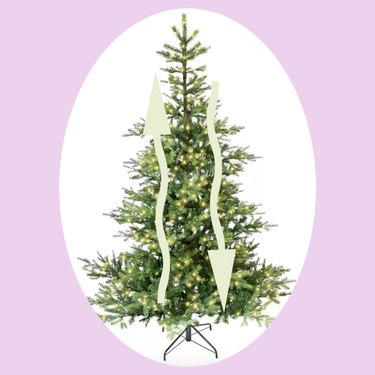 While decorating a Christmas tree is all fun and jolly, you have to admit — wrapping those twinkle lights around ... and around ... and around ... is tedious. And uncomfortable.
If you've been stringing your lights horizontally — you've been doing it wrong. YouTube user My Changed Life has an easier method that maximizes your string lights and creates a completely full and even lighting effect. The trick is to start at the top of your tree and place them vertically. "Work your way up and down the branches, weaving in an S-formation, rather than a straight line down and up, you're going to be going in a slightly S-form."
Another hot tip?: "You want to use about 100 lights per foot. So, if I have a 7-foot tree, I need about 700 lights so that it will look nice and bright."
Check out the full video below and be prepared to have your mind blown:
---
Leonora Epstein is Hunker's Senior Director of Content. She has previously served as Executive Editor at HelloGiggles and as BuzzFeed's Deputy Editorial Director. She is the co-author of "X vs. Y: A Culture War, a Love Story" (Abrams, 2014). Feel free to reach out at leonora@hunker.com.
View Work