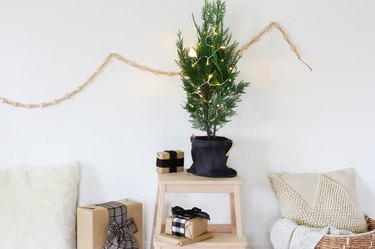 It's been a long, long year, so we're more than ready to start spreading some festive cheer! While we won't be holding any Christmas parties in 2020, we can still deck our halls to fill our house with some spirit.
If you live in a small space, whether that's an apartment, a tiny house, or even a van, you don't have to miss out on all the fun of the holiday season. There are plenty of ways to incorporate holiday decor that doesn't take up valuable real estate in your home. Check out some of our favorite Christmas decorating ideas for small spaces below.
While you might dream of having a 10-foot Douglas fir one day, sometimes you have to make do with a little tree to fit into your space. Don't have any room on the floor? Consider a potted tree for a table or desk.
2. Create a vignette on a coffee table.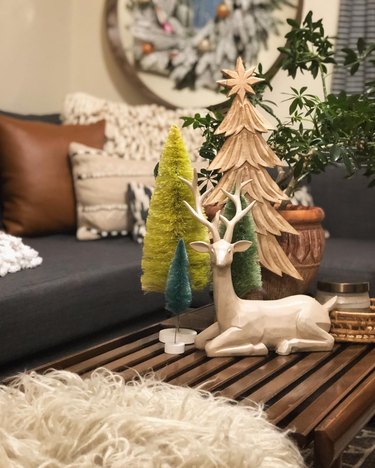 Sacrifice a little room on a coffee table for a spirited vignette; you can use anything from candles to statuettes to pine cones. to faux trees.
3. Decorate with holly berries.
We love the bright red hue of holly berries at Christmastime, and they're incredibly easy to incorporate into Christmas decor! You can affix sprigs to nearly anything in your home. Just remember to use faux berries — the real ones are toxic if eaten!
4. Create an alternative Christmas tree.
Christmas trees can take up quite a bit of square footage (even the small ones!). Eliminate that problem by creating an alternative tree, like this one designed to hang on a wall.
5. Hang garland everywhere.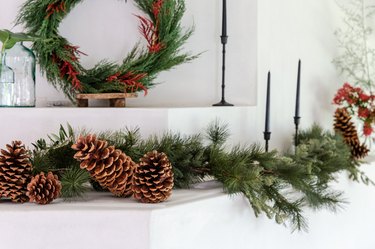 Garland can be added throughout a small space, whether along molding, on banisters and railings, or even on a tabletop, for extra holiday spirit (and you can DIY it). Use fresh pine boughs for a lovely wintry scent!
6. Hang a holiday-themed shower curtain.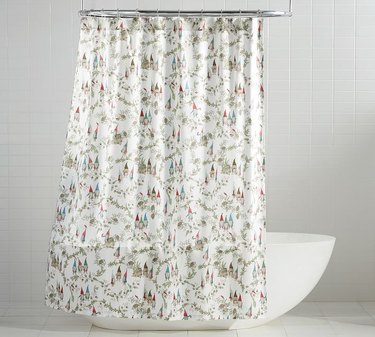 Think outside the usual decorating ideas box.Hanging a new shower curtain officially takes up zero additional space, so use that opportunity for some holiday decorating. You can also swap out your towels for something a little more festive.
7. Pick slim-profile Christmas wreaths.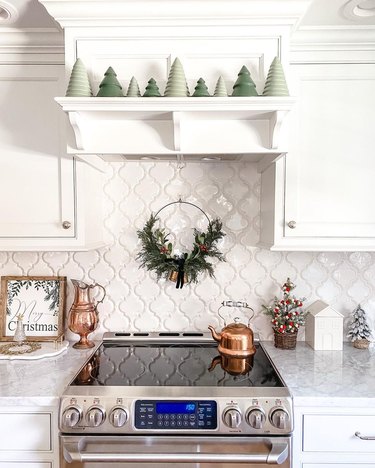 While some wreaths are a little voluminous, others can be sleek and streamlined, which is great for small spaces that can be easily overwhelmed. (And we always love a little greenery).
8. Add holiday-themed pillows to your seating area.
Swap out your throw pillows for ones that share the Christmas spirit — or simply get holiday-themed covers to use on your current pillows! An easy way to add Christmas decorations.
9. Find an alternative space for your Christmas stockings.
Most small spaces don't come with fireplaces, so get creative with hanging your stockings this holiday season. Try incorporating them into furniture, or using temporary hooks to hang them from a wall.
10. Install holiday-themed art on your walls.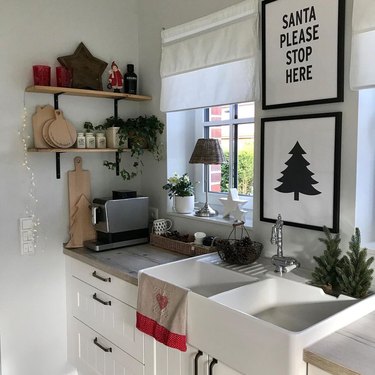 Why deal with the hassle of a Christmas tree if you can just hang a ​drawing​ of a Christmas tree? Just kidding — we get the allure of a real tree. But we also know that's not always realistic in a small space, so hanging some thematic artwork can be a reasonable substitute — and a festive touch.
11. Fill Mason jars as centerpieces.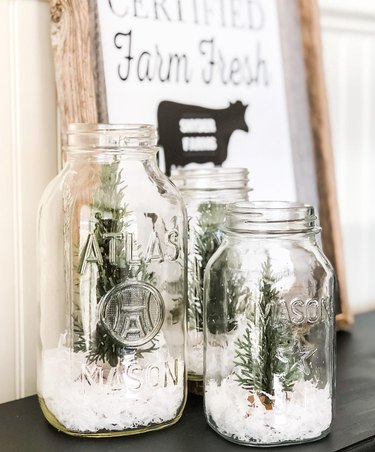 If you have a massive table for 10, you might be able to create a masterful centerpiece for Christmas tablescape. But if you're relegated to a teeny space for two, consider filling Mason jars with festive materials like holly berries, ornaments, and sprigs of pine for a simple but beautiful centerpiece.
12. Drape a festive throw on a bed or sofa.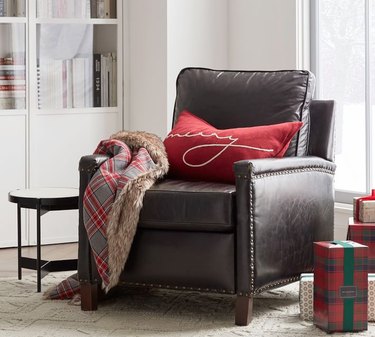 Adding a plaid throw to your bed or sofa not only adds some holiday cheer to a room, but it's also practical for cozying up!