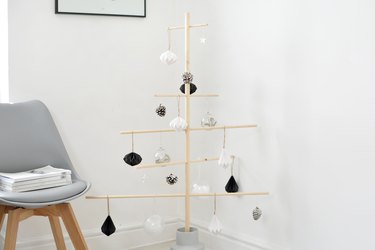 As much as I love the smell of a real pine tree, there's something strikingly unconventional about a wooden Christmas tree. This modern alternative is a perfect winter DIY project and far more convenient than the upkeep of a real tree and all those falling needles! It's perfect if you have a small space or if you're decorating your home with Scandinavian holiday decor. A wooden tree is a fuss-free option that's just as fun to decorate with the bonus of being collapsible for easy storage once January arrives.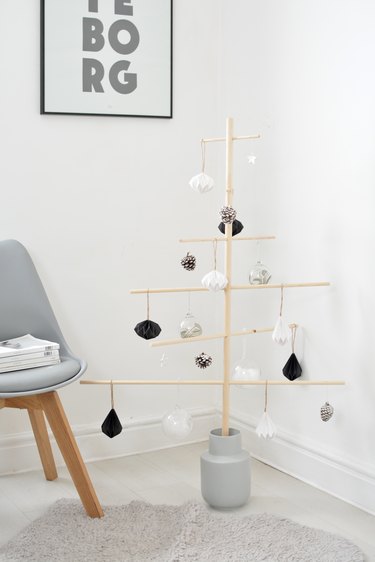 Things You'll Need
Wooden dowel, 1 inch by 48 inch

Wooden dowel, 3/8 inch by 96 inch

Wooden dowel, 1/2 inch by 96 inch

Power drill

Drill bit, 3/8 inch

Drill bit, 1/2 inch

Hand clamp

Hacksaw

Tape measure

Mitre box

Large vase or pot


Sand

Step 1
Mark the first hole four inches from the end of the 1-inch thick dowel. (This dowel acts as the tree trunk.) Secure the dowel to some scrap wood using a hand clamp and drill through the dowel using a 3/8-inch drill bit.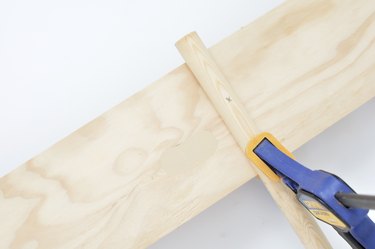 Step 2
Measure the second hole further along at 10 inches and the third hole at 16 inches. It's important to rotate the dowel pole each time you mark a hole so that the holes do not align once you have drilled them. Drill the holes with the 3/8-inch drill bit.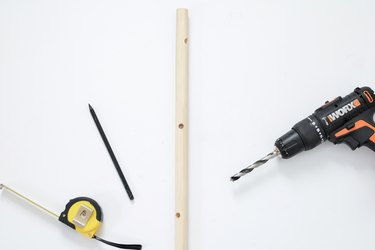 Step 3
Switch to a 1/2-inch drill bit. Measure a further three holes along the dowel at 22, 28, and 34 inches, and then drill. (Once again make sure the drill holes do not line up.)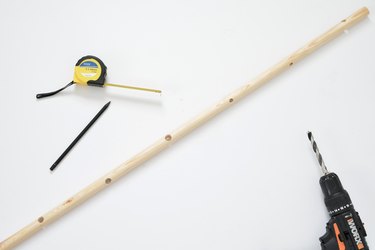 Step 4
Now you can cut the tree branches to size. Take the 3/8-inch thick dowel and cut three lengths measuring eight inches, 14 inches, and 20 inches long. Use a mitre box and hacksaw to cut the dowel.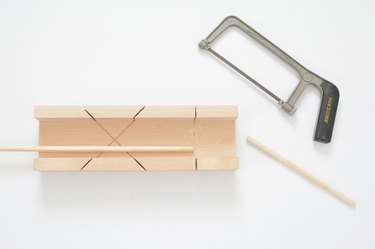 Step 5
Take the 1/2-inch dowel and cut another three lengths measuring 26 inches, 32 inches, and 38 inches long.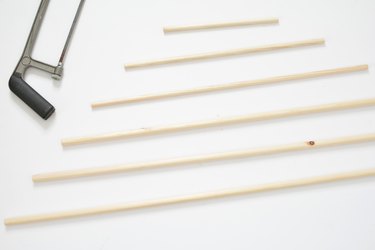 Step 6
Twist the dowel branches through the trunk in ascending order with the smallest length at the top.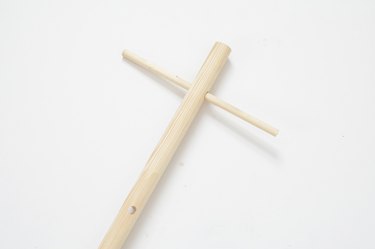 Step 7
Place the tree into a large vase or pot filled with sand to anchor it. Hang with some Scandi-inspired monochrome decorations to complete the look!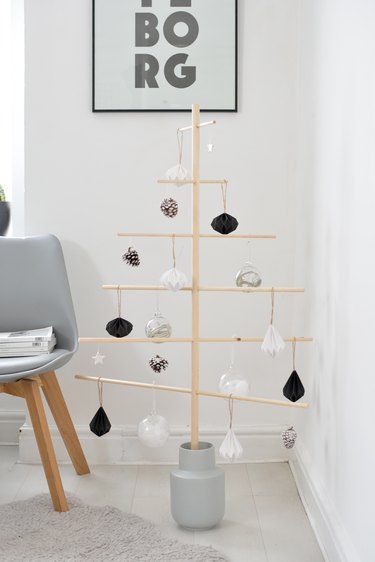 You Might Also Like