Your entrance or hallway is the first thing people see when they enter your abode and if you love statement-making home decor, you'll want to wow with your interior design. Consequently, you'll need a hallway focal point, whether you have a grand space or something a little more humble.
It's all about enhancing functionality and working with your square footage. Here are some hallway wall decor ideas that will impress you — and your guests — every time.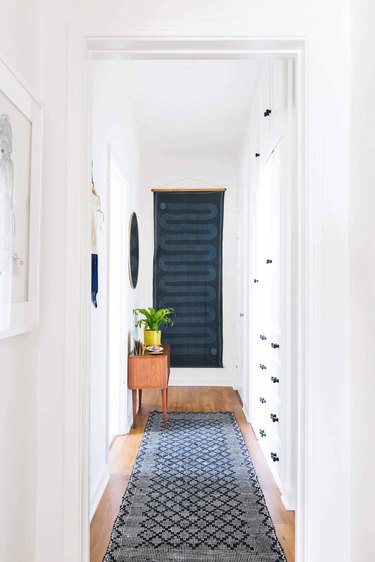 A statement runner should be a given in any narrow hallway with wooden floors, but have you thought about popping textiles on your wall space, too? Sara at Emily Henderson Design gave her slightly minimalist space a makeover by hanging a boho-style scarf as a wall tapestry. It draws your eye to the end of the passage and adds contrast to the bright white walls.
2. Release your inner bookworm.
There's nothing more impressive than a family home stacked with well-loved books, right? RIGHT. So if your hallway design is wide enough, why not consider lining the walls with built-in bookcases or shelves to show off your favorite tomes.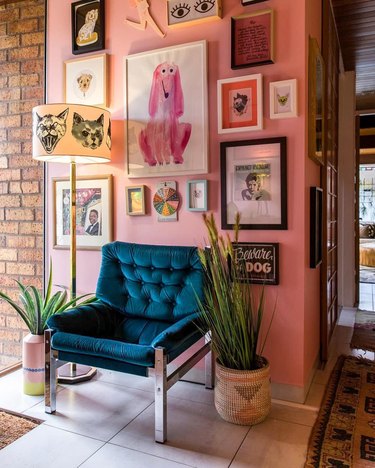 Crafting the perfect gallery wall is an incredible way to create a focal point in your hallway. Seriously, could you imagine missing this contemporary design idea in Evie Kemp's hall? Use your artwork to fill the entirety of a wall, and if you've got enough room, add a cute velvet chair and floor lamp.
Want something a little bit extra for your hallway but not interested in a huge chandelier? A neon light could be the perfect answer, and it will work with nearly any style. Lisa Dawson shows us how to do it with this beautiful pink number set above a loveseat with lots of greenery.
5. Reflect light with a mirror.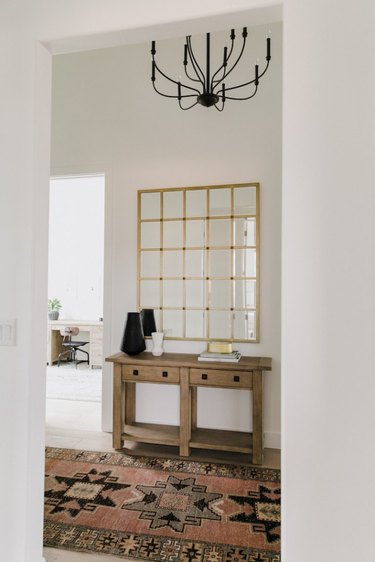 For slim halls and entryways, a large mirror will bounce around natural light beautifully. Place it above a console table, as interior designer Becki Owens did here, for maximum impact.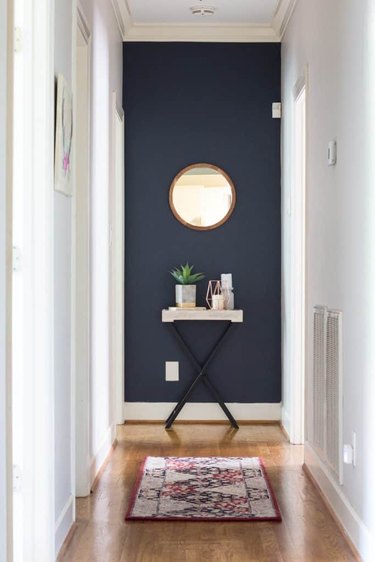 A lick of paint can make all the difference when you want a wow-worthy hallway, and you could finish the DIY job in a weekend. Feeling inspired? Take a look at the hall in Sherry of Savvy Apron's home. She painted the back wall in Hale-Navy by Benjamin Moore, adding in a wooden mirror and tray table for a little more depth.
7. Style up your shelves.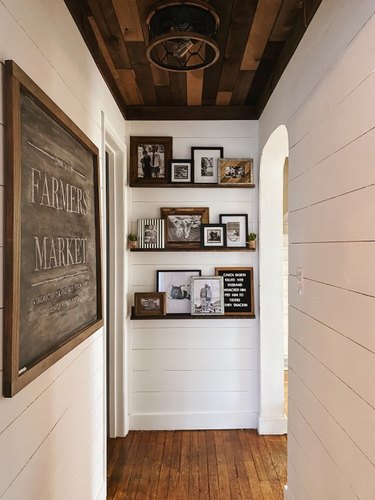 If you're feeling slightly over the gallery wall look, picture ledges are a great alternative with a similar effect. These shelves have a thin profile, making them ideal for tight walkways. Plus, they allow more flexibility when it comes to changing your decor. Interior blogger Janelle Trinette opted for high-quality wooden shelving in this hall makeover, adding contrast to the white shiplap walls.
8. Add more than one light source.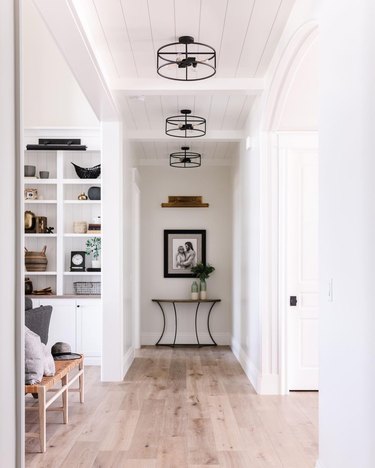 While we might not all be lucky enough to have a passthrough as open and bright as this one from Remedy Design Firm, lighting has the power to really make a hallway. Use it wisely! Long halls need more than one light source, and installing two or three of the same pendant will help create a cohesive look.