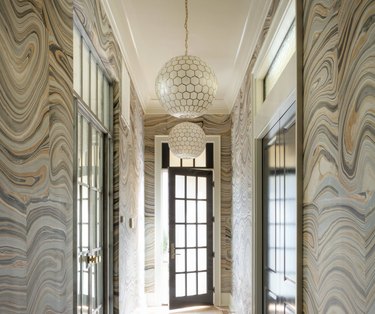 Whether you want to turn up the wow factor in your entry hall or transform your main passage into something special, adding the right ceiling fixture with quality light bulbs is a must. Sure, you can go low-key with flush mount or track lighting, but why not make a statement with a hallway pendant light? Whether you go classic, retro, or truly unexpected, the right lighting fixture will up the ambiance in a flash.
Don't believe us? Here are some fresh hallway pendant light ideas that go from a little traditional to truly sensational.
1. Try a traditional ceiling light with a little twist.
Perfect for farmhouse decor or even a traditional hall, these pendant light fixtures have a dock lamp look that works perfectly in a shiplap hallway with high ceilings. The classic idea from Chango & Co. is timeless but playful, too.
2. Get yourself some contemporary-style globe lamps.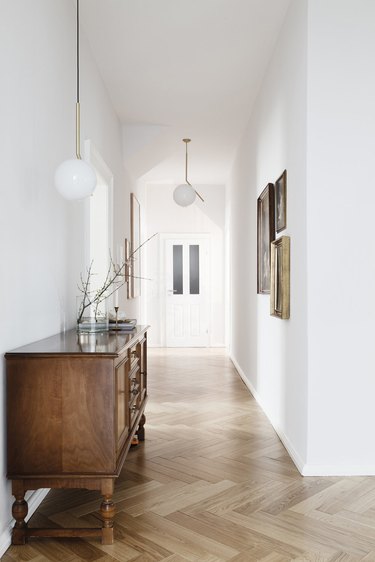 You can never go wrong with a globe-shaped glass pendant. And the look works well with just about any decor. The brass details on the pendants here add a little bit of a glam focal point. Plus, we love how they're installed asymmetrically to highlight a hallway credenza.
3. Be all about a beautiful bell jar pendant.
Want another timeless pendant style that will elevate any space? Go for a bell jar fixture. This glass lamp with a bronze finish takes a Spanish-style hallway by Amber Interiors from good to spectacular. If you go this route, just be sure to add a dimmer switch in case you need to create a mood.
4. Double up on the drama with two chandeliers.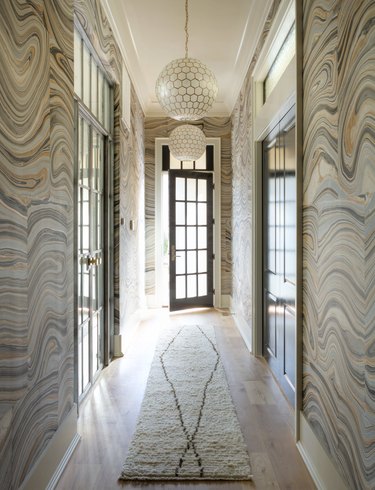 Pick out pendants that make a statement, like this pair of groovy globes with gold accents. Between the abstract wallpaper and those lights, this hallway is ready to receive the coolest guests.
5. Pick a bold color for an all-white space.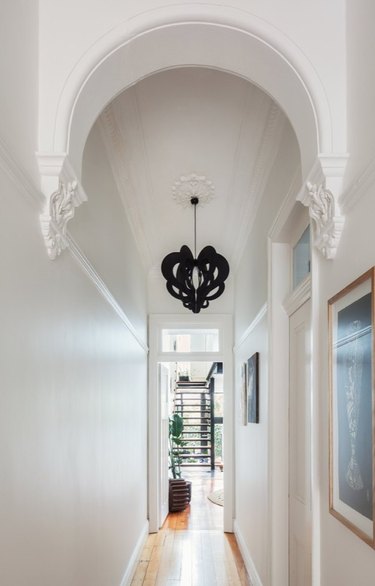 Whether you live in a modern home or one built 100 years ago, there's no rule against hanging a pendant that's bold and contemporary. We love a matte black choice for an all-white hallway with super high ceilings. The contrast will feel chic and right on-trend.
Wake up your hall or entryway with pendant lighting that features wicker shades. They'll add a beautiful touch of boho if you want to keep things feeling breezy and bright.
Try a splash of gold or a bold bronze finish with a pendant that catches everyone's eye. Whether your entry hall is a maximalist dream like this one or a little bit minimalist, a striking retro starburst fixture will never disappoint.
8. Try some not-so-simple ceramics.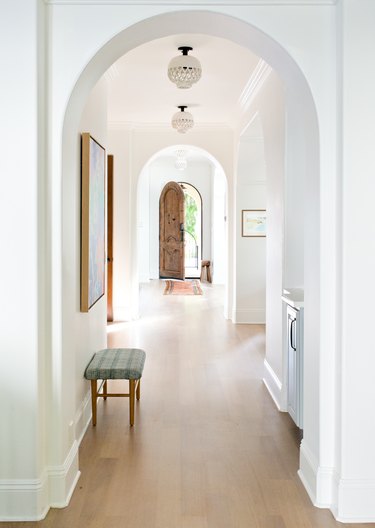 For something a little more subtle but not short on style, these pretty ceramic pendants are the way to go. Add them to any Spanish, boho, or modern eclectic hallway. The smaller scale means you can hang multiple for the ultimate effect.
9. Pick a pendant you love, and just go for it.
The fun thing about choosing pendant lighting for your hallway is that there really are no rules when it comes to style. You'll want to consider the scale in relation to your space, but Sklar Design proves a light fixture that's a little bigger, and in a totally contrasting style to its surroundings, brings on the wow factor we all crave.